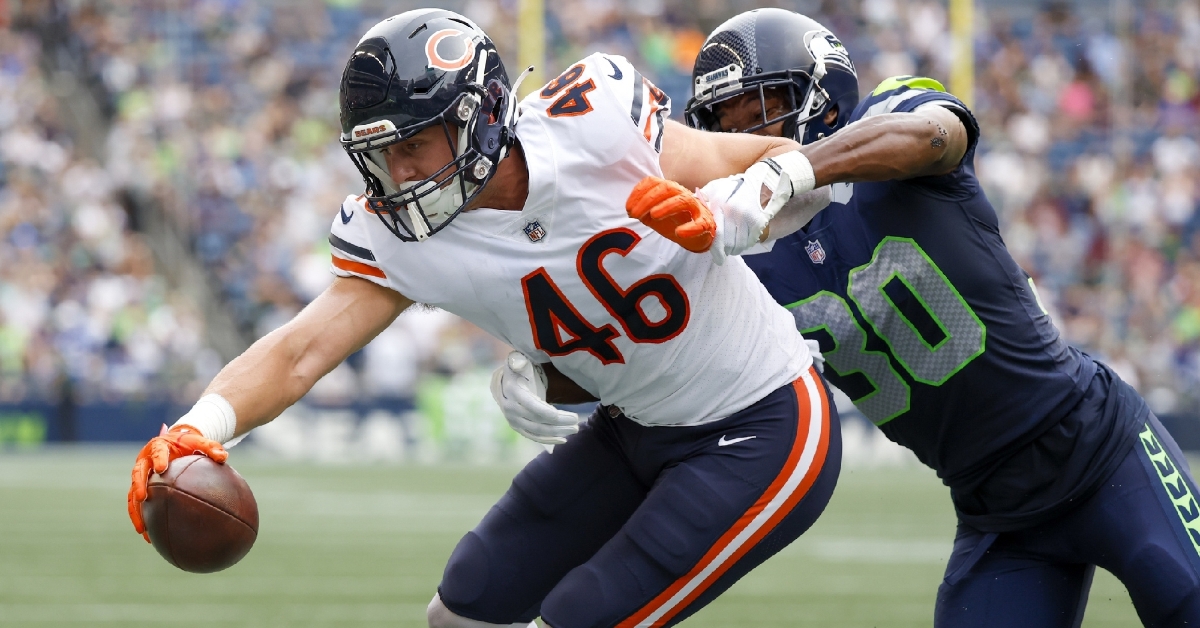 | | |
| --- | --- |
| Three Takeaways from Bears win over Seahawks | |
---
| | | |
| --- | --- | --- |
| Friday, August 19, 2022, 5:00 PM | | |
I know this is the preseason, and the wins and losses don't really matter, but you have to like what you see if you are a Bears fan. Not only is this team 2-0 right now, but they have done it in various ways, leaning on strong defense and an offense that gets it done when you need them to.
That has been something that has been lacking with this team for the better part of four years as the defense had to make up for the lackluster offense they throughout on the field. Things could be different this season; if that is the case, it would be a breath of fresh air for all involved. With the 27-11 win over Seattle on Thursday, the Bears now get some extra rest before their preseason finale.
Here are some takeaways from the game:
Special Teams could be SPECIAL
Whenever you talk about a successful football team, you always look at things in three phases. The offense, defense, and special teams are those phases, but the special teams are often overlooked when it is arguably the most important unit on the roster.
For the last five years, we have seen the Bears go through plenty of struggles on the special team's side of things, especially surrounding kickers. That was until Cairo Santos came to town in 2020 and stabilized a kicking game that desperately needed it. He is in mid-season form right now and could be on the way to another massive season.
Along with that comes a new and improved punting game that could flip the field position while their return game could be one of the best units in the game. With guys like Devin Hester and Cordarrelle Patterson once doing a Bears jersey, having successful return men has always been a thing for Chicago. This season the Bears have a ton of speed in the return game, with Velus Jones leading the way.
He flashed his potential with several excellent returns this season. He could be on the verge of a breakout rookie season which could garner those draft day steal talks.
This team plays hard
Not only does it appear as if this team loves to play for Matt Eberflus, but this team plays very hard for him. Considering what Matt Nagy was and how the team responded, getting them to buy into a new system is always tricky, but it does look like the Bears trust Eberflus and what he brings to the table.
We have seen a team get better in every phase through two preseason games while never taking a single play off. They are playing with energy, making plenty of hits, and hustling to the ball until the whistle is blown. It is almost a completely different looking identity for this team as they have now taken on the mantra of their head coach. Let's hope it continues.
Things could turn around quickly
No one will sit here and tell you that the 2022 NFL season will not be a struggle. Yes, they made significant improvements, but they still have a young team that doesn't know how to win yet. However, when you look at the culture Eberflus has created mixed with lies ahead, the Bears are one of those teams that could rise from the dead quickly.
Not only do many people expect this team to have a high draft pick next season, but throw in roughly 100 million dollars in unused salary next season, and things are going to be looking up for this team. What they do with all those funds remains to be seen, but Poles will not sit back and do nothing.
He has already improved this team immensely, and I expect him to do that every season if the money is there. Add in a coach that seems to have a plan in place for how he wants to do things, and this team will not be the doormats of the NFC North for much longer.