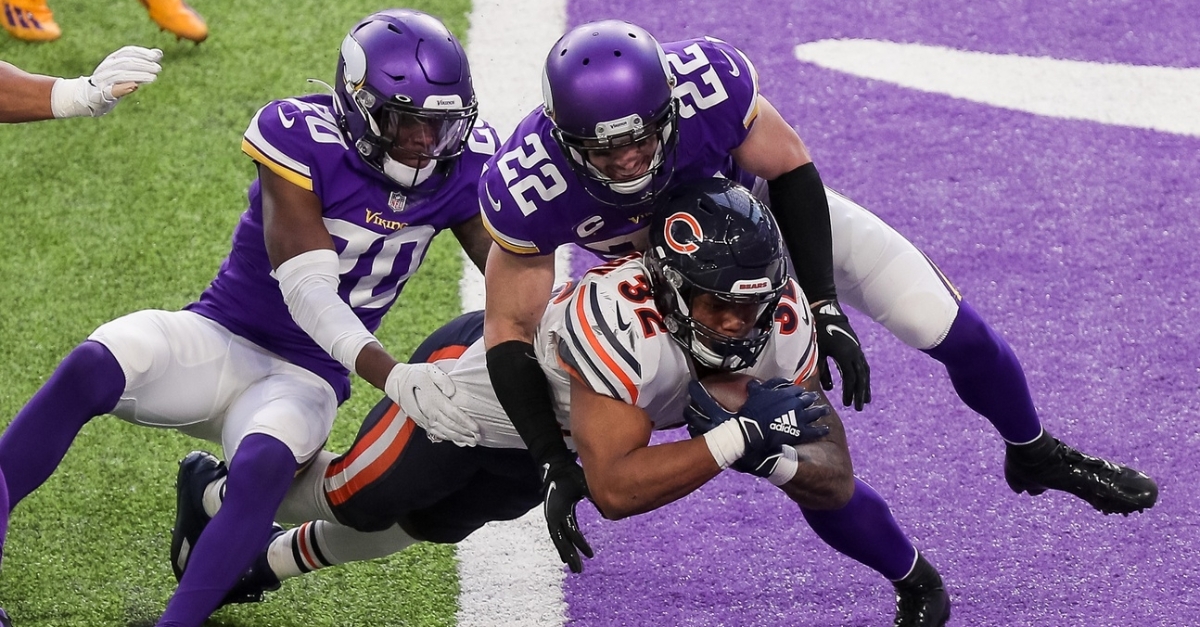 | | |
| --- | --- |
| Three Takeaways from Bears' win over Vikings | |
---
Ok, Chicago, you pulled us back in. After nearly two months without a win, the Bears have now picked up two straight wins to move back into the eighth seed in the NFC. At 7-7, there is a lot of work to be done, but with another win coupled with an Arizona loss and Chicago will take over the final playoff spot.
Earlier in the season, the playoffs seemed like a for sure thing, but after losing six-straight, fans began to wonder if the team should tank the rest of the way. Now, after winning two games and Arizona set to face Miami next week, the Bears have a realistic chance to sneak in as the seventh and final seed if they continue to take care of their business.
Here are three takeaways from week 15:
The new and improved offense: Ever since Bill Lazor has taken over play-calling duties, this team has looked like a completely different team on offense. Sure, the resurgence of Mitch Trubisky certainly has helped, but credit that to the play-calling as Lazor is utilizing Trubisky's strengths.
For three straight games, four if you count the second half of the Green Bay game, and Trubisky is looking like a franchise quarterback that the Bears can lean on long term. The offense is now being catered to him, and he seems more comfortable on the field. Trubisky is rolling out to make things happen with both his arms and legs, and the offensive line is giving him more protection than earlier this season.
Mitch Trubisky may be playing his way into staying in Chicago but the Bears finish should save Matt Nagy from being fired.

— John Clayton (@JohnClaytonNFL) December 21, 2020
Since returning to the starting lineup, Trubisky is 2-2 but was 3-0 before the benching. That means he has gone 5-2 as a starter this season instead of Nick Foles 2-5 mark. It has to make you wonder where the Bears would be sitting had Trubisky played all season. The big question now is, has he done enough to return to Chicago next season?
The Bears are now 5-2 in games started by Mitchell Trubisky and 2-5 in games started by Nick Foles.

— Michael David Smith (@MichaelDavSmith) December 20, 2020
David Montgomery coming into his own: All season long, fans have talked about the Bears lack of running game and why that was holding this team back. They were correct in some aspects, but you have to look at the offensive line as part of the problem. If they can't block, teams will not do anything offensively, which was a huge key for the Bears for most of the season.
Prior to Tarik Cohen going down with an injury in week 3, the Bears rushing attack was toward the middle of the pack and was better than the previous two years. After failing to run the ball for six weeks, the Bears have gone back to a run-first approach, and it is working out well. Not only has Montgomery rushed for a new career-high 904 yards and counting right now, but he has rushed for 100 yards in back-to-back games and has now done so four times over the last five.
David Montgomery goes untouched for a 14 yard touchdown... but my ?? go directly to the LG, Cody Whitehair. He's got my favorite block of the weekend and a dominating ?? block. Check it out @ChicagoBears pic.twitter.com/CJUF4hTQWI

— Geoff Schwartz (@geoffschwartz) December 21, 2020
Montgomery is also inline to be the Bears' first 1000-yard rusher since Jordan Howard, which is s enormous compliment for this offense. For the Bears to continue to have offensive success, they need to be a run-first football team and balance the pass off that run. Yesterday, Trubisky threw less than 24 passes while they ran the ball close to 40 times. Montgomery is starting to look like the running back everyone thought he would be, and it couldn't have come at the perfect time. The Bears offense is surging, and there are a lot of reasons for their recent success.
Congratulations to the @ChicagoBears & David Montgomery, whose 146 yards & 2 TD's keep the #Bears playoff hopes alive! Career day for @MontgomerDavid. Also back to back 100+ rushing yard performances. All in a day's work... @NFLonFOX #CHIvsMIN pic.twitter.com/AkVtmNMdOh

— Jennifer Hale (@JenHale504) December 20, 2020
Cairo Santos for team MVP: In the first eight games, the Bears defense carried this team as they made up for the offense's inability to score. Across the past few weeks, it has been the offense picking up the slack as the defense is allowing more points than at any point this season. I guess you could say this team still hasn't played a complete game this season, minus perhaps the Houston game in week 14.
The one consistent aspect of this team all season has been the special teams, which is a pleasant sight for fans. With Cordarrelle Patterson returning kicks, the Bears have the best return man in the game capable of flipping the field on one play. However, it has been the kicking game that has often plagued the Bears, especially after Robbie Gould left for San Francisco.
Cody Parkey started those kicking issues as his double-doink knocked Chicago out of the playoffs two years ago. It seemed like Eddy Pinero could be the answer last year, but after an injury kept him out all season, the Bears were left with another question mark in the kicking game. Enter Cairo Santos, who is quietly putting together a fantastic season.
Cairo Santos went 4-for-4 on field goals today, and Cody Parkey just hit a doink for a team that wasn't the #Bears.

Life is good.

— Jacob Infante (@jacobinfante24) December 21, 2020
Following his perfect day yesterday, including 4-4 on field goal attempts, Santos continues his great season making his last 22 field-goal tries.
Cairo Santos é o SENHOR AUTOMÁTICO! #DaBears #NFLBrasil pic.twitter.com/sEk7gu9Lco

— NFL Brasil (@NFLBrasil) December 20, 2020
He is easily having the best season of his career and is putting together a Gould type of season where he is becoming automatic. Santos may not get the rest of this team's recognition, but he could be considered one of the team MVPs this year. If it wasn't for his accuracy in the kicking game, Chicago doesn't win yesterday, and there are several other occasions where the Bears don't win and would have been eliminated by now.