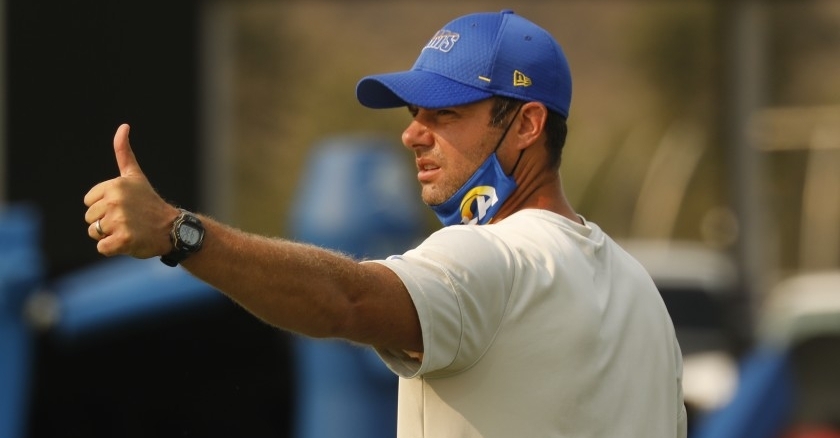 | | |
| --- | --- |
| What does Brandon Staley hire by Chargers mean for Bears? | |
---
| | | |
| --- | --- | --- |
| Monday, January 18, 2021, 1:51 PM | | |
Every coach's dream is to become a head coach in the NFL. With more and more assistants thriving in their roles, they continue to make a name for themselves and do whatever it takes to make a name for themselves as a head coach. With seven head coaching openings, plenty of assistants aimed for their first NFL job, and someone the Bears are all too familiar with is now getting the chance.
Former Chicago Bears linebacker coach Brandon Staley takes over the Chargers head coaching ranks after they parted ways with Anthony Lynn. Staley has been regarded as one of the better assistants on the market, and the Bears had some interest for him for a different position.
After Fangio left the Bears for the Broncos, the plan was to promote Staley from the LB coach and make him defensive coordinator. Instead, Staley left Chicago to join Fangio in Denver before signing with the Los Angeles Rams this season. Not only did the Rams reap his rewards, but Staley took the Rams defense and turned them into the best defense in football. Considering what Chuck Pagano and the Bears defense showed toward the end of the season, it is clear that Staley should have been retained years ago.
With Pagano announcing his retirement, the Bears have an opening at the defensive coordinator position. Some experts thought the Bears would look to lure Staley back, but now Staley is taking a head coaching job for the first time, so best of luck to him. Out of all the head coach openings following the 2020 season, the Chargers was the biggest shocker of all. Despite their 7-9 mark, Los Angeles finished the season strong and dealt with a boatload of injuries. Staley inherits a team with a franchise QB in Justin Herbert, a defense led by Joey Bosa, and a young roster hungry to win.
The 38-year-old was never considered a hot commodity on the coaching market until 2017, when he started working with Fangio and that Bears defense. Since then, Staley has made a name for himself, especially when you look at what the Rams did defensively this season. Not only does this hiring throw a wrench in the Bears possible plans to bring him back to coach the defense, but now it looks like Staley may have his eyes on some of his former coaches that could leave Chicago to join him.
The one name that is popping up right now is that of Defensive line coach Jay Rodgers. This makes a ton of sense for Staley as Rodgers is viewed as one of the favorites to replace Pagano as a defensive coordinator. Staley would make him the coordinator in Los Angeles, but poaching him from the Bears would hand Chicago another issue that needs to be solved. With Rodgers' contract expiring after this upcoming week, the Bears better move fast before losing out on another coach.
Staley may not have been the first coach on the market, but he certainly is coming in with a lot of long-term success. Chicago has already missed out on him twice now, so losing anyone else who could potentially join him could hurt. Without confirmation on what the salary cap will be going forward, could Staley acquire former players from Chicago that he worked with while coaching?
It certainly is a possibility, and the Bears strongly need to not only watch out for that but potentially trading with Los Angeles should they want to acquire draft capital. Even though he is no longer a Bear coach, you can't help but want to wish him the best of luck as he meant a ton to this Bears organization.