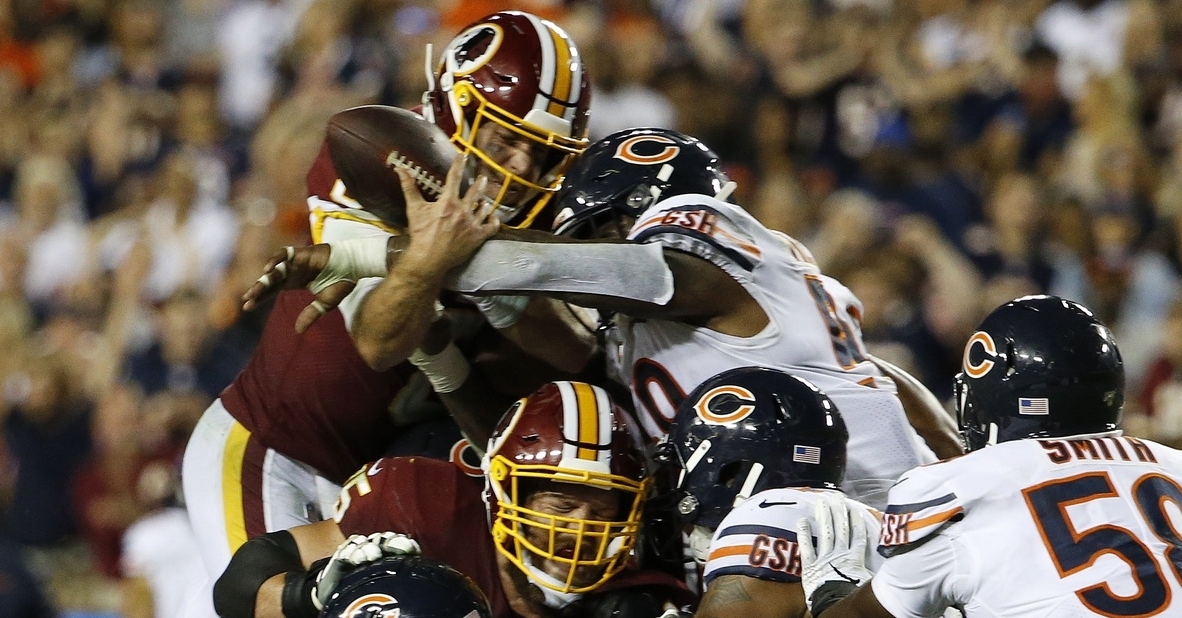 | | |
| --- | --- |
| What History tells us about Bears and Commanders | |
---
| | | |
| --- | --- | --- |
| Thursday, October 13, 2022, 9:04 AM | | |
The best part about playing teams outside your division is that it gives fans and players a chance to see teams and players they don't get to see every season. Washington is no exception, as the Bears and now Commanders will kick things off on primetime with some Thursday night football.
Unlike most of the NFC East that didn't begin play until the 1960s, the Washington Franchise has been around since the 1930s moving from city to city until they settled in Washington. Despite being around for nearly 100 years, these two teams have not played as much as you would think, with Washington holding the slim 26-24-1 lead in the series.
A big reason for that has been their domination of the Bears since the late 1980s, where Washington has won 13 of the last 16 meetings, including seven straight from 2004 through 2016. That made up for their early struggles against this Bears franchise, where Chicago dominated things early on, taking four of the first six meetings and controlling things early on.
Their most extensive reign of success came from 1946-1953 when the Bears won six straight and seven of eight. Apart from that, this has been a series of streaks, but the recent surge from Washington has put them in front overall as Chicago aims to put an end to that dominance this time around.
If there is any silver lining to take away, it might be that the last time these teams met in 2019, it was all Chicago as the Mitchell Trubisky-led Bears took care of business 31-15 at Fed Ex Field. That ended a lengthy winning streak by Washington, and it was great for the fans to finally see this team beat the Commanders.
While this is a short week for both teams, and this game is being played in Soldier Field, that may not be the matchup the Bears want against this team. Sure, this team is 2-0 at home this season and 0-3 on the road, but that is not what history tells us between the two sides. Not only has Washington won the last four times they have traveled to Chicago, but the last time the Bears beat Washington at Soldier Field was in 2003.
That is a span of nearly 20 seasons which is unheard of in the NFL. Chicago would love to end that this season and if you look at the trajectory of both teams, the Bears have a great shot at doing it. These are two historic and proud franchises that have had a ton of success over the years, including winning four combined Superbowls.
The problem is that success has been few and far between over the last decade as these franchises are a shell of what they once were and what they could be given the money and the proper regime leading the way. Another thing to consider is the coach on the other side, Ron Rivera, who knows a thing or two about the Bears history.
Rivera was part of the Bears 1985 defense known as the Monsters of the Midway. He has seen firsthand what success in Chicago looks like and how fun this town is when the Bears are winning. Although he may have a soft spot for this city, it is all business now as he wants to knock off the Bears more than you could imagine.
With the series being as close as it is, a win for Chicago brings them one game closer to .500, which is not an easy thing to do in the NFL. As long as things are better than last Thursday when the Colts and Broncos played, this will be a win for the NFL, as the Thursday night games have been hit or miss this season.