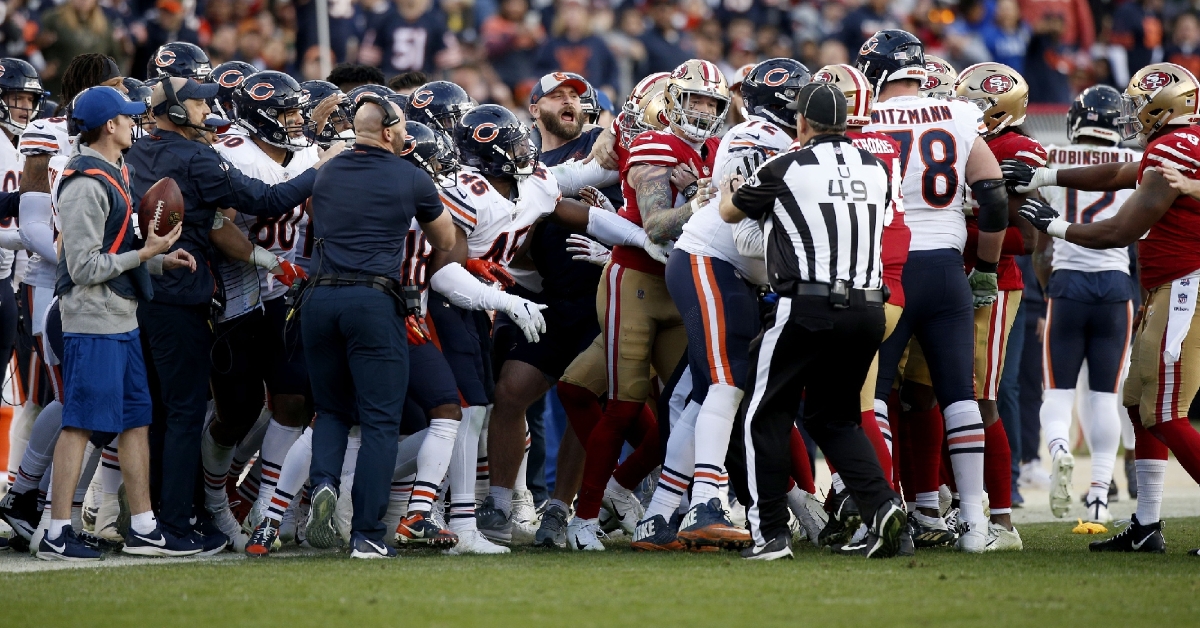 | | |
| --- | --- |
| What history tells us between the 49ers and Bears | |
---
The 2022 NFL season officially gets underway tonight as the Buffalo Bills square off against the Los Angeles Rams. This is often considered a holiday for most men as it will mark a four-month stretch where football is on from Thursday-Monday.
While football may get underway tonight, the Bears still have a few days left until their season starts, as they will kick off on Sunday at Soldier Field. Unlike previous years that have seen the Bears open up within their division, Chicago will be taking on an NFC West foe as the San Francisco 49ers come to town.
Talk about two of the NFL's most historic franchises. On the one hand, you have the Chicago Bears, winners of just one Superbowl and a team that ranks in the top three in all-time wins. With players like Gale Sayers, Walter Payton, Mike Ditka, Dick Butkus, Brian Urlacher, and many more, you can see why the Bears have such a rich football tradition filled with a lot of success.
On the other side are the 49ers, who didn't enter the league until the 1960s, but are one of the most iconic franchises of all time. Going back to the 1980s and early 1990s, when this team really took off, you had a franchise that went to five super bowls and came away with wins in all five. Guys like Steve Young, Joe Montana, and Jerry Rice played a significant role in that, as those guys are all hall of Famers.
While the glory days of the 49ers may be over, they have still been to two Superbowls in the last 12 years, but managed to lose both. Still, that gives them seven total appearances, which is the fourth most all-time, so success is also in their DNA. This is not your typical rivalry like the Green Bay Packers or Minnesota Vikings, but it is a rivalry nonetheless when you look at the overall success of these teams.
This will mark the 69th time that these teams have met, and it is about as closely contested of a series as you can have. As things sit right now, the 49ers hold the slim edge at 35-32-1, but one thing is certain: fans will often be treated to a great game when these too step on the field.
Even with all the success, the 49ers have had in the past, things have shifted in the Bears favor since the 2000s, where they have gone 6-4 across their last 10 meetings. However, most of that success has come away from Soldier Field as the 49ers have turned the Bears venue into a home away from home.
Four of the team's last five meetings have been at Soldier Field, and you can now say that five of the last six have been played in Chicago. During that time, San Francisco posted a 3-1 record, including a 33-22 win last season and a hard-fought 15-14 win in 2017.
You could argue that the main reason the Bears lost the last two meetings at home was the vast talent gap between the teams during those stretches. However, Chicago managed to win 14-9 at San Francisco in 2018, as that was part of their 2018 NFC North title.
These are always intriguing matchups for teams to begin the season as you are not only facing an unfamiliar opponent to start things off, but you are facing an opponent that came one win away from another Superbowl appearance last season. This will be a good litmus test for the Bears to see where they are at as a team, how many improvements they have made since last season, and where they stack up against one of the NFC's best.
Win or lose, Soldier Field will be packed as the Bears get to break in a brand new playing surface made from Bermuda Grass. Expect another highly competitive and physical game from the two sides, as this is the type of football that these teams have grown accustomed to playing, especially against one another.