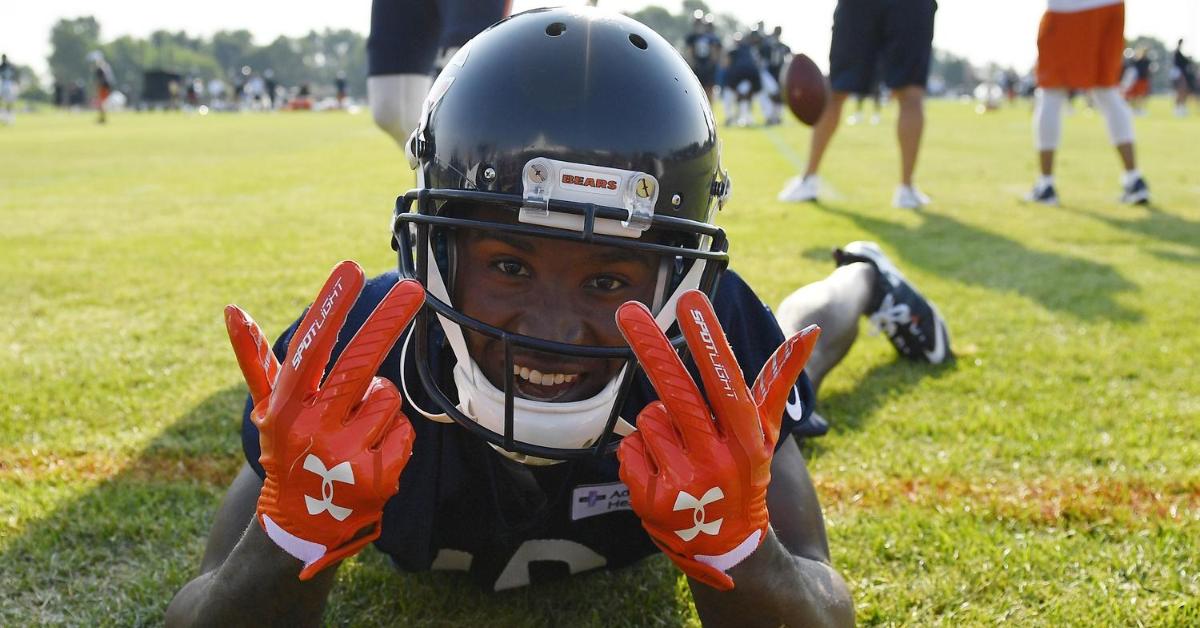 | | |
| --- | --- |
| What to expect from the Bears offense moving forward? | |
---
With the full team finally back to practice, Tuesday was a busy day for the Bears coaching staff as it was Media Day around the practice facility. With both offensive and defensive position coaches stealing the spotlight with their press conferences, it was the offensive group of coaches that stood out the most laying out their plans as to what the Bears offense could look like moving forward.
The biggest question in the room circled on Mitch Trubisky and his health now that he finally returned to the practice. With his status for this week still up in the air, the Bears don't expect Trubisky to change his game at all once he is cleared to play. That is especially important in terms of his scrambling ability as the team doesn't expect him to be discouraged from running despite his recent injury.
"I'm not going to coach that out of him," said quarterbacks coach via Bears.com. "There are things that we talk about within his instincts of, 'Hey, obviously know when to get yourself down. Protect yourself in that situation.' [But] when he is available to play, he's going to play as if he is 100 percent ready to go and there are no mental or physical holdbacks or restrictions."
"I don't think you can play the position if you're thinking about either one of those. Whenever he's available, we expect him to go out there and play at a high level and execute the game plan and play within his fundamentals."
Trubisky practiced for the first time on Monday since injuring his shoulder against the Vikings three weeks ago. Although he was still slightly limited, the Bears are hoping to work him into full reps this week and have him ready to start Sunday against New Orleans.
With the recent news that Guard Kyle Long would be heading to the IR, offensive line coach Harry Hiestand has been weighing his options as to who could step in his place. Ted Larsen, Rashaad Coward, and Alex Bars are all vying for time in Long's place, but it is Larsen who is the most experienced in that group.
In his 10 NFL seasons, Larsen has not only played in 129 games but has started 87 of those contests. That included one start this season when he filled in for Long against Minnesota. Unfortunately, Larsen injured his knee against the Vikings and missed the Raiders game before returning to the practice field Monday. With his status up in the air for Sunday, look for Coward to get a bulk of the reps this week as he has played well in his two games of action this season.
"He'll get a ton of work this week to make sure he's got a good opportunity," offensive line coach Harry Hiestand told the media. "He's a tough guy. He plays very, very hard. It's super important to him, and he's very prideful. He's very determined to keep his guy from making a play, and that's a big part of this."
The third option to replace long is Bars, who became an option this week after coming up from the practice squad. An undrafted free agent out of Notre Dame, Bars would most likely have been a second-day pick had he not torn his ACL in his senior year. TO make things more interesting, Bars also played under Hiestand at Notre Dame, so the coaching staff understands his game as a player.
"He's got experience playing the position for a long time," Hiestand said. "He's gotten a lot of good work playing against our defense from the first quarter of the season, so he's definitely on the right track."
One of the biggest disappoints on offense this season has been the running game, or should I say lack thereof. Running backs coach Charles London certainly knows that the team has not run the ball the way they had hoped so far this season, but also expects much better days to be ahead for his team.
"We're close," London told Bears media. "There are several runs that we had when we went back and looked that we were maybe a block away here or a cutaway here from the back or just one small thing here. We've got to get all 11 guys on the same page, working in the same direction. But [there have been] several runs that we thought were close that we've just got to finish the deal on."
A team that made it a point to run the ball last season currently ranks 26th in the NFL through six weeks in after being ranked 18th two weeks into the season. That must change if the Bears offense wants to take the next step, and it all starts with rookie running back David Montgomery, who has not been able to produce at an elite level quite yet.
Despite the lack of production, London isn't buying into Montgomery being frustrated with the running backs lack of production to this point.
"I don't have to say anything to him at all," London said. "He understands the process. He understands it's growing as a player, growing as a team. He's been good from that standpoint. We do have several conversations, but it's just about, 'What can I do to be better? How did you see this? How should I see this?' It's really just him and the line all getting on the same page together."
As mentioned above, Trubisky was one of four injured players to return to practice this week as the Bears are slowly returning to full strength. He was not only on the offense however, as another critical piece returned to the field after missing some time with a concussion. Speedy WR Taylor Gabriel looks ready to go as he aims to provide a boost for the Bears passing attack.
This was the first time since suffering a concussion against Washington that Gabriel was on the field. It was in that game where he had his coming out party becoming only the fourth Bears player in history to score three touchdowns in a single quarter. Wide Receiver coach Mike Furrey is excited to have him back in the fold on offense this week.
"You're getting a guy back that can stretch the field, a guy that's made some big plays for us in the beginning of the season," said receivers coach Mike Furrey to Larry Meyer. "It'll be good to have everyone back healthy in our room."
With his absence on the field, the passing attack has undoubtedly struggled as it has been Allen Robinson or nothing in the aerial assault. Gabriel also leads his team with those three touchdown receptions and will be looking to pick up where he left off against an underrated Saints defense.
"His attitude has been tremendous over the past four or five months, and kind of understanding that he doesn't have to come here and be somebody that he was trying to be," Furrey said. "He can come here and just be himself and learn how to play. We didn't ask him to be Superman; just come in here and make plays and be a reliable source for us, and so he's done that."