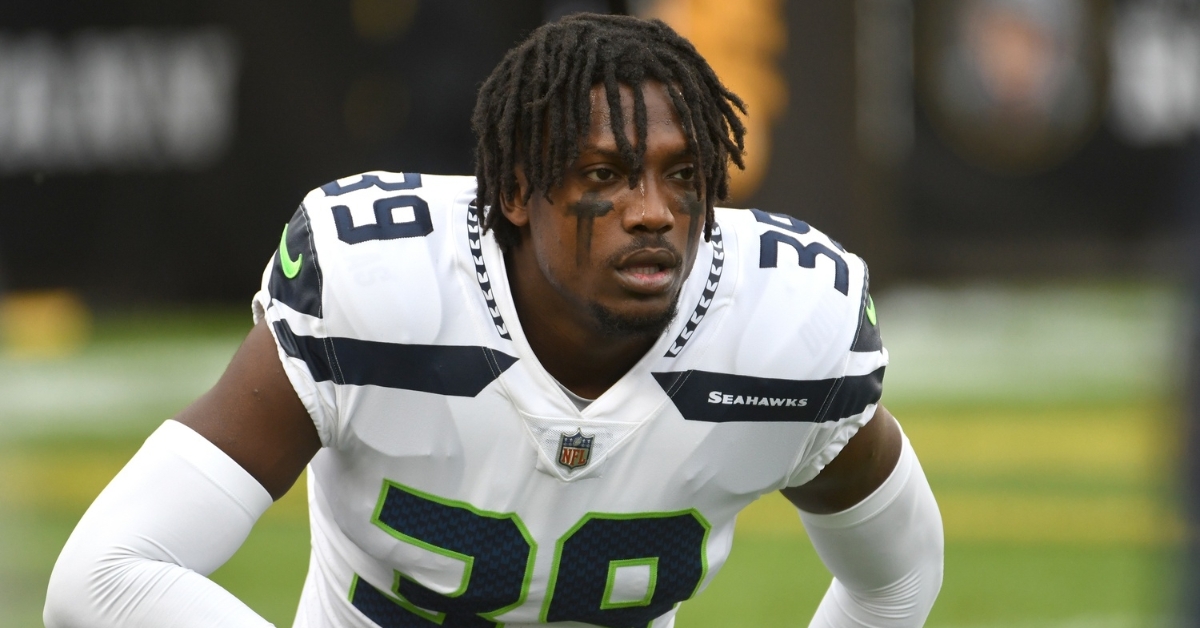 | | |
| --- | --- |
| Who should win NFL Rookie of the Year? | |
---
| | | |
| --- | --- | --- |
| Monday, January 23, 2023, 8:10 AM | | |
The finalists for the 2022 Pepsi Zero Sugar NFL Rookie of the Year were recently released, those finalists being - Sauce Gardner (cornerback from the New York Jets), Aidan Hutchinson (defensive end from the Detroit Lions), Chris Olave (wide receiver from the New Orleans Saints), Garrett Wilson (wide receiver from the New York Jets), Tariq Woolen (cornerback from the Seattle Seahawks), and Kenneth Walker III (running back from the Seattle Seahawks).
All of these players have a case for winning this award, but there is one that stands above the rest.
Sauce Gardner
Gardner was the only All-Pro among these six players. Furthermore, he was the first rookie to become an All-Pro at the cornerback position in 41 years. So realistically, he is probably going to win this award. He put up impressive numbers, including 20 passes defended which led the NFL. He also played nearly all defensive snaps for the Jets. What probably helped Gardner, though, was the fact that the Jets were the third-best passing defense in the NFL. However, New York did struggle to get interceptions, which is probably Gardner's lowest statistical point for a cornerback as well. The team as a whole only had 12, No. 19 in the NFL. Even the Bears, who were ranked far lower in passing defense, had more interceptions (14). Gardner himself only had two interceptions, which was outdone by another rookie this season.
Aidan Hutchinson
While it can be understood how Woolen's statistics might edge out Gardner a bit for Rookie of the Year, we can't forget about Aidan Hutchinson. While he was not selected to the Pro Bowl or selected as an All-Pro, which seems like quite the snub, at least in regards to the Pro Bowl, he had quite the rookie season with Detroit. He had three interceptions this season, including one against the Green Bay Packers to help the Lions defeat the Packers 15-9 earlier in the season. He also had 9.5 sacks and recovered two fumbles, as well as defending three passes. This is all very impressive, but it should be taken into account that the Lions were a talented group in sacking opposing quarterbacks with a total of 39 sacks on the season, which ranked No. 18 in the NFL. This allowed Hutchinson to get some additional opportunities that perhaps he wouldn't have had. That does not knock Hutchinson's ability, of course, but the talent of the team should still be considered when looking at the talent of a player.
Chris Olave
Speaking of considering the talent of the team, Olave did not have the best situation in his first season with the Saints. Things started out well with quarterback Jameis Winston. But once he suffered a season-ending injury, former Chicago Bears quarterback Andy Dalton was tasked with leading the team. Dalton did not perform incredibly well, and the team continued to lose games. The Saints' passing game ranked in the middle of the pack with No. 16 in passing offense. Olave still put up good numbers with 72 receptions for 1,042 yards and four touchdowns. His receptions went for 48 first downs, and he caught 60.5% of receptions that came his way. These aren't numbers that would win him Rookie of the Year, but is still something to build off of for future years.
Garrett Wilson
The Jets had a little bit of their quarterback trouble, from injuries to off-the-field issues to more injuries. Zach Wilson has been talked about negatively, in addition to being benched by Robert Saleh. Mike White also had some injuries. But, this wasn't enough to stop Wilson from being a productive wide receiver. He stopped Olave in receptions and receiving yards; he had 83 receptions for 1,103 yards. Both he and Olave had four receiving touchdowns. But, Wilson's catch percentage was a little lower as it was at 56.5%. The Jets also had a slightly better-passing offense, ranked No. 14 in the NFL. This probably benefited Wilson. Like Olave, he had a good rookie season which is something that he can build on for the future of his organization.
Kenneth Walker III
Finally, there is Kenneth Walker III. He finished the season with 228 rushes for 1,050 yards and nine rushing touchdowns. He also gained 51 first downs on the ground. Walker was also active in the passing game with 27 receptions for 165 receiving yards that went for six first downs. He had a catch percentage of 77.1%. He was part of the season that the Seahawks finished No. 18 in rushing offense and helped to give them a more balanced attack with Geno Smith through the air with the duo of DK Metcalf and Tyler Lockett at wide receiver. There are running backs that had more impressive rookie seasons, however. Back in 2016, rookie running back Jordan Howard rushed for 1,313 yards on 252 rushing attempts for the Bears, breaking Matt Forte's rookie rushing record. Still, this is something that Walker can improve on to work for next season.
Tariq Woolen
Woolen was the only other player member of these six rookies to be selected to the Pro Bowl. Woolen defended nearly as many passes as Gardner with 16. Where he stands above is that he had six interceptions this season, one of them returned for a touchdown. He also recovered three fumbles. In addition, he played nearly all of Seattle's defensive snaps, just like Gardner. Woolen, however, did not play on as well of a passing defense as Gardner. The Seahawks finished the season ranked No. 14 in passing defense. They also had only 14 interceptions, meaning that Woolen accounted for nearly half of them. That is why Tariq Woolen should be the NFL Rookie of the Year.
Upgrade Your Account
Unlock premium boards and exclusive features (e.g. ad-free) by upgrading your account today.
Upgrade Now