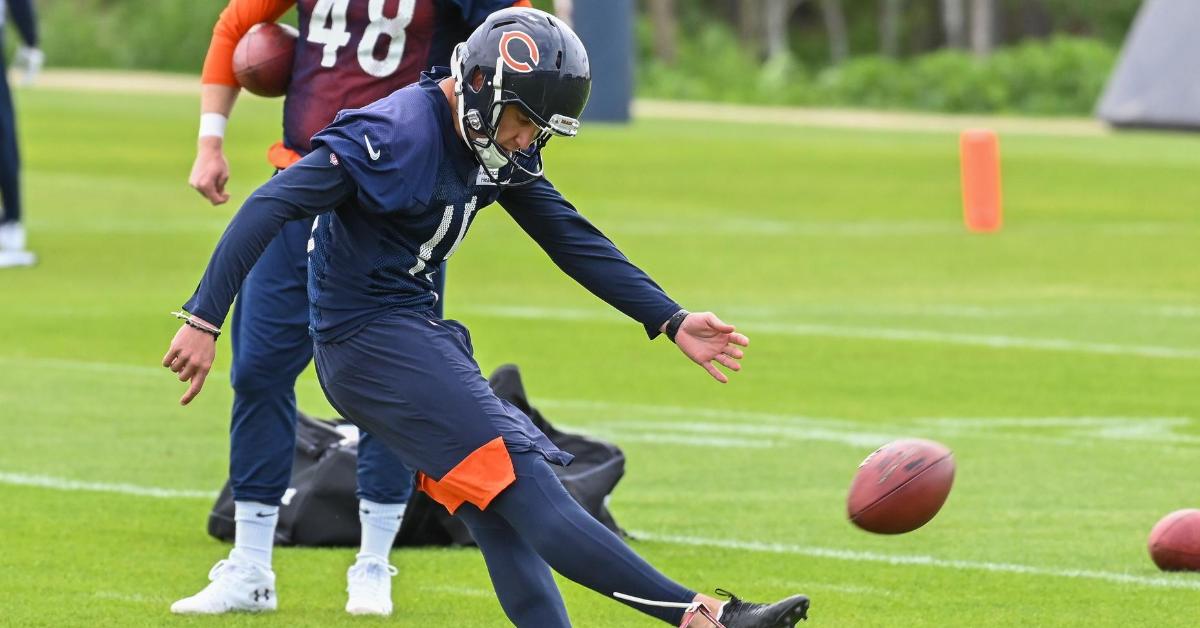 | | |
| --- | --- |
| Who wins the kicking job for Bears out of camp? | |
---
| | | |
| --- | --- | --- |
| Wednesday, August 14, 2019, 9:32 AM | | |
Perhaps the biggest storyline outside of the Packers head coaching change in the NFC North was the Chicago Bears kicking situation and rightfully so. After Cody Parkey struggled to find consistency much of last season, his double doink off the left upright and crossbar prevented the Bears from advancing in the playoffs with a shot at potentially an NFC Title game. Chicago wasted no time cutting ties with Parkey bringing in not just a new Special teams Coach, but new kickers also.
In comes Eddy Pinero and Elliott Fry to try their best to become the next version of Robbie Gould who was one of the best kickers the Bears ever had. After weeks of training camp and now one preseason game, the competition seems even right now but who wins the job as the kicker when the season breaks?
Chicago was hoping the most grueling part of training camp would give them some insight as to who their guy was moving forward. However, that was not the case as the team is now at Halas Hall with no clear leader in the competition. This can be a good thing and a bad thing for the Bears at this point of the preseason.
The good, Chicago may have two potentially start kickers that they could trust with the game on the line, so letting them battle it out all camp is a good thing. The Bad, if neither one of them is miles above the other when it's time to decide what the right decision to make is? Do you sign both kickers and try to trade one away or keep them both on the roster? Whatever the choice is going to be, the Bears probably won't make it for at least another two weeks as these two both want the job.
There is no real way to track kicking stats at practice unless someone is literally doing that as their job. Unofficially as of now, Pinero has connected on 47 of his 56 kicks (83.9%) while Fry has made 48 of 59 (81.4%). To put that into perspective, Parkey has made 83.9 % of his kicks during his career while Gould ha made 87.5%. When you have numbers like Parkey, it certainly doesn't sit well with Bears fans, especially when Gould was near 90%. However, Gould is also one of the top 5 most accurate kickers in NFL history, so finding another one of those kickers will be hard, especially when the NFL average is 85.2%.
If you want to base the teams first preseason game as the bar, then Fry appears to have the slight nod at this point given that he performed better against Carolina. Fry made both kicks which included an Extra Point and 43-yard field goal, while Pinero missed a 48 yarder before making a 29 yarder later in the game. A team is not going to base their decision off one missed kick, but game situations tend to be the barrier in terms of who gets the job and who doesn't.
After playing on grass in their first preseason game, the Bears will be on turf for their next two contest on the road before closing out the preseason slate at home. Matt Nagy and his coaching staff will continue to evaluate them in practice but knows the games are the real test to see where these guys are at. If you ask both Fry and Pinero, both are pleased with how they have performed thus far but not satisfied with where their performances are at to this point.
"I feel like I've kicked well," Pineiro said. "I feel like we've both kicked well. I think I have; I've just got to show it in the games now. I missed one. But you're going to miss. As a kicker, you're not going to make every single field goal. So, it's just how you bounce back."
"I think I've done well," Fry said. "As a kicker, you want to be 100 percent no matter what, so if you came in here and were 99 percent, you're going to want to strive to get 100. You can always improve, but I thought I've done well."
With how much scrutiny and outside noise the Bears kicking game has taken this offseason it is kind of refreshing to see that both guys want to do better to prove everyone wrong about this position. Yes, this may be a friendly competition for now, but this is still a competition and chances are only one will make this roster.
Both kickers know that they could lose this job at any moment, and that was made very clear to them by GM Ryan Pace the first day of practice. Yes, both Pace and the Bears staff would like one of these two to win the job, but they will also continue to monitor the kicking waiver wire and pounce on opportunities if these two don't pan out.
With the talent compiled on this roster and a team hungrier than ever to make it further into the playoffs, Chicago cannot afford to have another kicking woe determine their fate in a critical matchup. Both Pinero and Fry are aware of this and the pressure they will be put under when on the field, but they also know it is up to them to prevent Pace from looking elsewhere for more kicking help.
Expect both kickers to continue to alternate kicks for at least two more preseason games with the favorite hopefully being chosen by week four of the preseason.