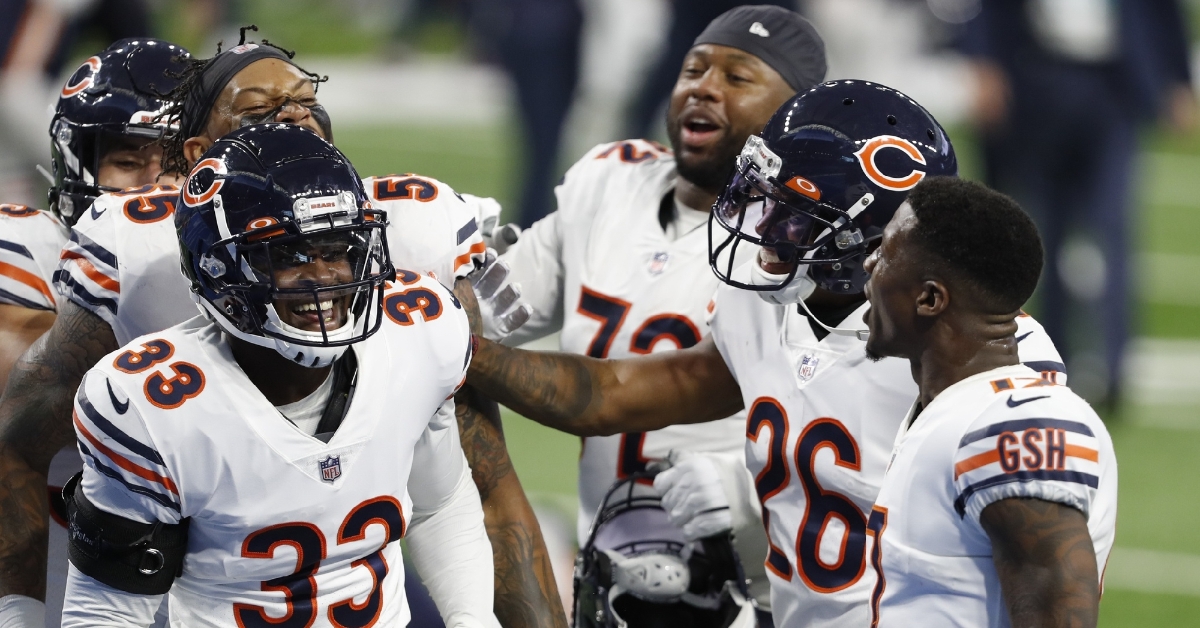 | | |
| --- | --- |
| Will Bears rule NFC North after Rodgers' drama? | |
---
Let's be honest. The Green Bay Packers have ruled the NFC North for the better part of the last three decades, minus a few seasons here and there. When you have Brett Favre and Aaron Rodgers as your quarterbacks during that time, you can see why they have been so successful. Over the past five years, teams like the Vikings and Bears have found a win to win the division, but a lot of that had to do with Rodgers hurt or the Packers struggling.
As we transition through the offseason and get into training camp, I want to ask you the question are the Bears set up to rule the North for the next decade?
Allow me to break it down for you. Starting with the Packers, the Rodgers drama will not go away, and the longer it drags on, the worse it could get for that franchise. Ultimately the goal is for the Packers and Rodgers to reach a new contract, and if that happens, it could mean bad news for the NFC North.
However, given everything we have seen this offseason, I find it highly unlikely an extension happens this season, if ever, which could open the door for the rest of the division. Along with the Rodgers drama comes the recent comments about Davante Adams, who may consider playing with Derek Carr next year. Without Rodgers or Adams on offense, the Green Bay Packers would be Aaron Jones and nothing else. That would be a tall order to live up to, especially when you look at how up and down the Packers defense has been.
Then you look at the Detroit Lions, who seemingly can't get out of their way. Not only have they been one of the more injured teams across the league the last few years, but ever since Jim Schwartz had a nice little run in the Motor City, the Lions haven't been able to find consistency. That has led them to recycling coaches left and right, with Matt Patricia, Jim Caldwell, and now Dan Campbell coming into the mix.
Another thing to look for with the Lions this season is Jared Goff is now taking over for Matthew Stafford, who has been the signal-caller the last decade-plus. Goff has proven to be a decent QB who helped the Rams made the Superbowl a few years ago, but that was in the Sean McVay system. There is no telling how he will do with the Lions, and I expect them to be three or four years away from contending for a division title. That doesn't mean they won't be a wildcard team, but that may be it for now.
Perhaps the most intriguing team in this division is the Minnesota Vikings, mainly because of what they have done this offseason. After disappointingly missing the playoffs last year, Head Coach Mike Zimmer had enough of his less than stellar defense which put up the worst numbers in a long time. Much of that had to do with injuries to Danielle Hunter, Anthony Barr, Eric Kendricks, and Michael Pierce opting out, but that is no excuse.
The Vikings also had a secondary comprised of rookies and young players tested and torched all season long. So what do they do to make sure that doesn't happen again? Well, they invest in defense and put a lot into it. Barr, Hunter, Kendricks, and Pierce are all expected to be back and healthy, which is essentially four free agents coming to the team for free.
The Vikings also added Dalvin Tomlinson and Sheldon Richardson through free agency while also picking up Patrick Peterson, Bashaud Breeland, and Xavier Woods to help a young secondary. Add in an Offense that was a top 10-unit last season, and they could be in line for a big season. In my opinion, this team is the biggest threat to the Bears this season mainly because I believe last season was a fluke defensively.
Fans have seen what this team can be defensively, and for the first time in Zimmer's tenure, they had an offense that could score 30 plus points every week. If the defense lives up to what people expect of them, lookout. However, this could also be Kirk Cousins final season in Minnesota, given his contract number for next year. Is he good enough to get the Vikings over the top, and if not, how will Kellen Mond fare or whoever they bring in next?
That brings me to the Bears, who were the last team not named Green Bay to win the division. Yet, despite two consecutive rough seasons, Matt Nagy has still gotten this team to the postseason twice in two years despite inconsistent play at QB. To fix that, not only did the Bears decline Mitch Trubisky's fifth-year option, but they signed Andy Dalton to a one-year deal while adding Justin Fields in the Draft.
That not only gives the Bears their QB of the future, but they now have the youngest QB in the division, which bodes well for the next decade. Defensively, the Bears are older at some spots and younger at others, but overall, they are solid. They were not as good as in the past last season, but Sean Desai is a Vic Fangio guy, so look for this team to look very similar to the 2018 defense that set the league on fire.
Offensively is where the Bears control their own destiny. Nagy was brought in because he is an offensive-minded head coach. Yet, he hasn't been able to live up to that since arriving. A lot of that has to do with the Bears' personnel, but his play calling has also been suspect at times. With guys like David Montgomery, Allen Robinson, Darnell Mooney, Jimmy Graham, Cole Kmet, to name a few, this offense should be better than the numbers have shown.
If the improved offensive line can hold up, look for those numbers to go up. As for this season, I do think the Bears are a better team than last year, but I still don't think they are good enough to win the division this season. Green Bay still has weapons and will be tough. Minnesota scares me given what they added while the Lions are the Lions, and no one knows what to expect.
However, fast forward to 2022 and beyond, and I think this team is set to rule this division for a long time. They have plenty of pieces to build around defense who are not only under contract a few more years, but are still young. The offensive line is younger with more depth, the offensive side of the ball has added some key depth pieces, and the Bears appear to have their first franchise QB since Jay Cuttler.
Even though Fields has yet to play a game, there is plenty to love about what fans have seen so far. Strong QB play has hampered this team for so long, and the Bears are due to have a franchise guy. If Fields turns out to be as close as what most expect him to, this team is a lot closer to a Superbowl than what people realize and could be the team to beat in the North for the next decade.