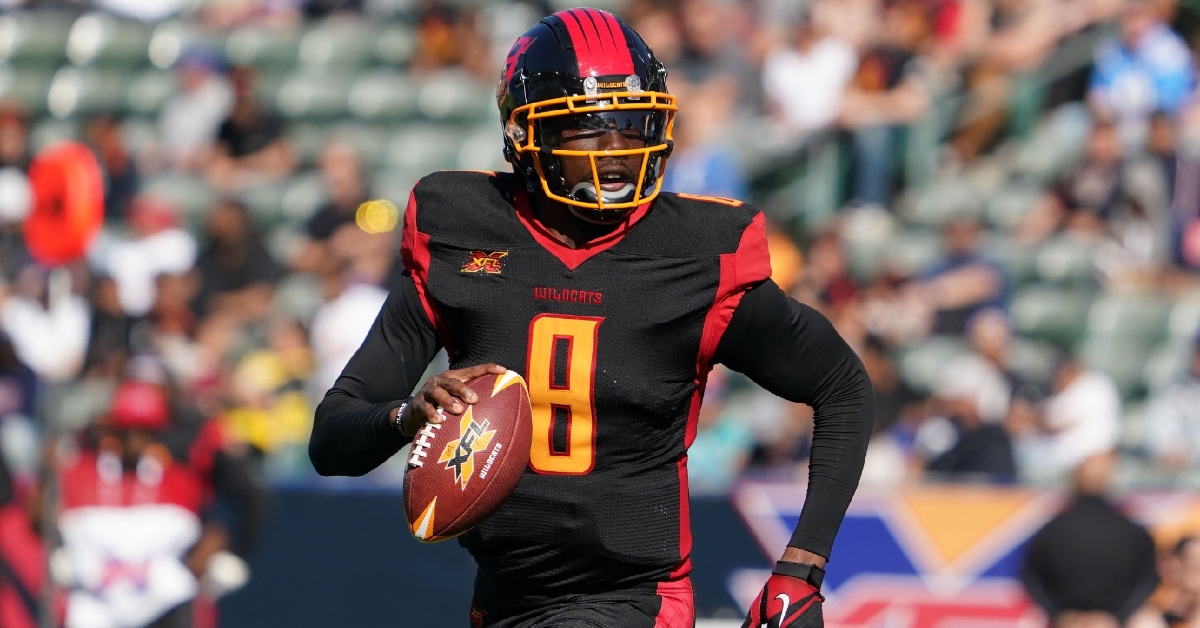 | | |
| --- | --- |
| XFL standouts that could bolster the Bears roster | |
---
Typically on Mondays, I give you a weekend recap of the XFL and highlight a few players from each game that made a difference. With the XFL being canceled now for three weeks, some might be wondering why I am talking about the XFL today.
Well, today is not just an important day for the XFL, but the NFL, as well as XFL players, can officially sign with NFL teams should there be mutual interest from both parties. I don't expect more than maybe a handful of players even to generate some buzz, but it certainly would be wise for NFL teams to look at a few.
Here is a list of who I think will most likely be given NFL offers and if the Bears should be in on one or multiple players.
Quarterbacks:
Josh Johnson (LA Wildcats). The most well-known player in all the XFL is that of long time NFL backup Josh Johnson. Throughout his 13-year NFL career, Johnson has found a home with ten different teams as a backup and has been called upon to start a few games. Despite missing one start for LA this season, Johnson led the XFL with 8.0 yards per pass attempt and was second in touchdown passes with 11.
Seeing Johnson back in the NFL will certainly not be a surprise as multiple teams expressed interest in him last season, including the Detroit Lions. With both Mitch Trubisky and Nick Foles on the roster, the Bears will only be looking for a QB should injuries happen.
P.J. Walker (Houston Roughnecks) The Former Temple QB and Colts practice squad body found a home in the XFL this year and certainly didn't disappoint. If season awards were given out, he would be your MVP as he led the league in passing yards (1338) and touchdowns (15) en route to his perfect 5-0 mark as QB.
Always known for his mobility, Walker demonstrated a surprisingly accurate arm for June Jones as he may have earned himself a shot at a backup role this season.
The Carolina Panthers will be signing XFL star P.J. Walker per source

— Dianna (@diannaESPN) March 23, 2020
Jordan Ta'Amu (St. Louis Battlehawks). Another intriguing QB to keep an eye on is that of Ta'Amu. The signal-caller for the run first Battlehawks offense, Ta'Amu, made teams pay when they dared him to throw as he led the XFL with a 72% completion percentage. Ta'Amu also led all QBs with 217 yards rushing proving he is a legitimate dual-threat man.
For an NFL team to take a chance on him, Ta'Amu will have to prove he can beat teams more consistently with his arm. That is unless he can find a home with an offense like what the Baltimore Ravens have. Not many teams outside maybe the Titans have that, but the Bears I think could see him as a fit.
Running backs:
As good as some teams were at running the ball, it was more of a running back committee instead of individual standouts. However, three names made the most headlines and are worth a look.
Cameron Artis-Payne (Dallas Roughnecks): Artis-Payne has bounced around the NFL a few years, but has never found consistent playing time to succeed. With Dallas in the XFL, Payne went on to lead his team in rushing with 241 yards on 47 carries for nearly 5 yards per touch.
Payne is still just 29, so you should be able to milk a few good seasons from him at this point in his career. At 5-9, not only is Payne a wrecking ball that is tough to bring down, but adds so underestimated speed to his game.
Lance Dunbar (Dallas Renegades): The other part of the Dallas Duo in the backfield was another former NFL back in Dunbar. Much like his counterpart, Dunbar hasn't been given much of a chance to succeed, but the 30-year-old produced well this season with 141 yards on the ground and 26 receptions. After spending six-plus years in the NFL, Dunbar proved that he is still a versatile weapon out of the backfield.
Matt Jones (St. Louis Battlehawks). The Bears are set at RB with David Montgomery and Tarik Cohen, but if they wanted to add some depth, I would love to see Jones in the Windy City. The 27-year-old former Washington Redskin certainly made an impact in the XFL finishing second in rushing yards with 314. For those that remember his playing days, Jones had a solid two-year run in 2015-16, where he combined for 950 yards.
Wide Receivers:
Cam Phillips (Houston Roughnecks) If the Bears are going to invest in any XFL talent, the wide receiver position would be an excellent spot to look especially with Taylor Gabriel now off the team. With Allen Robinson and Anthony Miller as the team's 1 and 2 receivers, adding Phillips as the team's No.3 would be a great asset.
Phillips was part of the high-flying Roughneck offense and quickly became the favorite target for Walker despite former Pittsburgh Steeler Sammie Coats on the same roster. Phillips torched defenses all season with 455 yards and ten touchdowns all just in five games. This shouldn't come as a surprise as Phillips has been productive every place he has played despite less than stellar speed.
Dan Williams (Tampa Bay Vipers) One name that not many remember from the XFL is Dan Williams of Tampa Bay. That may be because the Vipers were unpleasant to watch, but Williams indeed showed up each week. Williams may have had only 23 receptions, but his 338 yards and one touchdown proved he could be a significant play threat anytime he touches the ball.
Not only is Williams a big target at 6-3, but he provides above-average speed that could make him a matchup nightmare for anyone involved.
Rashad Ross (DC Defenders). Another former NFL player that just needed a chance to prove himself is Rashad Ross, who had a strong showing for the DC Defenders this season after playing in the AAF for the Hotshots last year. The 30-year-old has bounced around a lot in the NFL, including spending 2014 with the Chicago Bears.
Ross always could stretch defenses with his speed, but his inconsistent route running and less than stellar hands make it hard for him to stick on a roster. However, the Bears could use him in the return game as he has proven to be a legitimate PR threat.
Other receivers the Bears may invest in are, Austin Proehl (Seattle Dragons), DeAndre Thompkins (DC Defenders), Malachi Dupre (DC Defenders), Nelson Spruce (LA Wildcats), McKale McKay (NY Guardians) and De' Mornay Pierson-El (St. Louis Battlehawks).
Tight Ends:
Donald Parham (Dallas Renegades) While Nick Truesdale may have the best hands among the Tight ends in the XFL, Parham may be the one ticketed to the NFL this season. We all know the Bears lacked any sort of production from this position last year, so adding Parham to pair with Burton if he stays to back up Graham may not be a bad idea.
Not only did he lead the Renegades in receiving with 307 yards on 24 catches, that also led all XFL tight ends proving to be more than just a blocking TE. His four touchdowns also had him ranked in the top five in the league as he quickly became both Landry Jones and Phillip Nelson's favorite target.
Coming from Stetson, not many teams would think about giving the 6-8 Parham a look. That is why the XFL was the perfect place for him as it gave him a chance to put his skills on full display. Not only did he show he can play, but he proved he could dominate at times.
Offensive Line:
Martez Ivey (OT Tampa Bay Vipers) There is only one lineman that I see getting looks from NFL teams, and that is Martez Ivey from Tampa Bay. Ivey played a considerable role in the Vipers offense as he helped anchor the best rushing attack in the league that accumulated 828 yards and six scores on the ground.
Ivey did more than his part in maintaining this rushing attack all season, which is something the Bears could use this year. Looking to run the ball not only more but more effectively in 2020, Ivey may be a depth piece Chicago may bring in. He knows how to block and is very familiar with a fun first type of offense.
Tomorrow we will look at some defensive players from the league that the Bears may investigate.