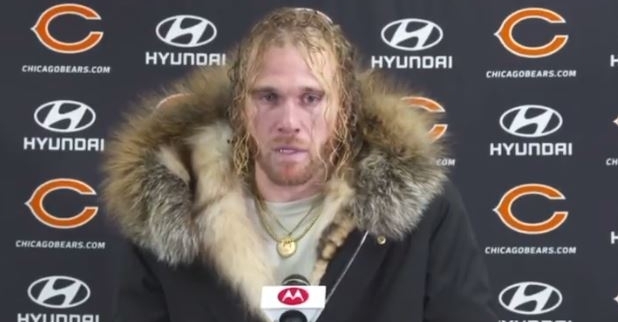 | | |
| --- | --- |
| Bears LB on referee's hip check: "incredibly inappropriate" | |
---
| | | |
| --- | --- | --- |
| Tuesday, November 9, 2021, 5:17 PM | | |
A taunting call penalty was a massive call in the Bears' 29-27 loss to the Steelers on Monday Night Football.
The Bears in total were penalized 12 times for 115 yards in the loss.
Bears linebacker Cassius Marsh was pretty upset by the call against him that allowed the Steelers to get a fresh set of downs after his sack late in the fourth quarter.
"It was pretty clear to everybody who saw it that I wasn't taunting," Marsh said during his postgame interview. "I've been doing that celebration my whole career. It's just sad to see that happen in a close game like that."
Marsh couldn't believe that the ref 'hip-checked' him.
"On my way to the sideline, I got hip-checked by the ref. It's pretty clear. If I was to do that to a ref or even touch a ref, we would get kicked out of the game and possibly suspended and fined. I just think that that was incredibly inappropriate.
"It's upsetting. I just think that it's unfair he has the ability to do that with no consequences."
pic.twitter.com/ZJTUQmxgfc#Bears Cassius Marsh on Referee Hip Check and Taunting. #DaBears #ChicagoBears

— NFL Rumors (@nflrums) November 9, 2021
Here is the 'hip-check between the ref and player:
Tony Corrente leaned into the contact and then held his flag toss like a walk off three pointer. What a joke pic.twitter.com/MhNlNVewJx

— Will Brinson (@WillBrinson) November 9, 2021