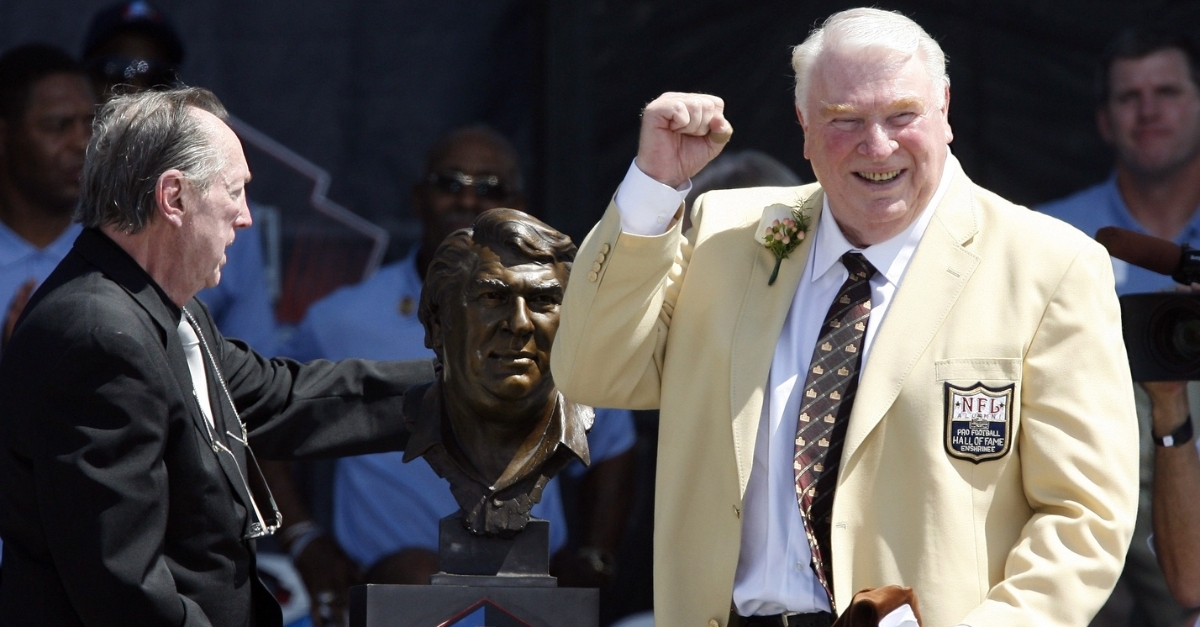 | | |
| --- | --- |
| NFL announces passing of legendary John Madden | |
---
| | | |
| --- | --- | --- |
| Tuesday, December 28, 2021, 7:19 PM | | |
Sad news to report tonight.
Iconic John Maddon passed away unexpectedly this morning at the age of 85.
"On behalf of the entire NFL family, we extend our condolences to Virginia, Mike, Joe, and their families, said NFL commish Roger Goodell. "We all know him as the Hall of Fame coach of the Oakland Raiders and broadcaster who worked for every major network, but more than anything, he was a devoted husband, father, and grandfather.
"Nobody loved football more than Coach. He was football. He was incredible sounding board to me and so many others. There will never be another John Madden, and we will forever be indebted to him for all he did to make football and the NFL what it is today."
There has never been a person more a part of your life and never physically in your life. John Madden was the man! RIP coach, commentator, legend pic.twitter.com/h7axywempA

— Daniel Cormier (@dc_mma) December 29, 2021
Legend…. pic.twitter.com/T1cttXFIsf

— Adam Schefter (@AdamSchefter) December 29, 2021
MDS nails it with his closing line: "John Madden may have been the single most influential person in the history of the sport of football."

— ProFootballTalk (@ProFootballTalk) December 29, 2021
Super Sky Point to the legendary John Madden. The GOAT color man in NFL history and the all-time highest winning percentage among head coaches with 100+ career wins. A larger than life figure. Heaven just added one sweet bastard. #RIP pic.twitter.com/pvwjfqmXvx

— Super 70s Sports (@Super70sSports) December 29, 2021
The NFL announced John Madden has passed away at 85.

RIP to a legend ?? pic.twitter.com/nS8YK46s6M

— Sports Illustrated (@SInow) December 29, 2021
John Madden is the NFL. You cannot tell the story of its rise without tracing it through him. A true face of the league and an ambassador for football and a universally beloved figure. RIP

— Jason La Canfora (@JasonLaCanfora) December 29, 2021
OMG the greatest analyst of all time of any sport passed today - JOHN MADDEN - In the world of TV it doesn't get any better than Coach Madden - legend -icon & GOAT / Pls May Coach Madden RIP ! @TheMontagGroup @CBSSports

— Dick Vitale (@DickieV) December 29, 2021
- Super Bowl Champion
- Pro Football Hall of Famer
- Winningest coach of the Raiders
- Hall of fame broadcaster
- Face of the Madden video game franchise

RIP John Madden pic.twitter.com/acKcV4e3QR

— SB Nation (@SBNation) December 29, 2021
"Be a winner. Stand for something. Always have class, & be humble."

RIP to the Legend - John Madden pic.twitter.com/Kk1ulgZ9vh

— CoachTube.com (@thecoachtube) December 29, 2021
John Madden was one of the most remarkable people in the history of football. A head coach at 32, a Super Bowl champion by 40, then building one of the best broadcasting careers ever two years after that. A legendary career and life.

— Kevin Clark (@bykevinclark) December 29, 2021
The best duo in the NFL broadcasting booth, ever. RIP John Madden. Say hello to Pat for us. pic.twitter.com/GTbw8Ky4hJ

— Jay Caruso (@JayCaruso) December 29, 2021
RIP to the voice of football for generations, John Madden. pic.twitter.com/0hJgtZsxwc

— adam holt (@Bolt_Holt) December 29, 2021
There aren't enough words to describe the impact John Madden had to the NFL product. He was a legend as a coach. He was a legend as a broadcaster. And he changed the video game world forever.

Hard pressed to find someone more influential to their sport than John Madden. RIP... pic.twitter.com/nroZykHUsV

— Ari Meirov (@MySportsUpdate) December 29, 2021
Legend.

RIP John Madden pic.twitter.com/I41YsBatOY

— Mike Clay (@MikeClayNFL) December 29, 2021
When you think NFL football, you think John Madden.

RIP to a Legend. pic.twitter.com/8JYH7H9GKW

— Julian Edelman (@Edelman11) December 29, 2021
Cowboys' owner Jerry Jones: "I am not aware of anyone who has made a more meaningful impact on the National Football League than John Madden, and I know of no one who loved the game more." pic.twitter.com/woRffvTwox

— Adam Schefter (@AdamSchefter) December 29, 2021
Rest in Paradise To the ?? John Madden!!!! Your legacy will continue to live on ?!!!!!

— LeBron James (@KingJames) December 29, 2021
John Madden was just the best pic.twitter.com/KLPhATBwhi

— Barstool Sports (@barstoolsports) December 29, 2021
Few approached life with the joy of legendary football coach & broadcaster John Madden. A colleague at CBS, he was a gentleman with a boisterous sense of humor. On the sidelines & in the booth, this voluble mountain of energy was a trailblazer. A golden era ends with his passing.

— Dan Rather (@DanRather) December 29, 2021