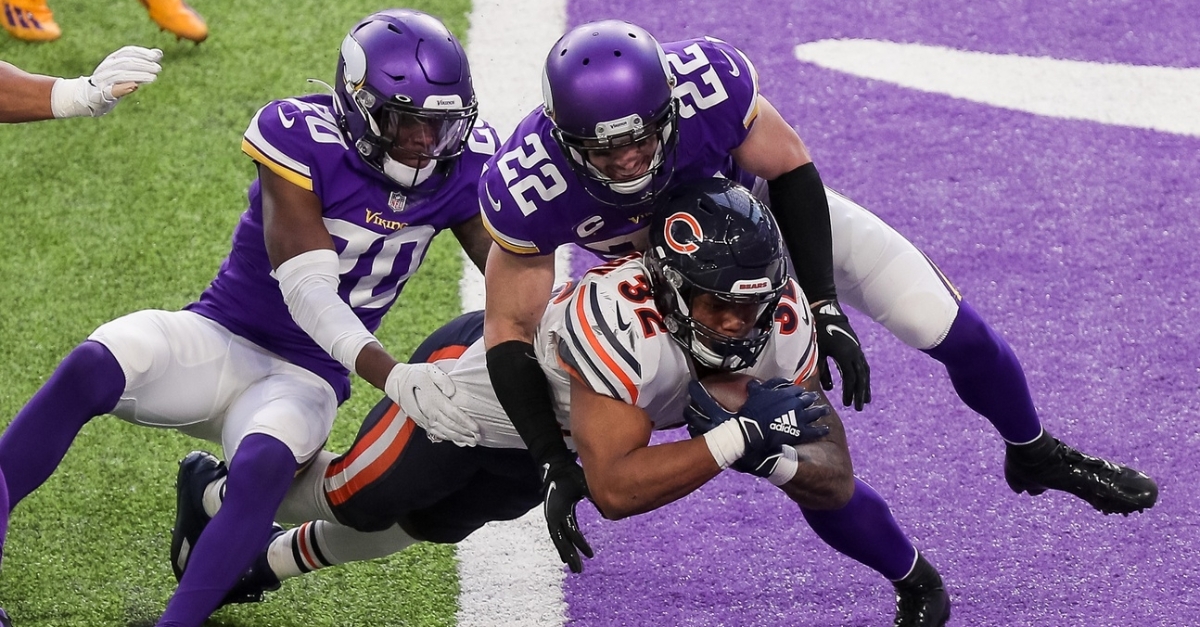 | | |
| --- | --- |
| Bears RB grades for 2020: David Montgomery shines in sophomore campaign | |
---
It has been a while since I did a season report card story, but that was because there was a lot of news flying out of Chicago. With things slowing down a little, we can get back into the team's season report cards series, at least for now.
Today we continue with the offensive side of the ball as we move to the running backs. This was a position of struggle most of the season, but it picked up as the year went on. The production got to the point where the Bears were a run-first team and may have discovered their running back for the future in the process.
DAVID MONTGOMERY: After the Bears selected Montgomery in the third round of the 2019 NFL draft, experts felt they got one of the bigger steals. Given his production at Iowa St, Montgomery was viewed as a first-round talent or, at the worst early second round. Instead, he fell to the third round, and the Bears snatched him up to replace Jordan Howard.
After an up and down rookie season, Montgomery started to come into his own the second half of the season and became the team's primary back. His success carried over this season as the Bears have the running back they are looking for. Despite struggling the first half of the season, Montgomery was one of the better backs down the stretch.
Not only was he a threat in the passing game, catching 54 passes for 438 yards and two scores, but the offense also ran through him the final month of the season as he set the team-up. Montgomery topped the century mark with 1070 yards on just 247 carries while finding the endzone eight times for the season. That comes on the heels of five `100-yard games over the final seven weeks as Montgomery showed what he could do this season.
Season Grade B+: Montgomery had a great year and has proved to be worth his third-round draft pick. The only issue I have had with him has been his overall consistency. In the first half of the season, that inconsistency was on full display as Montgomery struggled to get traction. Many had to do with the poor offensive line, but he still needed to do better hitting the holes.
Once the Bears had their bye week, Montgomery was a different player and often put the offense on his back. He is the best running back they have had since Howard and will be a massive part of the foreseeable future's overall offensive success.
CORDARRELLE PATTERSON: Listed as a WR on the depth chart, Patterson spent more time as an RB considering he was working with them during camp. When Tarik Cohen went down with an injury, Patterson immediately became the second back on the depth chart, and I was expecting the Bears to use him way more.
Patterson caught 21 passes for 133 yards for the season, a far cry from his career average in yards per catch. Out of the backfield, he carried the ball 64 times for 232 yards and one score. Patterson continues to name himself as a special teamer, but he needed to be used more in the offense.
Season Grade C-: Many people may be surprised he is receiving this high of a grade, but he deserves it. I even thought about grading him slightly higher as it isn't his fault he isn't used correctly. Patterson is a game-changer and has been that type of player everywhere he has gone. The more touches he gets, the better he is. Chicago needs to resign him next season and use him more than they did this year.
TARIK COHEN: After being the team's feature back a few seasons ago, Cohen has fallen into a swiss army knife role as a Mr. Do Everything on the field. His play over his career earned him a four-year contract extension to be not only the team's NO. 2 back but a player that can be used all over the field.
Cohen got off to a promising start this season until a torn ACL in week three ended his season. Through those three-plus games, Cohen caught six passes for 41 yards while also netting 14 carries for 74 yards. Cohen didn't record a touchdown this season but started to come into his groove once he got hurt.
Season Grade C: Injuries are part of the game, and Cohen fell victim to that this season. However, Cohen is Cohen, and fans know what to expect from him. His production wasn't quite where he wanted it to be early on, but he did what he needed to do to make plays. Before his injury, Cohen was getting more touches in the offense, and it would have been great to have him part of this team all year.
RYAN NALL: If you ask me, Nall should be looked at as a fullback on this roster, but most teams do not use one. Nall is the fourth running back on the depth chart and doesn't do much, if anything, during the season. He is coming off a season where he rushed the ball three times for no yards but managed to haul in nine catches for 67 yards.
Season Grade N/A: Nall didn't play enough snaps to qualify for a grade.
LAMAR MILLER: Signed in week 7 to help the Bears running back depth, Miller was placed on the practice squad, where he sat for a month. When he finally got his chance to play against the Vikings, Miller was used sparingly, catching two passes for six yards and receiving zero carries in the backfield.
Season Grade N/A: What looked like a promising signing at the time, Miller wasn't used at all and therefore receives no grade. It would have been nice to have him used more in the offense, but Chicago had other plans in mind.
ARTAVIS PIERCE: Signed as an undrafted free agent last offseason, Pierce was viewed as a potential sleeper in the Bears backfield. Instead, he found himself way down on the depth chart and only saw playing time once the injuries began to pile up.
Pierce showed flashes of brilliance in college but was never looked at as the bell cow back most teams have. Pierce played sparingly in five games as a rookie, carrying the ball six times for 34 yards. Hopefully, year two in the system is better.
Season Grade N/A: Once again, Pierce didn't do enough on the field to earn a grade. When you only touch the ball six times, there isn't much of an imprint you can leave. Maybe things will change next season.
Upgrade Your Account
Unlock premium boards and exclusive features (e.g. ad-free) by upgrading your account today.
Upgrade Now