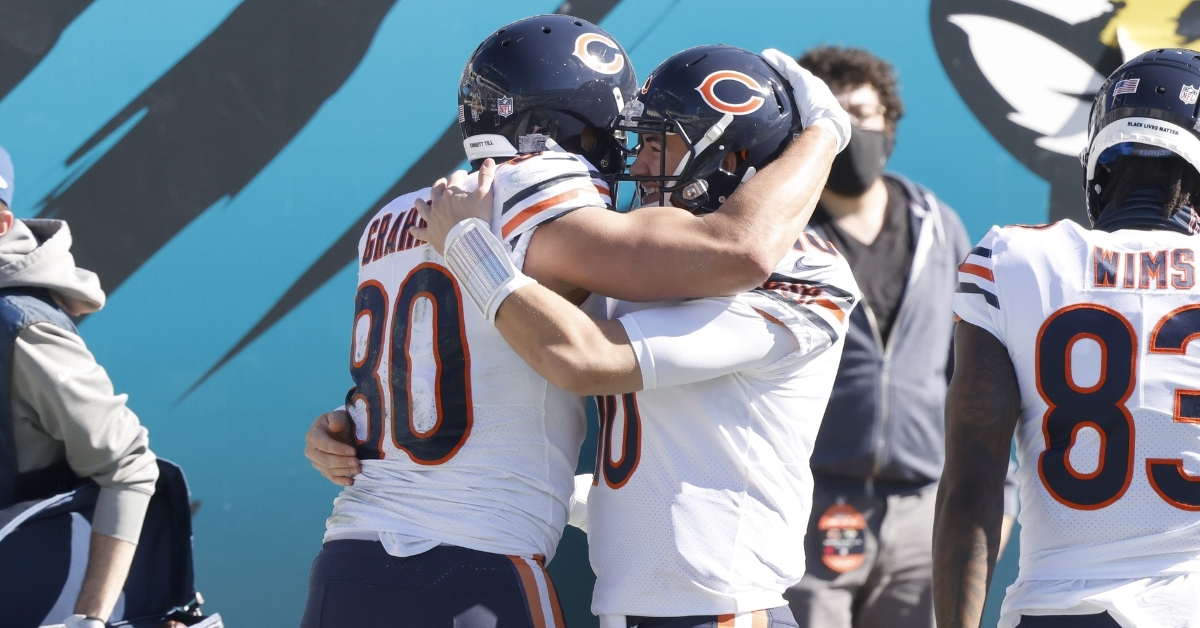 | | |
| --- | --- |
| Bears-Saints Prediction: Can Bears topple Saints in Wild Card matchup? | |
---
What a better way to cap off the first work week of 2021 than with Super Wildcard weekend? What makes that even better is that the Chicago Bears will participate in it against the New Orleans Saints on Sunday. Whether you agree or not that the Bears should be in the playoffs, the fact remains they got in, and now anything can happen.
Chicago has had an interesting season. They got off to a 3-0 start, benched Mitch Trubisky in favor of Nick Foles, and led the NFC six weeks into the season at 5-1. Then the bottom fell out as the team dropped six-straight games and moved back in Trubisky's favor in the process. The playoffs seemed like a far cry at that point.
Sure enough, Trubisky and the Bears turned it around the final month of the season, winning three of four to close out the year and got back to 500 at 8-8. With the help of the Arizona Cardinals, mainly a Kyler Murray injury that sidelined him much of week 17, the Bears were able to back into the playoffs, and now they have a challenging task in front of them.
Being the lowest seed in the postseason, Chicago will always face the top seed in each round, and this week that happens to be the No. 2 seed New Orleans Saints. If you ask many experts around the league and fans alike, no one is giving the Bears much of a chance. After all, the Saints are playing at home and are coming off a 12-4 season in which Drew Brees missed four games, Michael Thomas missed 10 games and didn't catch a touchdown, and the team having to go through COVID issues last week.
Still, the Saints managed to rip off 10-straight wins at one point this season and have yet to play a game with a fully healthy roster. When healthy, I believe the Saints have the most talented roster in the NFC. One of those 10-straight wins came against the Foles led Bears as Chicago dropped a tight 23-20 contest in OT. That game was in Chicago, but the Bears showed they could play with the Saints, and with Trubisky leading the way, maybe things will be different.
Here are some things to look for this week.
Capitalize in the Red Zone: Despite the 35-19 score last week, the Bears battled the Packers for nearly four quarters, and the game was much closer than the score indicated. In fact, Chicago trailed 21-16 after three and dropped three potential interceptions in the process that could have turned the game upside down.
Another thing to consider is the Bears red zone woes, where they managed to pick up just one touchdown in four trips last week instead of three field goals. Compare that to the Packers, who scored four touchdowns in four trips, and you can do the math. Since Trubisky has taken over once again, the offense has looked a lot better and far more consistent.
Not only are they scoring more points, but they are moving the ball down the field, which was something they lacked for months. The offensive line has gotten better, the running game is starting to lead the way, and Trubisky seems to be coming into his own. The problem continues to be the red zone struggles and inability to score touchdowns. For the Bears to have any shot at beating New Orleans, they need to score touchdowns.
Playing with grit. Overcoming adversity. Writing his own story. @Mtrubisky10 | @advocatehealth pic.twitter.com/XszIoTNzTP

— Chicago Bears (@ChicagoBears) January 9, 2021
Get Pressure on Drew Brees: All eyes will be on the Bears defense this week, especially Roquan Smith. After leaving with an elbow injury in the second quarter, Smith's status for this week remains questionable, but it appears he will give it a go. Chicago needs him on defense as Robert Quinn and Khalil Mack's pass rush needs to be on point.
Highest pass-rush grade on 3rd down
1. Aaron Donald - 92.6
2. Khalil Mack - 91.9
3. Chris Jones - 91.4
4. Romeo Okwara - 90.9 pic.twitter.com/MZaNEG1GB4

— PFF (@PFF) January 9, 2021
Part of the Bears' struggles last week was their lack of pressure on Aaron Rodgers, sacking him just once in the game. Granted, Rodgers was releasing the ball very quickly, but the Packers' offensive line has been strong all season. Brees is another one of those guys who likes to release the ball quickly, and for the most part, his offensive line has played equally.
The difference, Brees can't scramble or extend plays like Rodgers. That means Chicago needs to get pressure on him and keep him uncomfortable in the pocket. The more uncomfortable they make him, the more prone to turnovers he becomes. Winning the turnover battle could be a huge key this weekend.
Will Playoff Nick Foles show up: The big question on many people's minds this week revolves around Trubisky and the quarterback position. After watching both men play this season, there is no question who should have been the starter this season. However, this is the playoffs and a completely different animal.
With just one postseason start under his belt, Trubisky will be under tons of pressure this weekend to succeed and pick up a win. Should he struggle, especially early on, it could be a long day for Chicago. Or, would Chicago have another plan in place?
With Foles on the roster, look for Chicago to turn to him early in this one should Trubisky and the offense struggle or come out flat. Foles has never been the greatest of starters, but one thing is for sure with him. The guy is a winner in the postseason, and no one would argue that. Does he have a little magic left in the tank to save the Bears season if they need it? We will find out soon enough.
Only five players in NFL history have recorded a Pass, Rush, and Rec TD in their postseason career:

- Freeman McNeil
- Kordell Stewart
- Julian Edelman
- Nick Foles

… and Josh Allen. pic.twitter.com/n8nd2B0V2i

— NFLonCBS (@NFLonCBS) January 9, 2021
Injuries: The Bears announced Saturday night that receiver Darnell Mooney and standout linebacker Roquan Smith are both out of the contest with injuries.
#Bears roster moves / injury update:
We have activated DB Marqui Christian and LB Manti Te'o from the practice squad.

We also have downgraded WR Darnell Mooney and LB Roquan Smith to 'out' for tomorrow's Wild Card playoff game at the Saints.

— Chicago Bears (@BearsPR) January 9, 2021
Prediction: This is the second meeting between the two teams this season, with the Saints winning 23-20 in OT the first time around. Foles was the starter in that game and for three quarters looked lost. Then, he puts together three impressive fourth-quarter drives to lead the comeback effort to force OT before falling in the extra frame.
Chicago proved they could play with New Orleans earlier this season, but that was at home, and this is in the dome. The Saints are a much better team in the dome, and history shows that. While everyone talks about their offense, their defense has been their calling card this season as they have been a top-five unit all season.
Not only does Chicago need to slow down the Saints' offense, but they need to move the ball against a stingy defense that has a ton of postseason experience behind it. With Brees announcing his retirement following the season, New Orleans has extra motivation to give him one more ring before going out. I expect a similar game to last week where the Bears keep things competitive early but fall 27-17.