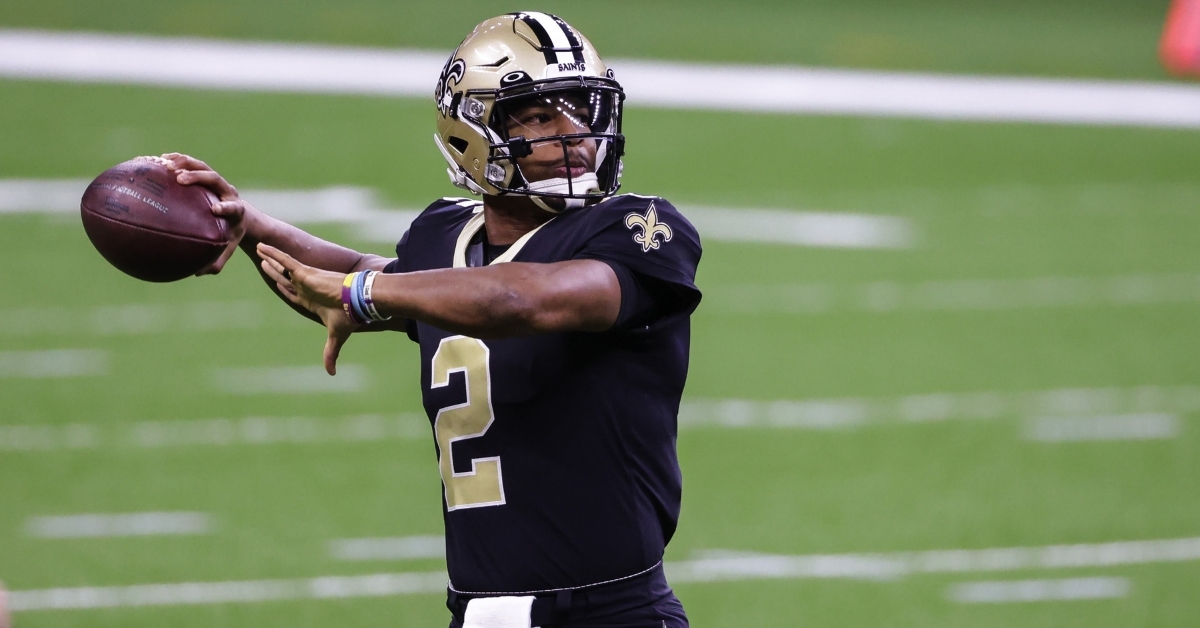 | | |
| --- | --- |
| Bears linked to Jameis Winston as QB replacement | |
---
| | | |
| --- | --- | --- |
| Tuesday, February 2, 2021, 10:25 AM | | |
With every passing day, it seems as if the Bears are being linked to more quarterbacks as they plan for their future. Recent reports have Chicago in on Deshaun Watson, but when you look at what it will take to get him, I don't see that happening. Drafting a quarterback remains a possibility, but I find it difficult for the Bears to find their franchise quarterback in the later rounds without using a first-round pick.
That leaves the free-agent market as the most valid option at this point, and let me tell you, the pool of quarterbacks will be abundant. Not only is Trubisky on the open market, but guys like Ryan Fitzpatrick, Andy Dalton, Dak Prescott, Marcus Mariota, and several others will all be hitting the open market this offseason. Another name that has gotten lost in the shuffle is former Tampa Buccaneers starter Jameis Winston who is now finding his name linked to the Bears.
The current backup to Drew Brees, Winston signed a one-year deal with the Saints last season and is set to become a free agent once again. With Brees pondering retirement now, you would think the Saints will do what they can to keep him despite resigning Taysom Hill. However, the Saints are not alone as both the Bears and the Colts are reportedly interested in Winston via free agency.
Along with the #Colts, the Chicago #Bears are another team with interest in Jameis Winston. #Saints also would like to keep him. He will have a market this offseason.

— Evan Massey (@massey_evan) January 31, 2021
Winston, a former No. 1 overall pick, is undoubtedly a high-profile name that GM Ryan Pace would love to take a swing at, but the widespread concerns of his play make me question whether he is a good fit. Sure, Winston won a Heisman and a National Title with Florida State before becoming the No. 1 overall pick, but that has been about it. His time at Tampa was rocky, and he saw minimum time on the field this season, despite Brees missing four games.
Since coming into the league, Winston has arguably been the most frustrating quarterback out there. He can throw for 5000 yards in any given season and ranks first in positively graded play since 2015. On the flip side, Winston also ranks second-worst in negatively graded play during the same time frame as interceptions are a huge issue.
There is no question the 27-year-old has what it takes to be a great starter in this league, but his decision making is awful. He is one of the most talented quarterbacks in the league but will always remain a question mark. From an intangible standpoint, the Bears would be better by adding him to this offense. However, the turnovers to the poor decision-making are where I question whether he is a good fit.
Take away his first five seasons in Tampa, and this season was a complete wash.
However, at 27, there is a good chance his best football is still in front of him should he find the right fit offensively. If that is the case, I still find it weird that Winston didn't see more time on the field when Brees went down. That could be stemming from Hill's ability to both run and pass, but something wasn't right with Winston not seeing the field.
Winston threw just 11 passes this season and one touchdown pass in the postseason. If you don't remember that play, Sean Payton took that play straight out of the Matt Nagy playbook. The turnover issue is a concern, but I won't blame all of that on him. The first few seasons in Tampa, the Buccaneers were a terrible team with one of the worst offensive lines in Football. Sound Familiar?
Chicago's offensive line wasn't great last season but did get better as the season went on. Should they not improve, throwing a turnover machine in Winston behind them isn't a great mix. The Bears defense is better than any unit Winston had as a starter, but they even showed how impossible it is to cover up all the mistakes made at the QB position.
Regardless of his past, he may be too good to pass up if you base it off his potential alone. Winston has thrown for at least 4000 yards in every season in which he played 16 games, including 5109 yards in his final season with Tampa. Winston has also thrown for 121 touchdowns, averaging roughly 25 per season with a career-high 33.
As mentioned, interceptions are a big issue throwing 81 over his career thus far. However, 30 of those came in his final season in Tampa, after averaging 14 his previous four seasons. I don't expect Winston ever to be someone to take care of the ball. I also don't think you will ever see him throw more than 20 picks in a season again. If the cost is right, the Bears should look to lock him up for the next few years and see what he can do.