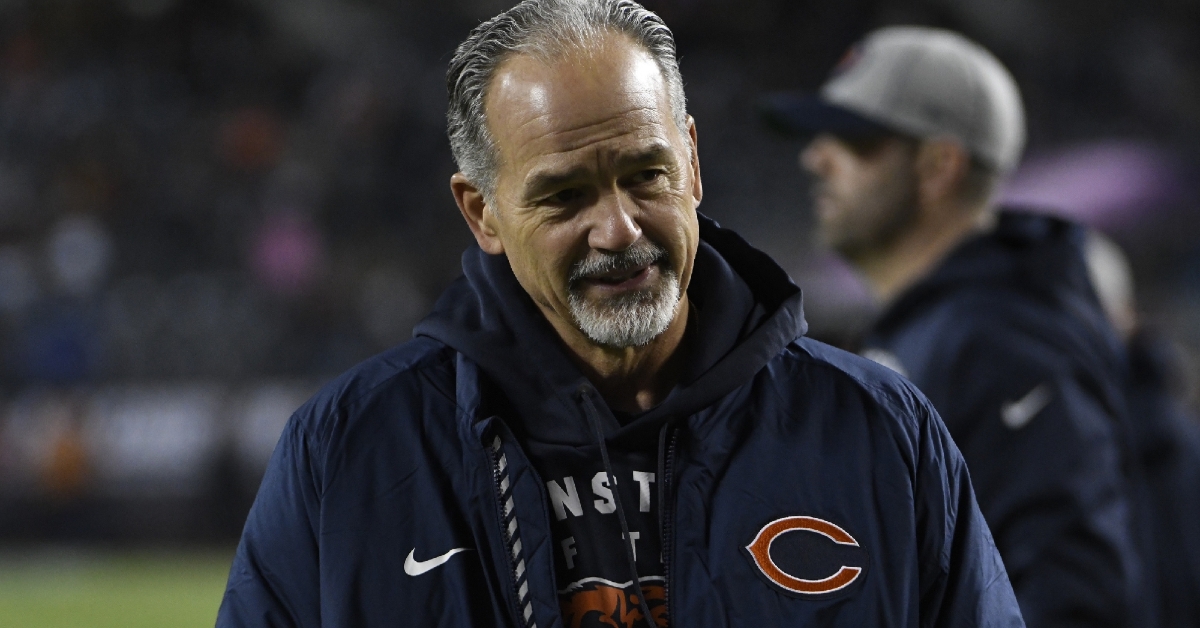 | | |
| --- | --- |
| Bears looking for a new defensive coordinator | |
---
| | | |
| --- | --- | --- |
| Wednesday, January 13, 2021, 10:37 AM | | |
With the offseason officially underway for the Bears, many rumors are swirling around as to what the Bears are going to do moving forward. Some of those rumors involved both Matt Nagy and Ryan Pace potentially being let go. However, it appears those rumors are being put to bed as both are expected to return in 2021.
Those two are the only question marks in Chicago as this roster has many holes to fill. From figuring out what to do with Mitch Trubisky and the quarterback position to most likely losing Allen Robinson in free agency, the Bears have some work to do. The problem is, they don't have a ton of extra funds to play with, and with the salary cap possibly going down this season, those funds may get tighter.
Along with players leaving and potentially needing to be replaced, Chicago also needs to look at the entire coaching staff as some changes are needed. One change that now needs to happen is finding a new defensive coordinator as Chuck Pagano has elected to retire from football.
As defensive coordinator for the past two seasons, Pagano has fallen victim to mixed reviews despite continuing to post a top 10 defense. A lot of that has to do with the schemes he likes to use as fans think it doesn't fit this team. It would help if you also looked at Vic Fangio's success when he was here, and anything less than a top-five defense is considered a disappointment.
I agree that Pagano could have done a better job but posting a top 10 defense two years in a row is no small feat. He has also been a great defensive coach, but Chicago's personnel didn't fit what he liked to do.
Congrats on a phenomenal career, Chuck Pagano! Thank you for your passion, dedication & all that you gave to the Bears. Enjoy retirement! pic.twitter.com/0nt4tZTPWP

— Chicago Bears (@ChicagoBears) January 13, 2021
With him now entering the next chapter of his life, the hunt for a defensive coordinator is on, and there will be plenty of options to look at.
Along with the defensive coordinators around the league, you have guys like Greg Williams, George Edwards, and others who have had success and are looking for work. However, instead of bringing in a retread hire, Chicago may want to look at some up and coming coaches around the league and give them a crack at the gig. Here are some names to watch for in the search.
Aaron Glenn (DB Coach New Orleans): The former All-Pro defensive back for the New York Jets is one of the position coaches receiving a lot of attention. He is considered the premier defensive backs coach in the league and has done a great job of drafting and developing talent since joining the Saints in 2016. Along with garnering Defensive Coordinator looks, the Jets have requested to interview him for their Head Coaching spot. He will get signed by someone.
Teryl Austin (Defensive Assistant and Secondary Coach Pittsburgh): The gold standard for defenses the past four seasons has been the Pittsburgh Steelers. Austin has been a big reason for that. Not only have the Steelers led the league in sacks the past four seasons, but they are tremendous in the secondary, which is why their defense continues to dominate.
Another guy who has interviewed for Head Coaching openings, Austin has continued to make a name for himself, interviewing for 10 head coaching jobs since 2014. He also coached in the Superbowl with the Baltimore Ravens so working with strong defenses is something he is all too familiar with.
Gerald Alexander (DB Coach Miami): No team was as surprising as the Miami Dolphins in 2020. Despite missing the postseason, the Dolphins compiled a 10-6 record led by one of the game's best defenses. The secondary led the way as the Dolphins posted one of the three best secondaries in football led by Coach Gerald Alexander.
Alexander certainly lacks experience, as last season was his first as a position coach. That didn't seem to matter as the Dolphins were legit on defense, especially in the secondary. Talent certainly had a big reason for his success, but coaching plays a large role in how talent plays. His performance last season may have been good enough to earn him some Defensive Coordinator considerations this year.
If the Bears are looking for more experienced names, there are several names to keep an eye on. Both interim coaches Romeo Crennel and Raheem Morris could be looking for work soon. Still, Morris has an excellent shot to land a head coaching job in the coming weeks. Matt Patricia is another name starting to resurface. Despite a horrendous record as a head coach, Patricia knows how to coach up a defense.
One thing that lacked from the Bears defense this year was overall physicality. A couple of defensive coordinators to keep in mind that could bring back the physicality are old school coaches with nearly 40 years of NFL coaching experience. Williams has been known for physical defenses, but sometimes not in the way you want them to be remembered. Wade Phillips is another one of the long time great defensive coordinators who has been away from football the past year.
Former Cowboys DB Coach Kris Richard, former NFL Coach Marvin Lewis, and even former Chicago head coach Lovie Smith are other names that the Bears could try to lure to Chicago. Lewis is receiving head coaching interest, while Smith most likely will stay away from coaching this year. Whatever happens, this team has plenty of talent on defense, and they should have no trouble hiring a big name.