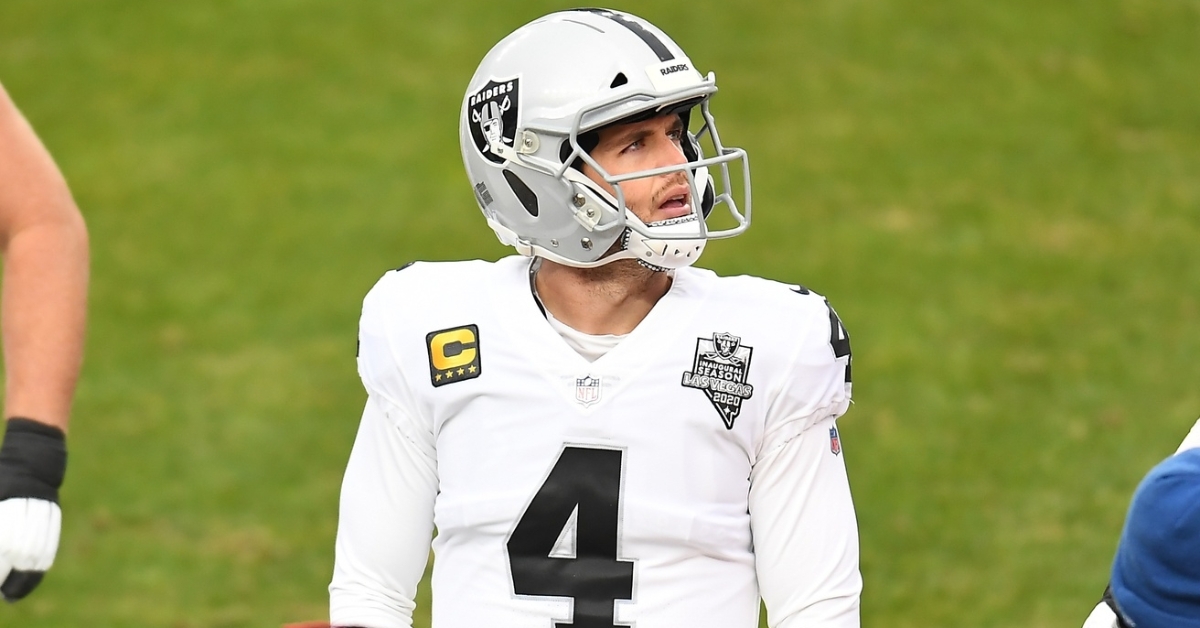 | | |
| --- | --- |
| Bears reportedly have interest in QB Derek Carr | |
---
Another day has gone, and another quarterback rumor surrounding the Bears franchise. That has become the norm over the past month as Chicago is making it clear to everyone, they are looking for a new quarterback. Some fans still believe that Mitch Trubisky is the man for this team if Matt Nagy uses him right.
When you look at how he finished the season and his 6-3 mark this season, they have an excellent case to make, but the overall body of work is the problem. No one is going to deny that Trubisky has shown flashes of brilliance and why the Bears selected him No.2 overall. He has also had stretches of poor football that leave fans and coaches frustrated. That inconsistency has gotten old, and now the Bears are adamant about doing whatever they can to improve that position.
This offseason will feature one of the most highly touted free-agent quarterback classes in recent memory, so the Bears will have options. The problem would be creating enough cap space to get anyone of the top options at this point. I don't see the Bears being able to free up enough money leaving the trade market once again as the most logical place to improve the position.
Deshaun Watson continues to swirl around Bears camp, as does Jameis Winston, which we touched yesterday. Now there is a new name falling into the equation, and that happens to be Las Vegas starter Derek Carr as the Bears are one of many teams expected to join the pursuit. Carr, a former second-round pick from Fresno St, had all the makings of becoming an elite QB in this league. Second round or not, many viewed Carr to have the best arm talent in his class.
Despite putting up substantial numbers as the Raiders starting QB the past seven years, the wins haven't been there, and it appears the franchise is ready to move on. For those that didn't follow the last offseason, Carr had his name mentioned in trade talks last season, and the Bears were interested in him had he become available. That didn't happen, and Carr stayed put but expect the Bears to be interested once again if he is available.
While it is unclear what Jon Gruden's plan is for Carr at this point, reports have indicated that Carr is not only a hot commodity, but many teams are lining up to call the Raiders and try to poach him away. Carr is a franchise quarterback, in my opinion, but he just hasn't had the best surrounding
cast around him. This season may have been the best opportunity for him to thrive, and a late-season meltdown took a 6-3 team and turned them into 8-8.
In the aftermath of another disappointing season, it looks like the Raiders may try to trade Carr in hopes of generating enough cap space to target Watson themselves. There is no surprise to see the Bears as a team keeping tabs on this situation, but the Colts, Patriots, and Washington are all teams looking to tab Carr as their long-term starter potentially.
Carr is 29 and still, has a lot of football let in him, but how long can he play at the level he has played thus far. Not only did he throw for 4103 yards and 27 touchdowns this past season, but it was also his third consecutive 4000-yard season. Put that into perspective with the Bears, who have never had a 4000-yard passer in their franchise's history, and you can see why Chicago would want him.
At this point, the problem is the asking price, which many feel the Raiders are looking to get one if not two first-round picks for him. Chicago doesn't have that type of ammo to pull off a trade, and I don't feel it is wise for Ryan Pace to mortgage the future to get Carr unless it is a sure-fire home run. However, on the flip side, these two teams have a trade history and have some internal relationships.
Khalil Mack was dealt from the Raiders to the Bears in 2018 for a fleece of draft picks, in case you have forgotten. Mack has been solid since coming to Chicago, but the Raiders cashed in on those draft picks to help their future. You can expect they will try and do the same with Carr. Both Mack and Carr have a great friendship off the field, so I would think that Mack is trying to pitch Carr joining the Bears.
Nagy is also very familiar with Carr and his abilities, coaching against him while with the Kansas City Chiefs. Granted, Carr has improved since his early days, but Nagy saw firsthand his skills and knows what he brings to the table.
As a starter, Carr's record isn't great going 47-63 across his seven seasons. Much of that has to do with the surrounding cast, but Carr has yet to prove he can be a winner long term. Taking record away from the equation, you will see a guy who has put up great numbers over the last seven years.
So far, Carr has thrown for 26,896 yards with 170 touchdowns and 71 interceptions. That averages out to be 3,842 passing yards, 24 touchdowns, and 10 interceptions a season.
Those are all numbers better than what the Bears have now, and numbers they have not seen since Jay Cutler. Carr is an upgrade for this team at the right price.