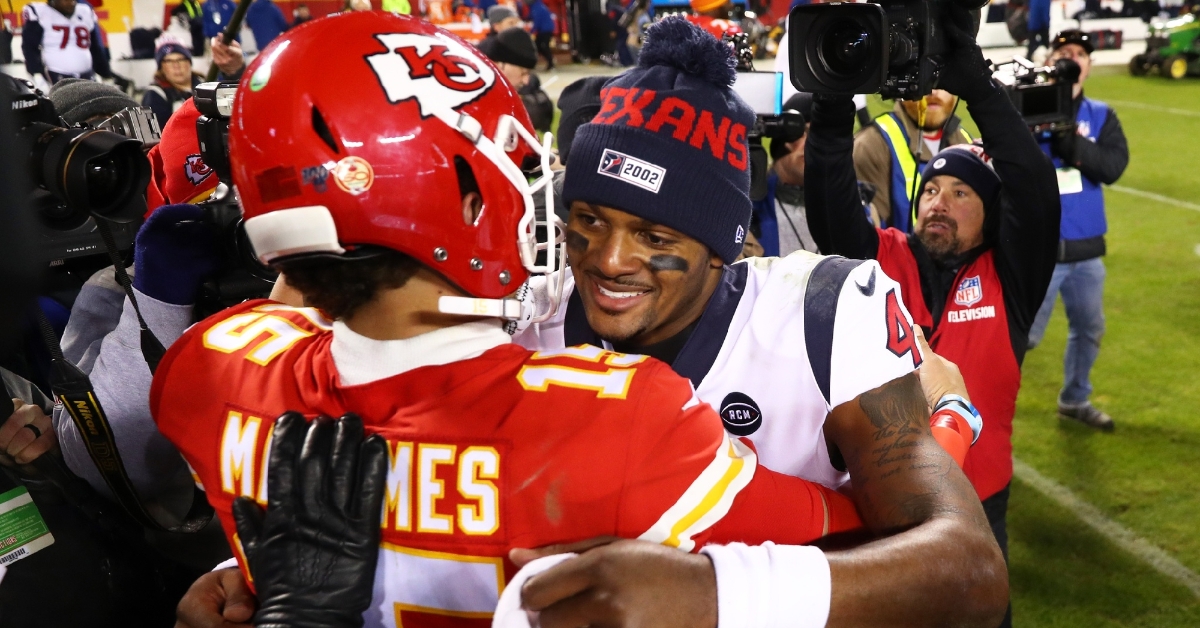 | | |
| --- | --- |
| Breaking down Bears 2020 Opponents: Houston Texans | |
---
| | | |
| --- | --- | --- |
| Tuesday, August 4, 2020, 2:35 PM | | |
Over the past five seasons, the Houston Texans have been the most successful franchise in the AFC South, making the playoffs four times in the process. However, regular-season success has not translated into post-season success with Head Coach Bill O'Brien struggling to win post-season games.
After another post-season exit last season and blowing a 24-0 lead to the Chiefs, the Texans elected to make some changes this season. None will be more noticeable than the departure of DeAndre Hopkins in exchange for Arizona Cardinals running back David Johnson. Please make no mistake about it, the loss of Hopkins will be huge in Houston as the all-pro receiver was Deshaun Watson's favorite and most trusted target since arriving in this league. He will now have to figure out how to keep the passing game going without his best option.
A few years ago, the Johnson trade may have looked good as he was one of the premier running backs in the game. Now, after several injury-plagued seasons, I am wondering what he has left in the tank. Houston must be thinking the same thing as they went out and brought in Carlos Hyde, who will split playing time with Johnson all season.
Even with that more balanced rushing attack, the Houston offense still runs through Watson and that passing game. Expect Will Fuller to now be the top target after being locked as the teams' No. 2 for several seasons. Joining him will be a trio of free agents who all the capability to do something. Randell Cobb will be the most significant signing as he will slide to the slot position. Across from Fuller on the outside, you will find Brandin Cooks as the new deep threat with Kenny Stills as the fourth option. This gives Houston a more balanced passing attack as teams will no longer be able to key in on one specific receiver.
As good as Watson has been since coming in the league, Houston needs to start protecting him more as he has been battered behind that offensive line. He does have the mobility to get out of the pocket, but the hits he takes are starting to pile up, and the offensive line needs to be fixed if they want him to last as their franchise leader. Laremy Tunsil is the best player on the line and will be responsible for protecting Watson's blindside this season. The rest of that unit will be a work in progress as they need to get better.
Defensively for Houston, it all starts and ends with all-pro defensive end J.J. Watt. Over the past decade, Watt has been one of the top three defensive players when he can stay on the field. The keyword there is when Watt has had a ton of injuries, with most of them being season-ending or lengthy. Despite that, Watt continues to play at an elite level and will do so as long as possible.
While he may be the primary focus upfront, he does get help in the pass-rushing department from OLB Whitney Mercilus. A bigger linebacker size-wise, Mercilus could line up on the line as an EDGE rusher, but the Texans like him where he is. His presence gives Watt a nice compliment and could lead to him staying healthy.
With those two being the primary focus up front, guys like Brandon Dunn, Ross Blacklock, Zach Cunningham, and Bendardrick McKinney often get overlooked. Those four collectively have played just as sound, but do not rack up the stats as the other two.
Houston continues to get gashed in the secondary. Until that gets fixed, this team is only going to be a regular-season team. Bradley Roby is solid at cornerback, but he can't cover everyone. Gareon Conley and Lonnie Johnson will line up at the other CB spots and will be tested far more than Roby. When you have CB's who cant cover, your safeties tend to see a lot of action, which is precisely the case for Houston.
The Texans had one of the worst pass defenses in football last season, but that doesn't fall entirely on that unit. With Watt injured most of the season, the Houston pass rush was iffy, and the linebackers simply couldn't cover, which put more pressure on the secondary. Justin Reid and Eric Murray can play, but they are not wow factors as the returning secondary group for Houston will be their undoing on defense once again.
Prediction: The Texans come to Chicago this season as they will take on the Bears at Soldier Field. This game has some intrigue to it as Watson was one of the quarterbacks the Bears were looking at taking four years ago before ultimately going for Mitch Trubisky. I don't think Watson is bitter about that, but he may have added motivation to play well in this one.
Houston will score against the Chicago defense as they have the capability for explosive plays all over the field. The only question is, how many points can they score? The more, the better as their defense will be terrible again this season. While the Bears offense is no juggernaut, they should have no trouble scoring 24 points or more in this one as the Bears win in a tightly contested battle at home.
Upgrade Your Account
Unlock premium boards and exclusive features (e.g. ad-free) by upgrading your account today.
Upgrade Now