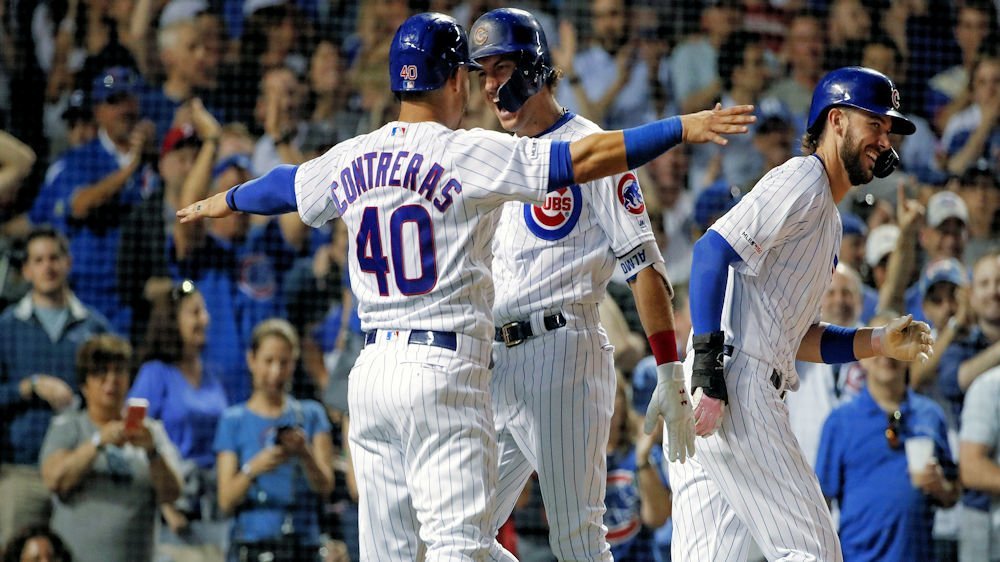 | | |
| --- | --- |
| Cubs News and Notes: Fly the W, John Lackey in Mesa, Spring Matters, Marquee access | |
---
CUBS NEWS AND NOTES
Next Game: Today: 2:05 PM: Cubs @ Rangers from Surprise Stadium
Opening Day: 29 days - Thursday, March 26, 2020: Cubs vs. Brewers (Miller Park).
Recap: The Cubs got back to their winning ways yesterday, as they captured an 8-0 win over a Royals split squad.
Kyle Hendricks made his spring debut, pitching two innings of scoreless, one-hit ball (1-K, 0-BB). Alec Mills backed up the Professor, collecting the credit for the win with his two scoreless frames (0-H, 0-BB, 1-K).
Turning to the Cubs' offensive, Javier Baez racked up his fir dinger of the spring, sending one sailing way over the leftfield wall.
.@javy23baez's first home run of 2020! pic.twitter.com/tsxzbKmMo8

— Chicago Cubs (@Cubs) February 26, 2020
Continuing his hot streak, Albert Almora Jr. had an RBI knock on his way to a one-1 for 3, and Victor Caratini reached again, going 1 for 2 on the afternoon. Trent Giambrone and Corban Joseph each collected a pair of RBIs, while Jason Kipnis went 2 for 3 – all around, a pretty good afternoon Cubs.
P.J. Higgins continues a catcher-driven spring. pic.twitter.com/ChY0fb14T8

— Marquee Sports Network (@WatchMarquee) February 26, 2020
Final from Mesa, Cubs Win! ?? pic.twitter.com/R8fdDP5SzP

— Marquee Sports Network (@WatchMarquee) February 26, 2020
John Lackey in Mesa: Former Cub Jon lackey stopped by camp after receiving an invite from David Ross, but speculation says that he'll be there to stay.
David Ross invited John Lackey to camp. So he's here. Waiting for his press conference. Could be a while. Like days.

— Jesse Rogers (@ESPNChiCubs) February 26, 2020
Spring Rant: Oh brother, it seems I have to do this at least once every spring...
OK, here we go. NO, spring training games mean nothing in terms of standings and stats- contrary to what some may think, I understand that.
HOWEVER, spring training has its own set of values, as managers have to decide who'll make the 26 and 40-man squads, as well as giving the players a time to get ready for the summer season and to make adjustments to their game
I don't care how much you try to sell me if any pitcher leaves camp with a 45.00 ERA, he is NOT making the squad. Likewise, for guys needing a bounce-back season, spring means everything if they are vying for a contract.
There are guys like Jon Lester- he needs to pitch 200 innings this season to be vested for next year; without that, the Cubs can deny his option, leaving him to choose between free agency and retirement. I defy you to go ask Jon if this spring matters, or if his outing Tuesday meant nothing. No, Jon won't pitch like that all season – at least, let's hope he doesn't – but a solid appearance by the starters is probably more crucial than it is for the position players, as they only pitch every so many days. They have far fewer opportunities to correct issues before the day comes when statistics really do count.
Jon's a pro, and he looked for the silver lining, as he left Sloan Park shortly after he finished pitching. Lester met with the media, talking about his performance, confident that he'd improve, while also discussing the very real possibility that he won't lead the rotation this year.
Jon Lester isn't getting caught up in the details, just the feels.

More: https://t.co/OVXWjTmQZa pic.twitter.com/XfNLp1wayU

— Marquee Sports Network (@WatchMarquee) February 26, 2020
What about Nico Hoerner? He's a grade-A prospect who was catapulted into stardom last year, following Baez's hand injury. He's made it known that he feels the best thing for him to mature is to stay with the team, as opposed to spending time in Triple-A. He's had a rough start at the plate, competing with, but as he battles against seasoned veterans, he's begun his spring 0-6 – not an encouraging start for a guy who either needs to dazzle or will be left to rent a home in Iowa.
Hoerner has time, and his ability to play short might help his case, but shortstop prospect Zack Short has looked phenomenal for the past two years. Guys like Carlos Asuaje, Kipnis and Hernan Perez are producing steadily at the plate (while also turning in some quality performances in the field), and
Hoerner would appear to have relatively little time remaining to break out his shell before he's left to work on things in Des Moines.
Don't forget, roster cuts are coming, and many of the players won't have a month's worth of games to improve. I'll bet if you ask them, they'd say that this matters.
A good majority of the readers disagree with me, saying that we can't lend any credibility to spring games or bad performances, but how then can you legitimately give any credibility to the good performances? To do so almost seems hypocritical.
The Cubs outfield is jammed, and they've brought several hopefuls in on minor league deals. I'll bet at this point Albert Almora Jr.'s spring is counting for something, and you can be damn sure that David Ross, Andy Green, and others are taking notice. With Almora still having minor league options remaining, this spring may have represented a do-or-die effort for him, and thus far, he's looking great – oh, wait – I forgot, none of that matters.
Winning and losing doesn't mean anything until the end of next month, but you'd be remiss if you didn't factor in how well they win – or how brutally they lose. When this offense shows dominance, you certainly look for those things to continue in the season, and when the pitching gives up 16 runs in a game, you might want to start considering that to be unacceptable.
A lot of those pitchers will be gone very soon. If, for example, you didn't like the idea of the Cubs signing Dan Winkler, and that you didn't want him on the major league squad. Fair enough, we all have our preferences. I'd have to think you'd be rejoicing with every bad outing he has, knowing that those outings are lessening his chances. One way or another, it matters.
Rant over.
Marquee The Marquee Sports Network, despite dropping the ball with their network launch, is making good on their promise to add carriers. Here's the latest update.
ICYMI: Marquee Sports Network announces new distribution partner: https://t.co/XeieEPAFIv pic.twitter.com/mmQqFW8ggs

— CubsHQ.com (@ChicagoCubsHQ) February 27, 2020
Cubs' Birthdays: Celebrating yesterday, were ex-Cubs Héctor Rondón (32), José Reyes (37), Mark Derosa (45), Don Lee (86), and posthumously, Joe Graves (114), Harry Weaver (128), and Grover "Pete" Alexander (133).
Baseball Quotes: ""Baseball is a universal language. Catch the ball, throw the ball, hit the ball." - Pete Rose in My Prison Without Bars
Upgrade Your Account
Unlock premium boards and exclusive features (e.g. ad-free) by upgrading your account today.
Upgrade Now

Tags: Bears Baseball
,
Kyle Hendricks
,
,
,
Albert Almora
,
Victor Caratini
,
Trent Giambrone
,
Corban Joseph
,
John Lackey
,
David Ross
,
Jon Lester
,
,
Carlos Asuaje
,
Hernan Perez