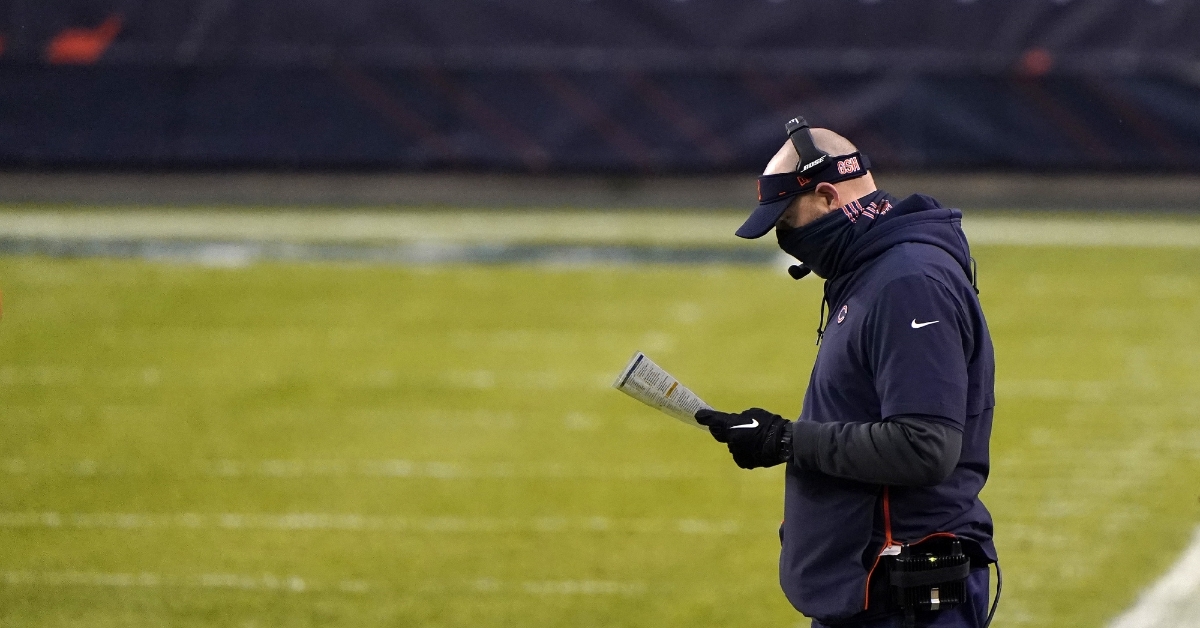 | | |
| --- | --- |
| Bears News: Is Matt Nagy coaching for his job against Packers? | |
---
| | | |
| --- | --- | --- |
| Saturday, January 2, 2021, 9:37 AM | | |
When the Bears elected to hire Matt Nagy three years ago, there were many questions regarding that hire. For starters, Nagy was coming off a season in which he was the Kansas City play-caller for the first time. That left some wondering if he was ready for a head coaching gig or if he needed more time.
One thing that helped him perhaps land the gig was that he was part of the Andy Reid coaching tree. Reid has turned out several strong coaching candidates during his 22 years as a head coach and went on to say Nagy was one of the smartest coaches he has ever worked with. Those are strong words from a future hall of fame coach, and Ryan Pace jumped on the opportunity to bring Nagy aboard.
Nagy took a struggling Bears team in just one season and turned them into NFC North champs with a 12-4 record. He also went on to win coach of the year that season, so the hire appeared to be paying off. Nagy took a bit of a step back last season, but there is a thing called a sophomore slump, so maybe that is what he endured. The Bears missed the postseason going 8-8, and there were many questions left unanswered.
Nagy wanted to turn the Bears offense around this season and get them to look like the teams he coached in Kansas City. After all, Nagy was viewed as an offensive genius, so the Bears trusted his ability. Through three games, the Bears were not only 3-0, but their offense was playing at an elite level. That level started to fall off come October, but the Bears still managed to start 5-1 out of the gate.
Then, something changed and not for the better.
Following a quarterback switch from Mitch Trubisky to Nick Foles, the Bears offense went south in a big way. So much so that they went from 5-1 to 5-7 with many people calling for Nagy's head. In a desperate attempt to save his job, Nagy not only gave up his play-calling duties in favor of Bill Lazor but made Trubisky the starter once again. That decision appears to be a good thing as the Bears are back in the playoff picture at 8-7, and the offense has been on fire.
"I believe in my heart of hearts that being benched put Mitch Trubisky on a mission. I told him that day that what feels like the worst day of your life could turn out to be the best day."
- Chicago Bears HC Matt Nagy told @peter_king

— Daniel Greenberg (@ChiSportUpdates) December 28, 2020
Despite the turnover late in the year, fans still wonder what could have been had Trubisky not been benched. The team was sitting at 5-1 and had the No. 1 seed in the NFC through six weeks, so a sure-fire postseason was coming. With one game left, the Bears need to beat the Green Bay Packers to get in, and Nagy could ultimately be coaching for his job.
Don't get me wrong, every game in the NFL is an important game, but the most crucial game under Nagy's belt thus far was his playoff game in 2019. Nothing will come close to the pressure he will be facing on Sunday as this ultimately could seal his fate as Bears coach. Granted, a lot could happen from now until next season, but it appears as if the Bears are more confident in Nagy than earlier. At least for now.
According to Jeremey Fowler of ESPN, multiple sources around the league believe that this late-season push has saved Nagy's job for the time being. The win over the Jaguars guaranteed the Bears would finish with no worse than eight wins giving them three seasons of eight wins or more with Nagy. Things must play out the final two weeks, but after the mid-season struggles, his team has responded, and it appears Nagy is in a good position within the organization.
Tashaun Gipson said of Matt Nagy: " To go on a six-game losing streak and for it to look like the house is on fire, for a guy to stay that poised and each week, man, he never changed. He never wavered. ... You want to win football games for him. You want to play hard for him."

— Chris Emma (@CEmma670) December 24, 2020
Despite all the drama and struggles the team went through this season, Nagy deserves some credit for turning things around, even if it came from a decision he should never have made in the first place. Fans wanted some changes made, and Nagy made changes by giving up play-calling duties and bring back Trubisky as a starter. Those decisions have paid off, and the Bears are on the verge of a playoff appearance.
Cordarrelle Patterson said HC Matt Nagy has done a heck of a job this season.

Patterson: "Everybody has been dragging his name under the dirt like they were doing Mitch Trubisky. I'm not going to say no names but I see it all. Coach Nagy is doing his job."

(Via Bears YouTube)

— Daniel Greenberg (@ChiSportUpdates) December 24, 2020
Should that happen, Nagy will be back next season as the team trusts in him as their guy. However, a postseason berth won't be easy for a couple of reasons, and it all starts with Green Bay. As things sit right now, the Packers are the No. 1 seed, and the Bears are the No. 7 seed. For the Bears to ensure themselves a postseason berth, they need to beat Green Bay.
That is a lot easier said than done as the Packers have plenty to play for in their own right. Green Bay has not locked up the top seed yet and can do that with a win. So, expect them to start their top dogs and go for the win to clinch home field. Another reason why things won't be easy is that the Arizona Cardinals have to win against the Rams to have a shot.
Arizona was previously the seven seed until losing to San Francisco last Saturday. They have now fallen to the eighth seed and need a win themselves to stay alive. While the Rams are sitting in the no. 6 spot, they have not clinched a postseason berth and could be eliminated with a loss. Expect them to go all-in for the win.
What could be an issue is that Rams starter Jared Goff broke his thumb on Sunday and will not be starting. That means John Wolford will be making his first NFL start with a ton of pressure on his shoulders. Kyler Murray is a game-time decision, but if Murray can go, advantage Cardinals in a big way. Chicago can still make the postseason with a loss, but the Bears don't want help from other people. They want this win on their own.
The recent bar of success for the Bears has been low, but after his 12-win season in year one, Chicago has high expectations. Even though the team has struggled this season, should they make the playoffs for the second time in three years, it would be near impossible to move on from him.
Former NFL QB Chris Simms told NBC Sports Chicago that he believes the Chicago Bears should bring back Mitch Trubisky, Matt Nagy, and Ryan Pace for another season.

Simms: "There's too many good things about this football team right now to blow it up and start from square one."

— Daniel Greenberg (@ChiSportUpdates) December 24, 2020
Even if they lose but remain competitive on Sunday, would the Bears want to move on just when it looks like things are clicking?
Nagy loves it in Chicago, and the team loves him. This will be his biggest game to date as a coach, and it could be viewed as another audition essentially.