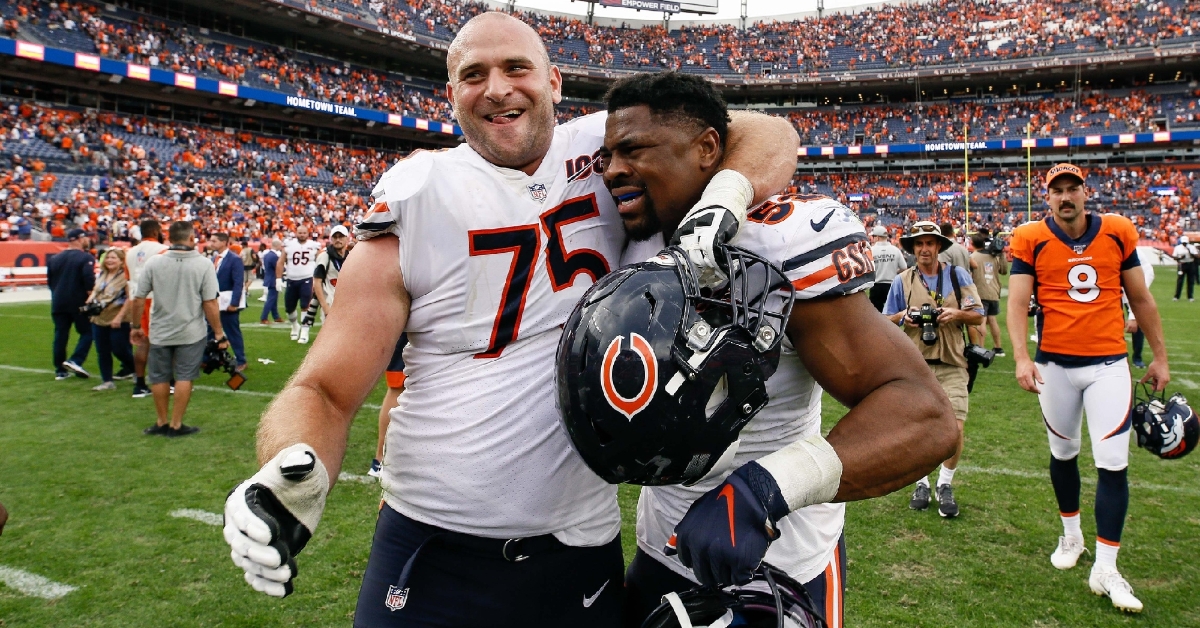 | | |
| --- | --- |
| Kyle Long is making an NFL comeback | |
---
Three seasons ago, when the Bears won the NFC North with a 12-4 record, they did so by putting together a seven-game winning streak to end the year. The biggest reason for that was due to a defense that quite simply was a brick wall. However, the Bears offensive line was much better back then, and a big reason for that was Kyle Long's play.
The eight-year pro was drafted by the Bears and immediately became a fan favorite. Not only was he great in the community, but he was a great player that saw three consecutive pro bowl appearances from 2013-15. Long also received all-pro recognition in 2014. He was the heart and soul of the Bears offensive line and was a big reason as to why the Bears line was better than league average for quite some time.
Like many players, injuries caught up to Long, especially after the 2015 season, where he never played a full 16 game slate across his final four seasons. During that same time frame, Long missed 26 games, including the last 11 of the 2019 season, which saw Long end his Bears tenure on the injured reserve list. He then retired from Football in January 2020 as his body simply couldn't take the punishment anymore.
Apparently, Long missed football enough to come back as he is coming out of retirement just one season later to get back into the NFL. The 315 pounder is not only happy, but healthy, nasty, ripped, and ready to sign with someone. This comes as a big surprise when you look at his last four seasons, but Long is still young enough to play at a high level, so he must be healthy.
With the Bears releasing Bobbie Massie to open cap space, one might look at this as a possibility to bring Long back to Chicago to let him go out on his own terms. Long dropped a little weight but had he entirely been committed to retiring, and he wouldn't have done that to get on the field. Long was pondering it already last season and dropped some weight to get in better shape from the looks of things, hoping a return was indeed possible.
Long has football in his blood as his dad and brother have played the game for a long time. Retiring from the game at such a young age is never easy, and for some, they simply are not ready to step away yet. Long is one of those guys who was not prepared to walk away, and now it seems like he is in the best shape of his life.
Long returning to the NFL is a great thing for not only him but the league itself. Returning the Bears, now that is a whole different story as that would be the perfect storybook ending for what started off as a great NFL career.
As much as Long could potentially help the Bears offensive line if he did return, there must be some red Flags that Matt Nagy and Ryan Pace are thinking.
First, when you look at his injury history late in the league, can anyone expect that to go away completely. If you are going to invest in someone who hasn't played football in nearly two years, you need to make sure they are durable enough for the entire grind. Long does bring questions about considering durability hasn't been great.
When you look at his list of injuries, they included shoulder, ankle, hip, foot, and finger injuries. Apart from a finger injury, the rest of those injuries are very serious as they all contribute to how successful you are as a blocker. Long was as tough as they come, injuries aside, often playing through the pain until he couldn't take it anymore.
Regardless if he does come back to the Bears or not, having Long return to the NFL is a good thing for him as it will allow him to go out on his terms. That is something that the former all-pro deserves when you look at his success over his career.