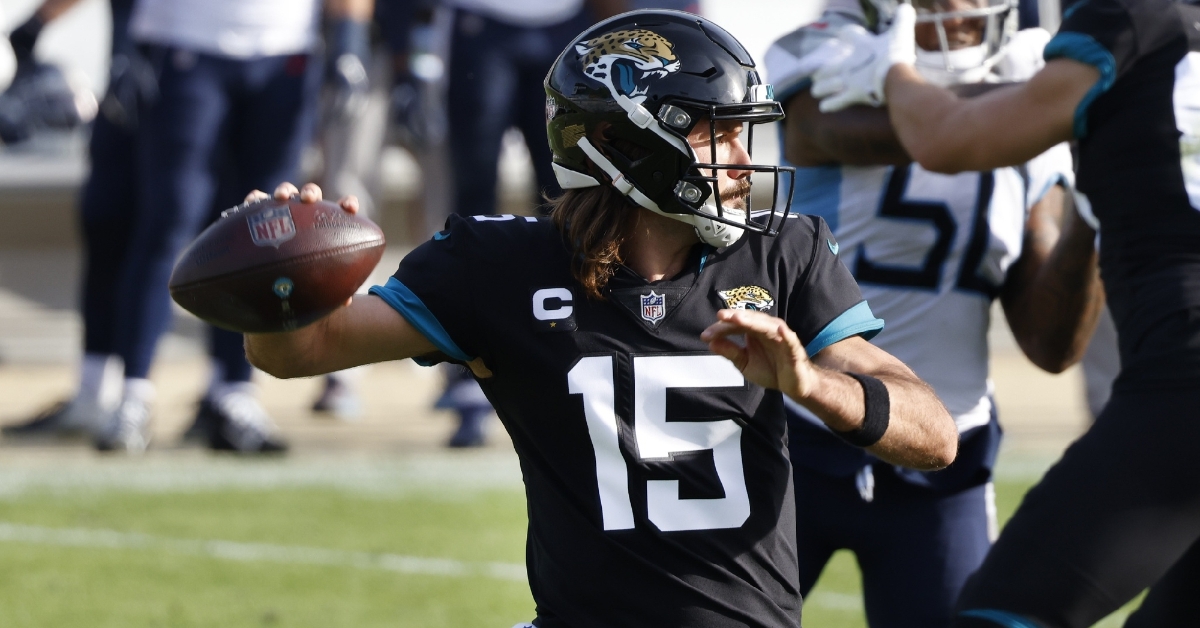 | | |
| --- | --- |
| Bears News: Minshew Mania could be an option in Windy City | |
---
| | | |
| --- | --- | --- |
| Tuesday, January 19, 2021, 10:30 AM | | |
The Chicago Bears quarterback situation over the past few seasons has been questionable at best, but at least they knew who their starter was for the most part. That can't be said for some of the teams in this league, especially the Jacksonville Jaguars, who brought a whole new meaning to quarterback controversy.
Ever since drafting Blake Bortles in 2015 and then trading him, the Jaguars have tried their luck with several options hoping to find their franchise man. They brought in Nick Foles two seasons ago, who was a complete disaster and lost the job to Gardner Minshew. While many expected Minshew to be a fill-in option, he played well enough to earn the starting job this season before getting injured early in the year.
Minshew was then replaced by Jake Luton, who struggled mightily before Doug Marrone went to former Chicago Bear Mike Glennon. Out of all the quarterbacks on the roster, Glennon played the best of the three, but he still alternated with Minshew down the stretch. Following their 1-15 season, not only did Jacksonville secure the No.1 pick, but they brought in Urban Meyer to be head coach.
As things sit right now, it appears Jacksonville will be drafting Trevor Lawrence No. 1 overall, immediately making him the franchise quarterback. That leaves so many questions about who stays on that roster from this year. If I were a betting man, Glennon would be the guy I would think stays around as he is a veteran leader to teach Lawrence.
Ultimately that means Minshew is on the way out, and rumors are swirling around that the Bears could make a run at Minshew if that is the case.
Let's be clear, Minshew is not the most popular choice out there in terms of quarterbacks who could be available, but he isn't as bad as the numbers suggest. The Bears are also very familiar with Minshew as they were one of the teams that considered him when he entered the draft from Washington State. Chicago liked Minshew in college, and there is a good chance they try and get him again for the right price.
The Bears are a team that is not only stuck in transition, but it appears they don't know what direction to go. They have most of the pieces to win in this league, including a top-tier defense, a rising star at running back, and receivers who can make plays. While the offensive line continues to struggle, it did get better as the season went on, but Matt Nagy knows they need better quarterback play if they want to win.
Declining Mitch Trubisky's fifth-year option was a telling sign that he wouldn't be back next season despite a decent year for him. Foles is still on the roster after the Bears signed him to an extension, but should he be given his play? His contract is too much for teams to take on, so trading him won't be easy. It is clear the Bears are looking for a quarterback, and Minshew could be a better option than what they have for cheaper.
Not only would he come cheap, but he is still on a rookie contract for two more seasons. As a middle-late round pick, that contract will cost next to nothing for the team. Minshew is not a player that will wow you, but he is an upgrade over what this team has and has proven to be a decent passer in this league.
As a rookie, Minshew completed 61% of his passes for 3271 yards, 21 touchdowns, and just six interceptions. Taking care of the football side of things is especially important. In only nine games last year, Minshew put up even better numbers completing 66% of his passes for 2259 yards. He continued to take care of the football with just five interceptions, and his 16 touchdowns had him on pace for a 27-touchdown season.
Getting a guy like Minshew can only be done via the trade market unless the Jaguars elect to keep Glennon as a backup and cut him. Chicago has already been burned once in trading for Foles only to get minimal results. Minshew is a much better trade target that makes a ton of sense for Chicago.
Not only is he young, but he is inexpensive, can push the ball downfield, and can run the offense that Nagy wants to run with success. He would immediately come in and likely be the team's starting quarterback.
With Minshew as the quarterback, the Bears would be saving a ton of money at the quarterback position and could use the extra funds to build up the offensive line and re-sign Allen Robinson. It would also allow Chicago to retool at critical positions and make them not only NFC North contenders but also playoff contenders for the next few seasons.