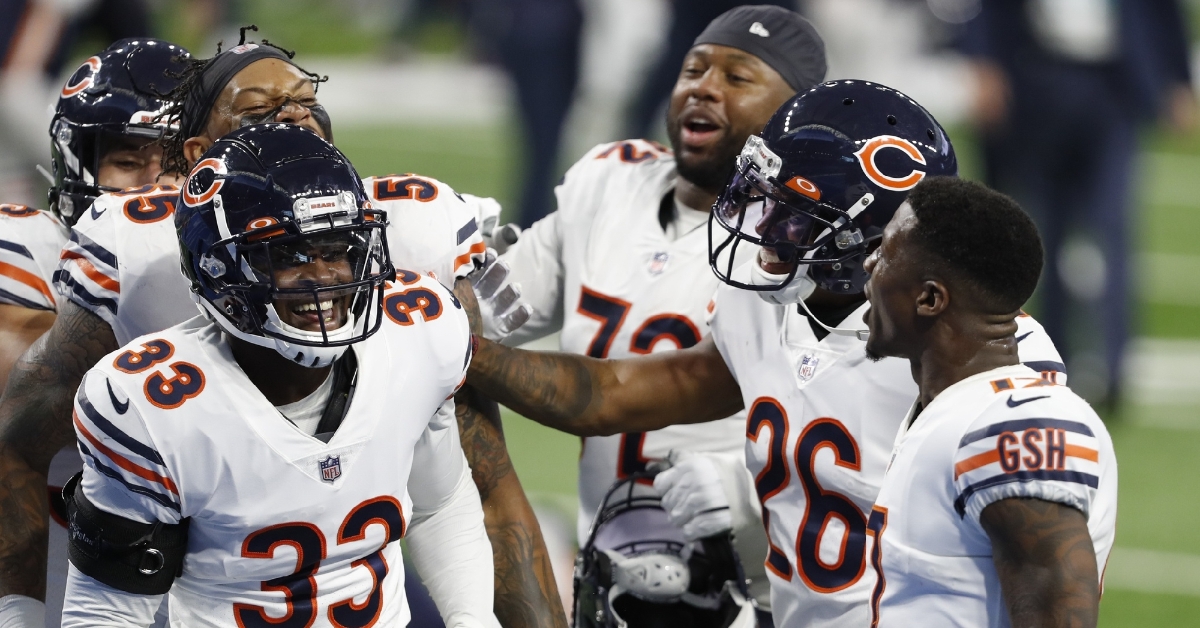 | | |
| --- | --- |
| Offseason NFL Power Rankings 2021: Bears crack the Top 20 | |
---
Another season has now come and gone in the NFL. It was filled with drama, injuries, comebacks, and incredible stories. We are now officially into the offseason, a familiar one considering following another Super Bowl win for Tom Brady.
We at BearsHQ would love to deliver our NFL Power Rankings after a fun and wild season.
1. Buccaneers - I'll keep this simple, Tom Brady is on the Buccaneers. Do not bet against them.
2. Chiefs - Fresh off a Super Bowl loss and motivation to the league's best quarterback — the Chiefs will be primed to continue to slay opponents in 2021.
3. Packers - With the MVP and a coach who has won 26 games in two years, expect the Packers to continue to dominate.
4. Bills - The AFC East belongs to the Bills and almost the entire AFC. Only room to improve for a loaded Buffalo team.
5. Rams - The best defense in the league has added an extremely talented veteran QB — lookout for the Rams.
6. Ravens - A talented young QB, a strong defense, add some receivers, and this team has no holes.
7. Titans - If it's not broke, don't fix it. The Titans are poised to be in the mix for yet another season.
8. Browns - The Browns enter the offseason with a solid clubhouse culture and their best season in years — only room to improve for Cleveland.
9. Colts - With the news of Philip Rivers' retirement, the Colts' loaded roster is a QB away from competing with the Chiefs and Bills.
10. Seahawks - The Seahawks have to put some resources into protecting Russell Wilson. Otherwise he, and their playoff hopes will be gone.
11. Saints - After losing in the postseason in heartbreaking fashion four years in a row, the Saints have some important questions to answer. But as it
stands, their roster should be talented enough to contend in a loaded NFC.
12. Steelers - The Steelers have their quarterback back and a top defense in the league; they will look to contend in 2021.
13. Dolphins - The Dolphins seemed to arrive a year early to their rebuild — so expect a jump from Brian Flores' squad in 2021.
14. Chargers - A young talented roster with the Rookie of the Year and a new head coach — I like the Chargers moving forward.
15. Cardinals - A team with Kyler Murray and Deandre Hopkins in year two is primed to have some growth.
16. 49ers - San Francisco has a Super Bowl roster intact, now healthy — so look out for them in 2021.
17. Bears - The defense is still intact — but the Bears have too many question marks on the offense to make them a top tier team.
18. Football Team - Fresh off a playoff appearance and in a second year with a great coach, Washington is primed for success.
19. Raiders - This team had its share of great games and some stinkers, resolving whether Derek Carr is their QB key for Vegas.
20. Vikings - While Kirk Cousins may not be Super Bowl-caliber, the Vikings still have some talent — they simply need some defensive help.
21. Cowboys - The Cowboys are loaded with talent, and if Dan Prescott can return to the way he played early in 2020, the Cowboys should be fine.
22. Giants - A healthy Saquon Barkley back with that defense should make for a strong season in New York.
23. Patriots - A quarterback and any lick of speed on the offense will go a long way.
24. Eagles - The Eagles ended the season with a quarterback issue, so fixing that is a good start.
25. Falcons - The Falcons have a potent offense, but the defense needs some help before Atlanta wastes Matt Ryan's career.
26. Bengals- Getting Joe Burrow some help is the task, but it is a tall task.
27. Panthers - The Panthers — like many teams on our list — are a quarterback away from being a contender.
28. Broncos - The Broncos have some internal questions before they rise on our rankings.
29. Lions - If Matt Stafford struggled to get the Lions to the playoffs, Jared Goff will have a very tough time.
30. Jets - The Jets have been involved in trade rumors this offseason, but they will remain toward the bottom until anything comes of them.
31. Jaguars - They have the number one pick for a reason, but they have some work to do to climb.
32. Texans - This team is a mess — they are losing stars like it's their job.
Keep an eye out as we will periodically update these rankings during the season.