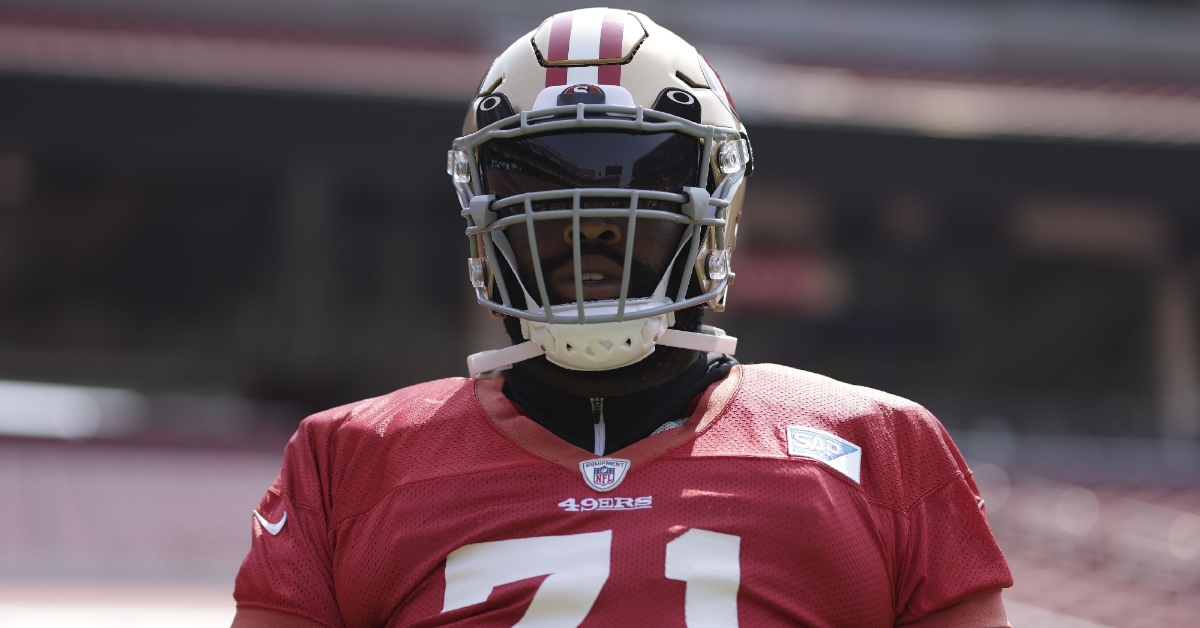 | | |
| --- | --- |
| Report: Bears have 'checked in' on Pro-Bowler Trent Williams | |
---
If the first 24 hours of free agency has taught us anything, it should be expect the unexpected. Despite the salary cap shrinking this season by nearly 9%, teams are off and running when it comes to adding to their rosters. Guys like Taysom Hill, Leonard Floyd, and Aaron Jones have recently received huge paydays as the dominos continue to fall.
So far, Chicago has been quiet apart from retaining some of their pieces last season. I expect them to start getting a bit more active in the coming days as they will have a good feel for what the market will look like at that time. One of those positions the Bears are sure to monitor is the offensive line market, which continues to be a position of need.
Not only are the Bears looking at the offensive line market, but they could be ready to strike for one of the best tackles in the NFL. For the first time in a long time, this year's free-agent class is loaded with offensive tackle talent, and the Bears are looking to swing for the fences in hopes of acquiring Trent Williams.
There are no official reports about what offers for Williams would be in the market, but Ryan Pace is clearly interested and has checked in on the tackle.
"Maybe the top free agent Trent Williams, the star pro-bowler is still out there," NFL Network's Ian Rapoport said Monday. "The San Francisco 49ers have been trying to bring him in, trying to agree to a deal but nothing done yet. He still has several interested teams after him including the Chicago Bears and the Kansas City Chiefs."
From @GMFB: A look at what to expect today... pic.twitter.com/JaxtIcoXU4

— Ian Rapoport (@RapSheet) March 16, 2021
The Chicago Tribune's Brad Biggs also reporting that the Bears have 'checked in' on the elite free agent.
Is Ryan Pace simply doing his due diligence or are the #Bears a player for Trent Williams?

Multiple sources say the team has checked in on the elite left tackle.https://t.co/4s0iU9yUrD

— Brad Biggs (@BradBiggs) March 15, 2021
Not only is Williams a top-tier tackle, but he is an eight-time pro bowler. Even with entering his age 33 season, Williams would not only be the best offensive lineman on this team but would instantly make this offensive line that much better.
After watching Williams play this past season, there are no signs of him slowing down, and he is always going to be viewed as a top 100 player every season. Given what Williams will most likely cost, fans may find it odd that the Bears would even talk to him. However, this is not the first time they have been connected with Williams, as back in November, the Bears were rumored to be in on him this spring to win his services.
The Bears need an upgrade on the offensive line, and most expected them to go that route in the draft. With the open market being what it is and having a guy like Williams available, there is no better option for this team. Image the morale boost this organization would get from adding a guy like Williams.
Not only would you suddenly have an offense excited to get back on the field, but any quarterback would love to play behind Williams. I am talking any QB, including Deshaun Watson and Russell Wilson, as Williams could be a huge piece to lure one of them in. Should the Bears be stuck with Nick Foles, a rookie, or a one-year bridge QB, they would be so much better off standing behind the offensive line knowing Williams is on the edge to protect them.
Offensive line help is something every time goes on and looks for this time of year, but no line may need more help than the Bears. Williams is one of those cannot miss signings if given the opportunity and would be a slam dunk pickup for Pace. If the Bears are serious about not only contending this season but for multiple seasons, Williams is one of those pieces that could help.
Bringing him in would send a message to the NFC North and the rest of the NFC that the Bears should not be taken lightly anymore. As the Bears continue to restructure deals, look for something to go down, and hopefully, Williams is on the receiving end of a strong contract.