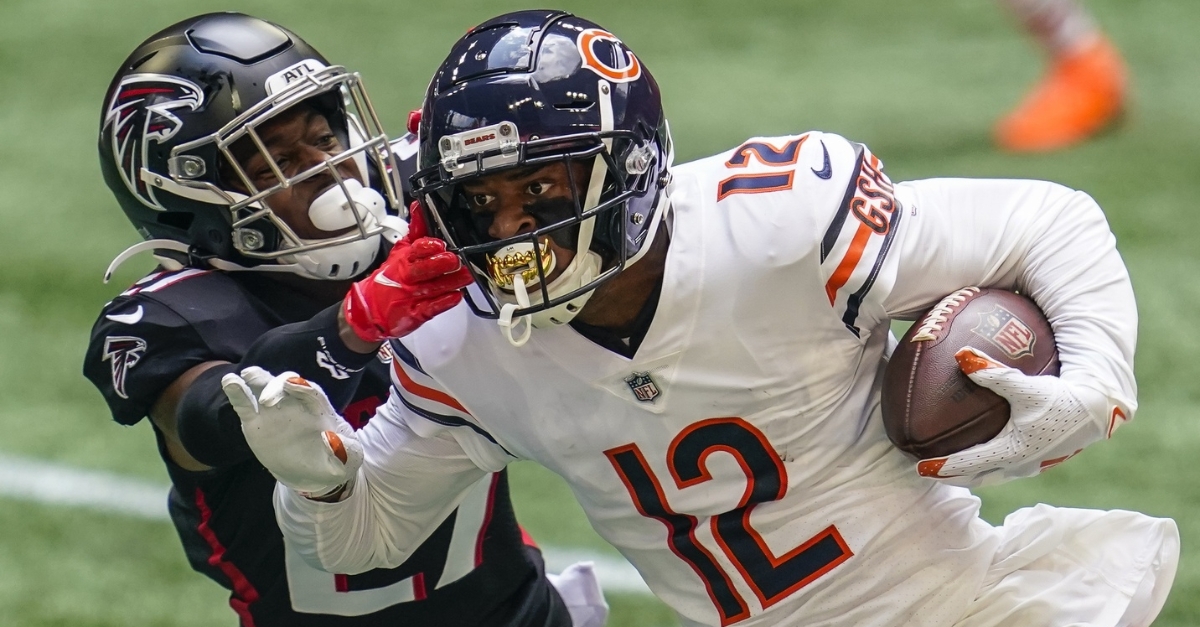 | | |
| --- | --- |
| Report: Bears prepared to use franchise tag on Allen Robinson | |
---
It is not a secret that Allen Robinson wasn't too fond of the Bears offense this season, especially early on. He took to Twitter to voice his displeasure and later deleted those tweets. While taking to Twitter is not the correct way to discuss things, Robinson had a reason to be upset, and the Bears offense certainly felt his wrath.
As the season went on, you could see the Bears offense starting to gel the final month of the season, and Robinson was a big reason why. The more he was targeted, the better he did, as he is truly the receiver, the Bears have lacked for quite some time. Despite his great production in his three seasons in Chicago, Ryan Pace and company never could reach a deal on a contract extension, leaving Robinson's future in doubt with Chicago.
While most experts expect Robinson to hit the free-agent market with Washington listed as a fit for him, Robinson has said he would like to return to the Bears if they are open to having him back. It appears the feeling is mutual at this point in one way or another, and it seems the Bears are planning on bringing him back with an extension according to Jason La Canfora of CBS Sports.
"The sides could not get a long-term deal worked out as they negotiated into the season, but sources said the Bears are prepared to tag him in an effort to continue that process," he said. "He is a vital cog on an offense that remains under great duress with coaching and management jobs on the line. Even with a murky QB situation, securing their best weapon in the pass game is imperative."
Ideally, both Robinson and the Bears would love to work out an extension to keep him in Chicago for years to come. While the two sides continue to discuss long-term options, it doesn't look like that will happen this season, and it seems like the Bears are preparing to franchise tag their No.1 receiver next season.
Typically, a franchise tag is given to a player as a means to extend contract extension talks. It provides teams another year to discuss an extension with a player. That looks like the plan in Chicago for the time being as they want to bring Robinson back any way they can at this point.
Keeping Robinson in Chicago is critical for this offense, even if that means they need to tag him this season to keep the communication lines open.
Not only is he the team's best offensive threat, but he is coming off consecutive 1000-yard seasons, hauling in more than 100 catches in the process. He also came 86 yards shy of 1000 in his first season with the team, so production is certainly not an issue. While the stats are essential to the Bears success, Robinson is also very important to the community and has done so much work off the field. His teammates love him, the organization loves him, and the city of Chicago loves him, so there are many reasons to bring him back.
Allen Robinson II red zone stats last 3 seasons:
?? 51 targets
?? 0 drops

Robinson II is #3 on PFF's list of top 150 free agents pic.twitter.com/oIzAA2VNOL

— PFF (@PFF) February 14, 2021
It has been more than a month since the Bears playoff exit, and at that time, most thought they had seen the last of Robinson in a Bears jersey. Right now, that doesn't appear to be the case, as the communication between the Bears and Robinson have been great all offseason long. Robinson wants to stay here, and the Bears want to have him back should they make it work.
Franchise tags are often very costly, but that is only a small price to pay if it means getting a player locked up long-term. Since entering the league, Robinson was also an excellent receiver, but he has emerged as a potential top 10 Receiver since arriving in Chicago. The type of production that he brings to the table will be nearly impossible to replace, especially when you look at the Bears current quarterback situation.
Most valuable free agent WRs per PFF WAR:
?? Allen Robinson
?? Corey Davis
?? Will Fuller
?? Marvin Jones pic.twitter.com/NFOKmnGz7e

— PFF (@PFF) February 12, 2021
Chicago will need as many weapons as possible to help whoever is in charge, and Robinson is undoubtedly one of those weapons that need to be on the field. Please don't give up quite yet on Robinson remaining a Bear as Chicago appears ready to do whatever they need to do to keep him in Chicago.