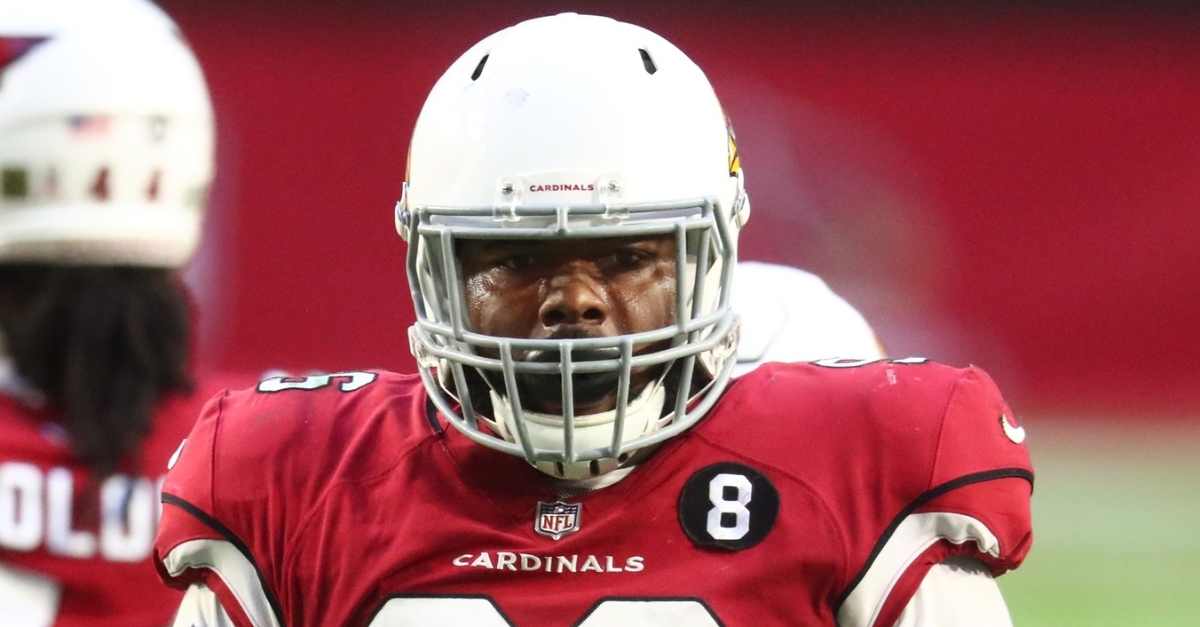 | | |
| --- | --- |
| Report: Bears to sign former Cardinals DL on two-year deal | |
---
No one would argue that the calling card for this Bears team is their defense. After all, how could you? Not only has that unit carried this team the past two seasons, but they have been a top 10 unit seemingly every year since 2017. That is a massive reason as to why the Bears have been winning games despite lackluster QB play.
Even with a great defensive unit anchored by players like Roquan Smith, Khalil Mack, Kyle Fuller, and Akiem Hicks, Chicago still felt the need to help make that unit that much stronger. With the expectation that Eddie Goldman will be returning after opting out last season, the Bears already received a considerable boost without exploring the market to do so.
Well, it looks like another potential playmaker is coming to the Windy City as former Arizona Cardinal Angelo Blackson is coming to Chicago on a two-year deal. Sometimes the Bears have a knack for finding under-the-radar players and turning them into great defensive rotation players. That is precisely what they are hoping to get with Blackson.
The 28-year-old is now entering his seventh season in the league after spending time with the Texas, Titans, and Cardinals. The 2020 season was one of his better years as he played in 50% of the team's snaps. Across 16 games, not only did Blackson play in all 16, but he made nine starts picking up eight quarterback hits, four tackles for a loss, and 2.5 sacks. Blackson has now appeared in 85 games for his career, making 30 starts and continuously seeing roughly 50% of the team's total snaps.
For a defense that added J.J. Watt to pair with Chandler Jones this season, Blackson would have been a nice rotational piece to have upfront. Instead, it is the Bears reaping the benefits as he will fit in nicely with this group. A signing like this typically doesn't get fans excited, and this one most likely will fall into that category. However, the Bears do well in finding a good defensive lineman, so there is some intrigue there, even if he is just a rotational piece.
With Goldman back in the middle to pair with Hicks, the Bears run defense and overall presence upfront will be miles better than what it was at any point last season. The problem is, Hicks can't stay healthy, and Goldman is coming back from taking a year off, so how rusty is he. Both are critical pieces to this defense, but both need a rotational piece that not only gives them a break but can fill in and make plays if called on.
Blackson, I feel, is one of those pieces that could thrive when put in the right situation. This, to me, is the right situation as he could be in line for a career year this season. At 6-4 320 pounds, Blackson is a monster and fits well with Goldman and Hicks. Essentially, the Bears could get creative and put all three of those guys on the line at once, making it difficult for anyone to run the ball.
The former Auburn Tiger came to the NFL following a solid collegiate career which is why he was taken in the fourth round by the Titans. However, since coming to the NFL, Blackson hasn't materialized into an everyday player and has been stuck in a rotational role ever since. Across seven NFL seasons, he has tallied six sacks, with 2.5 of those coming as a rookie and another 2.5 last season. That means he added just one sack in the other four years.
The Bears are doing what they can, given the funds, they have to work with, but this is a movie that shouldn't be overlooked. Rotational or not, Blackson is an excellent piece for this defense and gives them depth at a position they never had before. I would love to see his snap count increase a bit to see his true potential come to fruition.