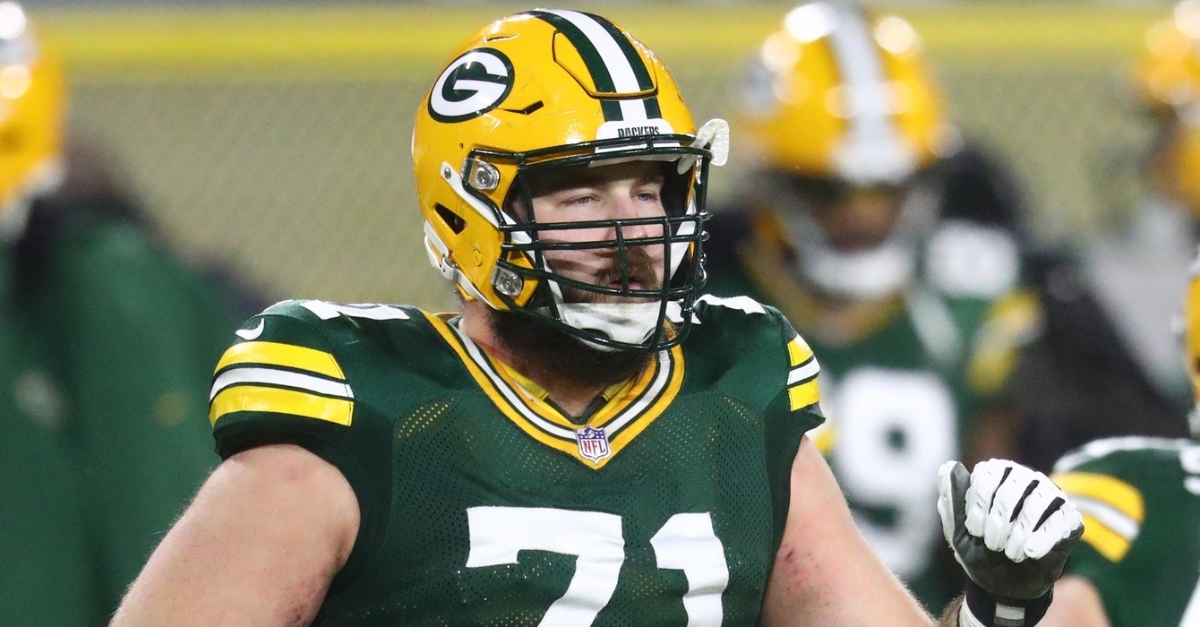 | | |
| --- | --- |
| Rick Wagner could be solid option for Bears | |
---
| | | |
| --- | --- | --- |
| Wednesday, February 24, 2021, 9:52 AM | | |
This is not meant to beat a dead horse, but the Bears do need offensive line help. Even with improved play down the stretch, especially the final month of the season, this team will not reach their 2021 goals if they fail to address that position.
While adding a top-level QB will solve some of this teams' offensive woes, even that won't make a difference if they don't have the time and protection in front of them. With already tight cap space, the Bears will most likely look to beef up the Offensive line through this year's draft. However, some relatively cheap options have had success in the past, and one of those players is someone the Bears are familiar with.
Former Green Bay Packer offensive lineman Rick Wagner is now available, and someone Chicago may look at going after. The Bears are very familiar with Wagner and what he brings to the table as they have had to face him many times. Chicago also made a run at him in the past and came up empty, so why not take a second swing at him this offseason.
Before signing with Green Bay, Wagner was part of the Baltimore Ravens offensive line and became a free agent in 2017. Chicago was interested in him at that point, but it was the Lions that one his services, and he has since then signed with the Packers and is now available again. A big reason for the Bears not working out a deal with Wagner was Bobbie Massie's improvement.
Instead of cutting Massie to free up the cap space needed for Wagner, Massie went on to put together two impressive seasons, which had the Bears hopeful that would continue. Unfortunately for Chicago, those two seasons were disguises as Massie hasn't been the same player since. On the other hand, Wagner endured an unmemorable time in Detroit before becoming a very reliable reserve with the Packers, who even made starts along the way.
Wagner showcased his skills last season by making nine starts for what was a banged-up offensive line, and he played a massive part in allowing the fifth-fewest sacks as a unit. An essential part of the Packers offensive line, no doubt, but the Packers elected to cut him along with Christian Kirksey to free up 10 million in cap space.
Looking back on the past two seasons and not before, it makes sense that the Bears cut ties with Massie now and replace him with Wagner. Typically, this wouldn't be the typical type of move the Bears would make, but this move makes a ton of sense for the team. If cutting Massie clears the cap space to get Wagner, I say go ahead and do it.
If the Bears not only cut Massie but can afford Wagner at a relatively cheap rate, he makes a ton of sense as a short-term bridge starter at the right tackle position. If Wagner is added, it will allow the Bears to draft other needs but still find their future right tackle and bring him up slowly. They did that with James Daniels by using a placeholder until he was ready, and I think Wagner fits very well in that situation.
We have seen over the past few seasons that Championships are won and lost in the trenches. You can have the best offense or best defense in the world, but if you don't have the protection upfront, it won't matter. Look at what happened to the Kansas City Chiefs in the Superbowl this year. Their offensive line was battered, and they couldn't stop a frantic pass rush from the Buccaneers. Chicago has experienced a similar fate as their offensive line has not held up very well.
Adding players like Wagner will help this team immediately, and it will allow them to build for the future in the process. Chicago needs to get better in the trenches if they want to compete with the elite teams in this league. That all starts on the offensive line, which needs to be addressed.