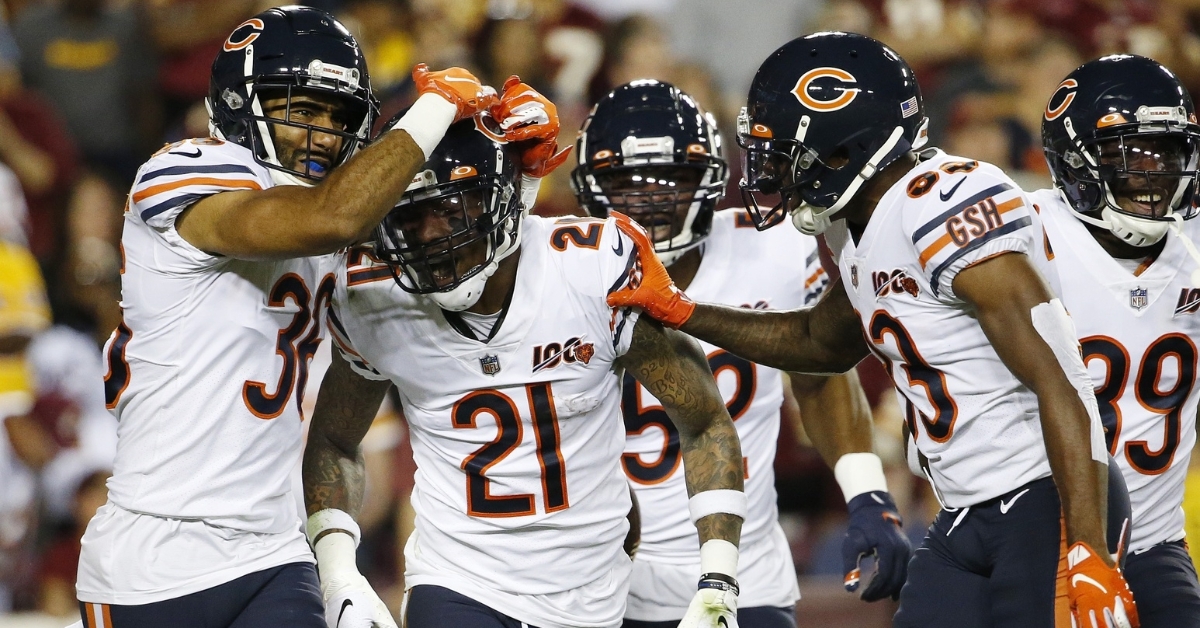 | | |
| --- | --- |
| Season in Review: DB Grades for Chicago Bears | |
---
The biggest reason for the Bears' overall success in 2018, was their ball-hawking secondary and their ability to force turnovers. This season was a far cry from that same level in 2018, but that doesn't mean the Bears were still not a good team when it comes to forcing turnovers.
Losing Adrian Amos was big, but the Bears replaced him with someone just as good with the possibility of him leaving for a long-term deal this offseason. If this group of guys remain intact, I look for the Bears secondary to continue to be one of the best at not only forcing turnovers but keeping teams off the scoreboard in the process.
This is how I would grade the defensive backs for 2019.
HA-HA CLINTON DIX: Losing Amos was a devastating loss for this team, but signing Clinton-Dix in free agency was a wise move. The only problem is Dix is once again a free agent meaning the Bears have a huge decision to make regarding bringing him back long term. Dix certainly made his presence felt this season, recording 78 tackles to go with two interceptions for 96 yards and one pick-six. That is the type of production Amos delivered for years.
Season Grade A: Acclimating to a new team is always hard, but trying to replace a pro bowl safety in Amos is even harder. Dix will not wow you on the stat sheet weekly, but he is quietly a great player that any defense would be honored to have long term. Chicago is one of those teams that want his services beyond this year, but they won't be alone. Chicago cannot afford to let Dix go after losing Amos in 2018.
KYLE FULLER: The heartbeat of the Bears secondary is Fuller, who continues to play at a pro bowl level. This season in 16 games, Fuller put his fantastic ability on full display as he finished second on the team in tackles with 82. That is certainly a lot for a cornerback, but his team-leading three interceptions also showed that when people threw his way, he would often deliver.
Season Grade. A-: I am not too fond of a cornerback recording 82 tackles as that means their opponents were getting through the first line of defense way too often. Fuller, on the other hand, I can live with when it comes to him making tackles as he is one of the surest tacklers in the league. His coverage skills are continuing to get better each season as he will be one of the top five corners in the league for years to come.
Eddie Jackson: Another vital piece to the Bears secondary, Eddie Jackson, is now the aging vet that plays center field over the middle. His knack for being around the ball 60 tackles, one sack, one interception, and five pass breakups shows you exactly how significant his presence is on the backline. If he stays healthy, he is a game-changer.
Season Grade B: I had to dock Jackson a little bit because he did not have as statistically as good of a year in 2019 as he did in 2018. However, how could Jackson repeat that type of performance when he was producing turnovers at a historical level. No one expected him to deliver at that rate again, but he still needed to do a little bit more than he did this season. Look for a bounce-back 2020 if the defense stays healthy all year.
PRINCE AMUKAMARA: Amukamara is a compelling case when it comes to talking about cornerbacks. Does he play at a high level? Of course, he does, but not at the way most would think. He is not someone who is looking to make plays in terms of turnovers, but instead, he focusses on being a lockdown corner making things difficult for quarterbacks to throw his way. The 53 tackles are decent, but the ten pass breakups are even better even though no interceptions came from those pass breakups.
Season Grade B: If you are a cornerback, I would like to have you produce by forcing turnovers. However, some corners pride themselves on being a coverage option, which is precisely what Amukamara has done in Chicago. Teams continue to throw his way despite his great coverage. So far, quarterbacks have been very fortunate that pass breakups have been all that has come from that, but turnovers are bound to happen eventually.
Buster Skrine: One of the less recognized members of the defensive back unit happens to be nickel corner Buster Skrine. With the outside corners stealing all the headlines in terms of guarding the teams No. 1 and No. 2 receivers, having a reliable nickel corner that can cover the slot is equally as important, which is what Skrine brought to the table. His 48 tackles and five deflections prove that he was all around the ball even when he tried not to be.
Season Grade B+: Skrine will not steal the headlines on defense, but he is as reliable as they come in the nickel. Not only can he drop in coverage and play the slot, but he can also help on the outside while getting pressure on the QB if the Bears choose to use him that way. This was an under the radar signing that proved to be gold for Ryan Pace and company.
Kevin Tolliver II and Sherrick McManis were the other two defensive backs that saw limited action in what the healthiest portion of the Bears defense was in 2019.
Positional Grade B+: The secondary was not only healthy but continued to produce at an extremely high level in 2019. Yes, the turnovers were down from 2018, but that was mainly in part to the front seven dealing with so many injuries and not being able to generate constant pressure on the QB. Even with QB's having more time to throw, the Bears didn't make things easy as in terms of moving the ball. They continue to be the last line of defense and deliver when called upon.