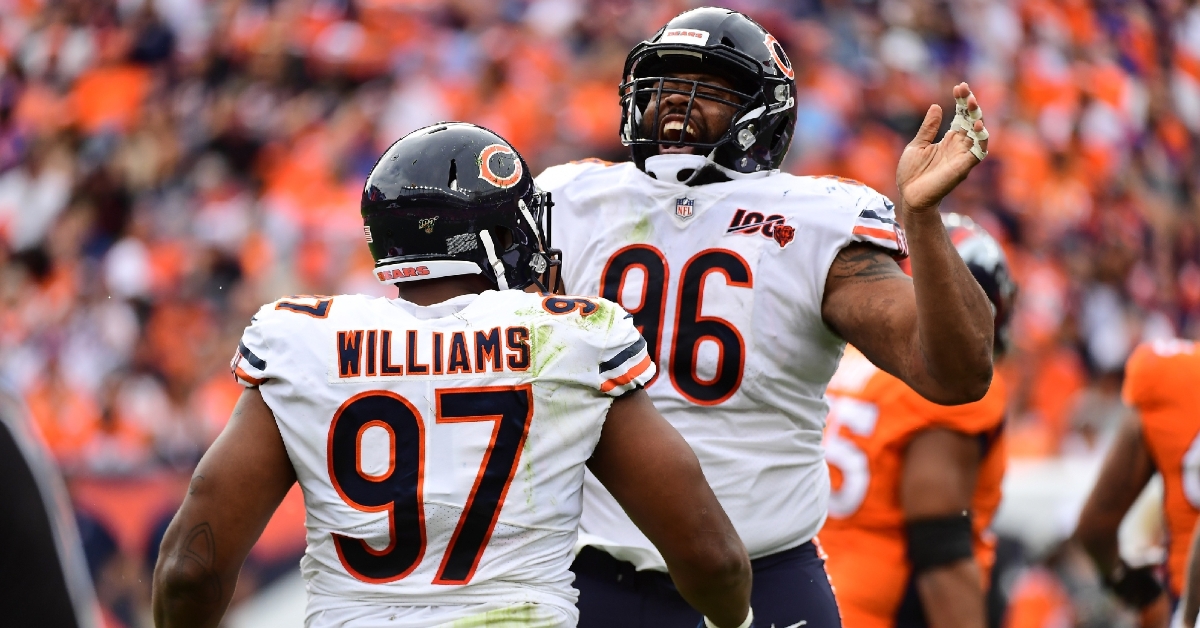 | | |
| --- | --- |
| Season in Review: DL Grades for Chicago Bears | |
---
| | | |
| --- | --- | --- |
| Thursday, January 16, 2020, 8:41 AM | | |
Getting back to the season in review series, we now move the defensive side of the ball, which continues to be the Bears bread and butter. Even with a new coordinator in Chuck Pagano and several injuries putting the team's depth to the test, Chicago still landed in the top 10 defensively, once again proving that is how they want to win games.
As the season got underway last year, you could undoubtedly see the growing pains the Bears defense was going through with a new coordinator for the first time in six seasons. Once the injuries started to pile up, things got even worse as the team found out how much depth they honestly had on this team. Even with all those uncontrollable taking place, players continued to put trust in Pagano, and it paid off with another solid showing defensively all year, which should be better in 2020. This is how I would grade the defensive line this season.
AKIEM HICKS: Another vital piece to the Bears front seven, Hicks dealt with the most frustrating season of his career as multiple injuries forced him in and out of the lineup seeing just five games in total this season. Even in those five games, Hicks made a limited impact as he totaled only ten tackles and one sack. That was coming off a year where he amassed seven sacks so you could get a sense that something wasn't right with him right from the beginning.
Season Grade B: Believe it or not, I have to give Hicks a B for his season grade, and that is not based on production. Had I based this on production, he would be in the D range as the injuries certainly limited his play. That is why I upped his grade a bit because even though Hicks was not 100% during the end of the season with that elbow, he put his health on the line, trying to help the Bears with their playoff push. The amount of heart he showed in December is the perfect leadership quality that Hicks possesses, and that is something you can't put a grade or price on.
NICK WILLIAMS: The unsung hero of the line this season, Williams certainly deserves some consideration for defensive MVP this year. The former seventh-round pick burst onto the scene this season to prove the Bears certainly got a steal in him. Not only did he record 42 tackles, which was more than double his career total, but he also picked up his first six sacks of his career to go with two fumble recoveries proving his worth in the middle.
Season Grade A-: No one expected the production Williams gave the Bears this season, but it certainly was a pleasant sight. Now the hard part for him will become the ability to sustain that long term. Should Williams continue to play at the level, he did in 2020, and there is no question in my mind that the Bears will look to extend him a few more seasons and should be able to do so relatively cheaply. This is one player that should no longer be looked at as a reserve man.
ROY ROBERTSON-HARRIS: Another player that although saw more playing time than Williams in the past, but hadn't delivered on a consistent basis, put together his best season of his career showing the Bears depth on D. Harris amassed 30 tackles this season to go with 2.5 sacks bringing his career total to 7.5 in that department. What is next for this man remains the question.
Season Grade B-: Harris isn't going to stand out on the stat sheet, but that doesn't mean he wasn't important to this team. Although a reserve early in the season, Harris got on the field more when injuries began to pile up and started to find his groove at that point. Chicago can only hope this season was just the tipping of the iceberg as they hope that production can stay long term.
EDDIE GOLDMAN: The big man in the middle, Goldman, went through a year to forget as injuries prevented him from making a significant impact this season. Those injuries took such a toll on him that he managed just one sack on the season after averaging nearly 5 per year the past three seasons. That was a massive blow to Bears defense not only in terms of pass-rushing but the ability to stop the run also.
Season Grade C-: Injuries happen, and there is no getting around it, but Goldman wasn't having his best season even before the injuries. He was one of the few players that seemed to struggle to the new Pagano system, and before he could find his footing, he spent more time off the field than on it. The Bears know what they have in Goldman and won't shy away from giving him another shot next year. Let's see what he can do.
BILAL NICHOLS: Another reserve player that saw increased playing time this season was Nichols, who appeared in 15 games. That may be a lot, but the production from his end certainly didn't reflect that as he managed 27 tackles and zero sacks. Not known as a huge sack guy yet in his NFL career, Nichols certainly needed to produce more given the amount of playing time he had.
Season Grade C-: I was a little lenient on his grade this season given that he didn't have starter experience until this year. Yes, that may not be an excuse, but you could see his growth as a player when he was on the field more consistently. However, even with that, his production certainly didn't match, which may be concerning going forward.
Brent Urban, (9 games), Abdullah Anderson (6 games), and Jonathan Harris (2 games) combined for around 23 tackles and just one sack as they were the remaining members who saw playing time on the line this season. They all receive an incomplete for their grades as they didn't see enough action to fully contribute to the team.
Overall Position Grade B: I am giving the Bears defensive line a B for their season grade. Yes, they had their fair share of injuries. Yes, they were still a tough run-stopping defense, but the sacks and overall pressuring of the quarterbacks was down from years past, which did hurt this team early on. Whether that was a case of all the injuries or adjusting to the way Pagano does things remain unanswered, but we may get a real sense of that this season with another year under the Pagano system.
Should the Bears continue to play the way they did this past season, look for a team sitting in the top 10 defensively, but not quite at an elite level. Should they remain fully healthy next year, I fully expect them to make it back into the elite conversation as they have the talent level to do just that.
Upgrade Your Account
Unlock premium boards and exclusive features (e.g. ad-free) by upgrading your account today.
Upgrade Now