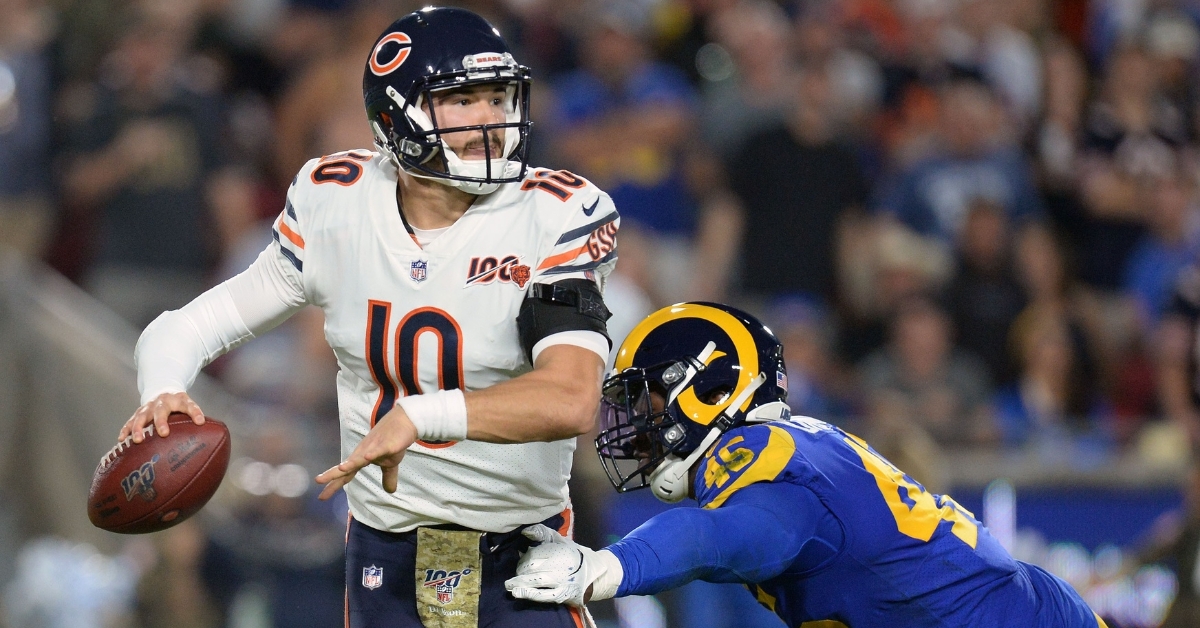 | | |
| --- | --- |
| Bears News: The latest with Mitch Trubisky's injury | |
---
| | | |
| --- | --- | --- |
| Tuesday, November 19, 2019, 1:02 PM | | |
With another flopping performance in Primetime on Sunday, the Bears are left limping to the finish line as they currently sit 4-6 on the season. Lost in the shuffle of the 17-7 loss to the Rams was the situation at QB, which has now gotten a whole lot more complicated.
As the offense continued to sputter through three quarters, Trubisky was finally taken out of the game late Sunday in place of backup Chase Daniel. What many thought was a benching, proved to be an injury as Trubisky tried to play through a hip injury that he suffered during the first half. However, was the decision to bench Trubisky really an injury decision or has Nagy seen enough of him under center this season.
Given the conversation that has now been shown worldwide, there are mixed thoughts on what the situation means for Trubisky. Nagy made sure to put the public on notice Monday afternoon as he did reveal that Mitch injured his right hip during the first half. The play occurred with 27 seconds remaining in the second quarter when Troy Hill and Michael Brockers converged on a sack with Brockers kneeing Trubisky in the right hip. He was examined at the half and was deemed healthy enough to continue.
"Instead of going into the [medical] tent there at the end [of the half], we did it inside with our trainer," Nagy said via ChicagoBears.com. "He got looked at, was in some pain, but we went through the whole thing. We knew he was good to go."
Whether that was the right decision or not is an argument for another day, but coming out of the half, Trubisky and the offense executed a 12 play 80-yard drive as the third-year QB went 7-9 for 66 yards on that drive including a 14-yard TD pass to Tarik Cohen. That was about all the excitement Trubisky would be able to display as the injury continued to worsen as the second half went on.
It became so bad that you could see it start to affect his play as his mobility became more and more limited. Another thing Nagy noticed was that Trubisky wasn't using his upper body to step into throws, which resulted in him not following through on his passes. Even on a draw where Trubisky was unable to stand up on the handoff, which was all Nagy needed to see to pull the plug.
"What ended up happening over time with him is it became stiff, tighter and tighter, and that's where we ended up keeping an eye on it and noticing that," Nagy said. "You'll see it on almost every play. You'll notice where it's affected him. Whether it's a throw, whether it's a handoff, you'll see it, you'll notice it."
For the second time this season, Trubisky was unable to finish a game due to injury, which meant it was Daniel getting the call once again as he entered the game down 17-7 with just 3:24 left following a Malcolm Brown touchdown. Although now down by two scores, Nagy indicated that the decision to bring in Daniel was decided even before the Rams final score.
"The thing that you love about Mitch is that he's extremely tough," Nagy said. "I love that about him. But at the same time, he's at a point where you could see that it was painful. So, what I had to do was I wanted him to know coming from me that he needs to be brutally honest with me regarding his pain and where he's at. And that's exactly what it was."
The biggest controversy about the Trubisky benching had to do with the broadcast booth as news of his injury was never relayed to them. This led both Al Michaels and Chris Collinsworth to believe that Nagy had seen enough out of Trubisky and wanted to go a different direction. That couldn't be far from the truth as Nagy is not only confident in his number one but reiterated that if not injured, Trubisky finishes that game.
"It had zero to do with his play," Nagy said. "It was completely based off of the injury that he had last night and where he's at 100 percent."
With the Bears season on the brink of slipping away, Nagy wants to put his guy out there, but only if healthy enough to do so. Chicago will closely be monitoring him all week with hopes he can go Sunday, and if cleared by the doctor, Mitch will be under center once again.
Upgrade Your Account
Unlock premium boards and exclusive features (e.g. ad-free) by upgrading your account today.
Upgrade Now