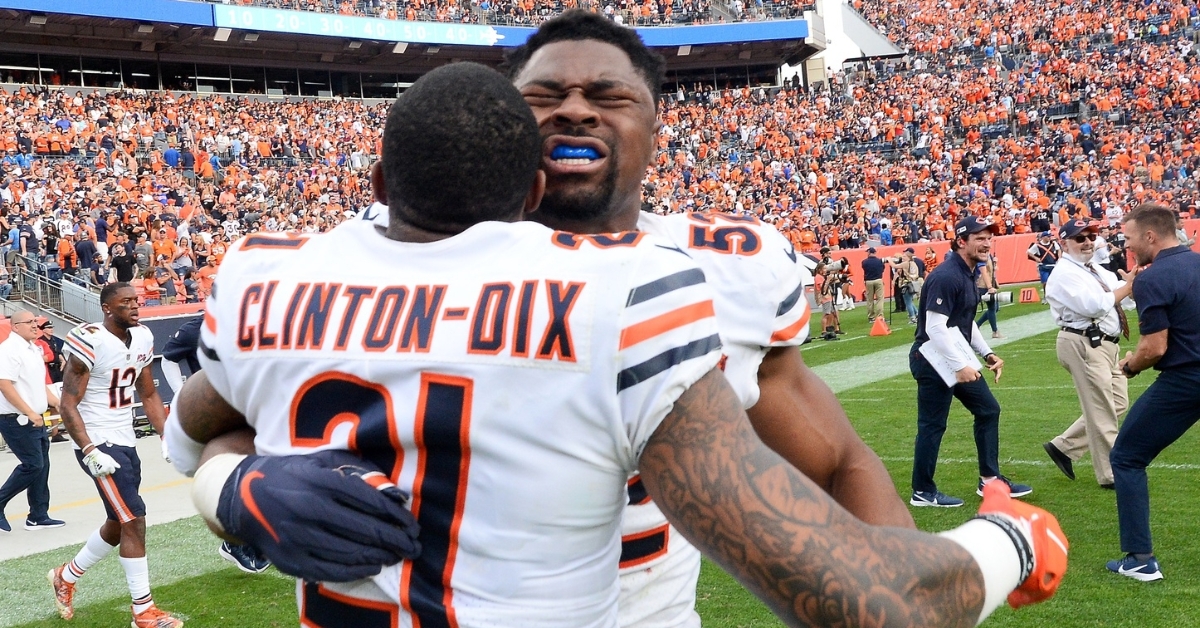 | | |
| --- | --- |
| Three Bears' Takeaways from win over Broncos | |
---
It was an ugly win, but a win is a win as the Bears improved to 1-1 on the season following their 16-14 triumph over Denver. Even with that Victory bringing them back to .500 on the season, a lot seems to be missing in terms of performance as fans still haven't been satisfied with the product on the field. Yes, the win is good but so much work still needs to be done for the Bears to get back to their 2018 level of play. Here are three takeaways that I saw this week.
1. Special teams do matter: There is no secret as to what the Bears biggest Achilles Heel was last season. All year long special teams seemed to cost the Bears at times including ousting them from the playoffs also. After holding a kicking competition throughout training camp, Eddy Pinero won the job, and that appears to be the right decision for this organization.
Not only has Pinero accounted for 13 of the teams 19 total points through two games, but he has been perfect on all five of his kicks which include four field-goal attempts. Three of those attempts came in Sunday's contest in which Pinero connected from 40, 52 and 53 yards away. The 53 yarder was the most important kick of them all as that kick was made with time expiring giving the Bears the win.
Pinero may only be a rookie this season, but he has looked like a seasoned veteran through two weeks as high-pressure situations don't seem to rattle him. His leg will undoubtedly be a key for Chicago this year as they look destined to play in many close games in 2019.
2. Where is this offense? Through two games, the Bears offense has been awful putting it nicely as they have yet to find any rhythm. Following a dreadful performance from Mitch Trubisky in Week 1, he responded with another subpar showing in week two tossing for 120 yards on 16-27 attempts. That is cause for significant concern giving how the Bears expected him to take that next step in 2019.
Another reason for the sluggish offense has been the running game or should I say lack of running game. What was a key component to the Bears success a year ago has yet to find any traction in 2019 putting all the pressure in Trubisky's arm. David Montgomery led the team with 62 yards on the ground Sunday, but at just 3. 4 yards per carry that won't get it done long term. If it weren't for a 46-yard Cordarrelle Patterson burst, the rushing totals would have been much worse as Tarik Cohen struggled for the second straight week picking up 18 yards on four carries.
If the running game continues to struggle on the ground, the Bears could be in for a long season offensively because Trubisky has yet to show he can win games with his arm. Even if Trubisky's play does increase throughout the year, do you really want him throwing 30 plus times a game? I feel that could be a recipe for disaster and that the Bears need to start running the ball better.
3. Trust the Defense: I think we can all safely agree that through two games we don't have to worry about the defense taking a step back. Despite their new defensive coordinator Chuck Pagano running the show, the Bears defense seems to have picked up where it left off last year allowing a total of 24 points through 2 games. Not to mention the Bears have recorded seven sacks and now one turnover, and you can see why Chicago will trust this side of the ball yet again.
All offseason, we heard how the offense needed to play a more prominent role to help the defense out. That doesn't seem to be the way Chicago is built and the defense is making sure teams are still aware of what they can do. Sure, they would love for the offense to put up 30 points to make their jobs easier, but they know the capabilities of that unit and realize for now they must carry the team.
It worked through 17 games last season and has worked through two games this season. Although they are sitting at 1-1 so far, keep in mind they started 0 -1 last year too before ripping off three wins in a row. If the Bears want to continue that trend again this year, they will have to against a tough Washington and Minnesota squad the next two weeks with Chicago traveling to Washington next Monday before returning home to face the Vikings the following Sunday. Washington is 0-2 on the season dropping a pair of divisional games to both Philadelphia and Dallas.