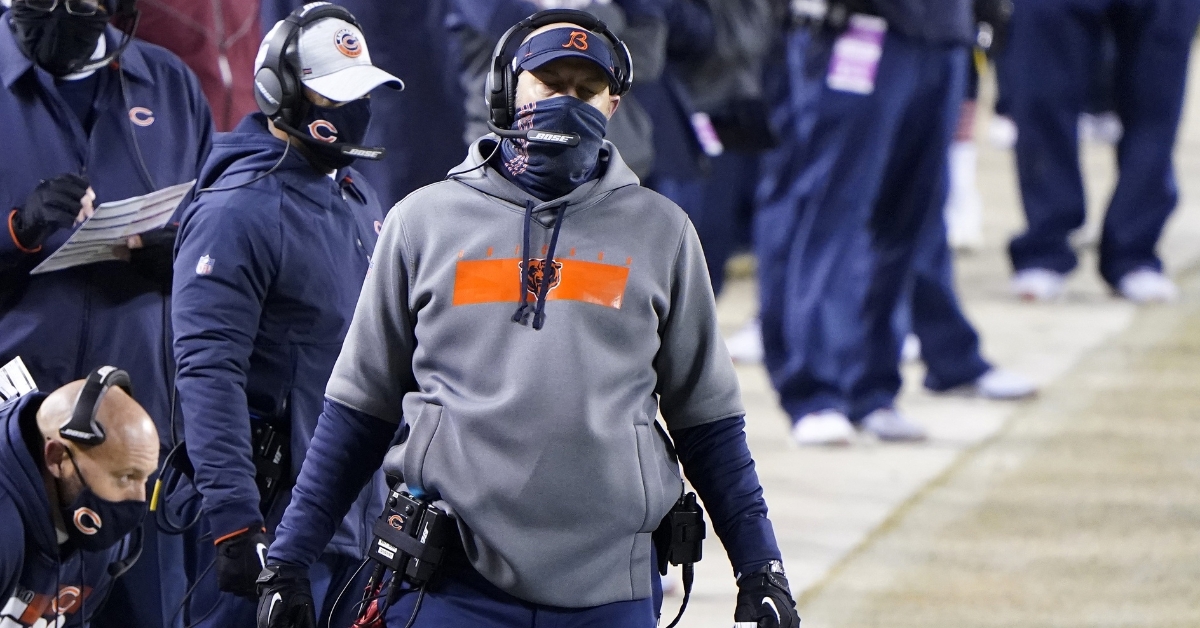 | | |
| --- | --- |
| Three Takeaways from Bears backing into playoffs | |
---
| | | |
| --- | --- | --- |
| Monday, January 4, 2021, 9:46 AM | | |
It may not be how Bears fans wanted the regular season to end, but despite a 35-16 loss to Green Bay, Chicago is still heading to the postseason with an 8-8 mark. Chicago was able to hold on to the seventh and final seed despite the loss as the Rams took care of Arizona 18-7. Now the Bears will get ready for their second postseason appearance in three years under Matt Nagy.
In a way, maybe you could say the Bears deserved a playoff spot given how they started the season 5-1 before dropping six straight. They then moved back to Mitch Trubisky at QB, who finished the season 6-3 as a starter this year instead of Nick Foles going 2-5. Had Trubisky not have been benched, there is a great chance the Bears wouldn't have needed any help to get in yesterday.
As it stands, Chicago did just enough this season to get in. That is all that matters at this point. Even though the Bears lost yesterday, there were some good things to take away from that game moving forward.
Here are some takeaways from week 17.
Miscues prove costly against the Packers
Normally when you talk about miscues, it tends to fall on the turnover side of things. Yes, Chicago did have a few turnovers yesterday, but that is not the miscues I am talking about here. When you play a team like Green Bay, you need to play perfectly practically. The Bears couldn't do that, and it cost them.
For starters, look at the red zone, for example. Green Bay is No. 2 in the NFL in converting red-zone possessions into touchdowns. They reached the Red zone four times yesterday and walked away with four touchdowns. The Bears, on the other hand, reached the Red Zone four times in their own right but came away with three field goals and one touchdown. One of those field goals was after the Bears recovered a fumble inside the 25.
Another miscue the Bears had was the potential for three interceptions, two of them happening when the game was 21-16. All three were dropped, giving the Packers new life, and Green Bay capitalized. If you want to beat the Packers, you can't be making those mistakes, especially in the red zone. You need touchdowns, not field goals, and the Bears will be kicking themselves this week knowing they let an opportunity get away.
This looks bad, but it's also exactly what Trubisky was doing when the Bears put up 30+ on four straight bad defenses. Could ask him to throw it downfield more, but they've asked him to do that for years and we know he's not very good at it

Fact is, he's just a limited QB pic.twitter.com/oqFfCkZHlZ

— Jeremy Layton (@JeremyLayt0n) January 4, 2021
Darnell Mooney emerging as team's No. 2
When the Bears drafted Mooney in the fifth round of this year's draft, they expected him to contribute as the season went on but didn't precisely know-how. Tulane's speedster was listed as the No. 4 WR out of camp but was quickly trusted as the team's third option behind Anthony Miller and Allen Robinson. I think it is safe to say that Mooney is now considered the No. 2 on this team.
Mooney has been getting much more comfortable all season long, and his production has shown up on the field. He capped off his rookie season Sunday by setting a new career-high in yards for a game and setting the Bears franchise record for receptions in a game by a rookie. Granted, most of his yards came on one big play, but Mooney has shown he will be a focal point of this Bears offense for the next few years, if not more.
I sincerely hope Darnell Mooney is ok because he continues to show out as a rookie. This offense desperately needs this vs NO. pic.twitter.com/mks0t28uFi

— BuffLlama #FirePace #FireNagy (@JayDizzyD) January 4, 2021
For the most part, the Bears went toe-toe with Green Bay through three quarters as one big play to Marquez Valdez-Scantling served as a backbreaker. However, the Bears were often caught out of position during the game, especially in the linebacking area. That could be credited to Roquan Smith leaving with an injury, and the Bears need him back.
Smith not only leads this team in tackles but is very good when it comes to coverage. His versatility in coverage was on full display yesterday as the Packers went right after his replacement and torched him on numerous routes. Overall, the Bears defense didn't look great yesterday, but with Smith in the game, there is a chance to make more of the plays the team didn't make.
Matt Nagy doesn't have an update on Roquan Smith, but he did say the Bears linebacker is a "tough son of a buck," for what it's worth.

— Kevin Fishbain (@kfishbain) January 4, 2021
For Chicago to have any chance at beating the Saints in the playoffs next week, they need Smith not only back on the field but to be 100%. Who knew that an area of weakness for Chicago would be defensive depth as they have been tested on defense late in the season with the injuries piling up.
The Nickelodeon game Wild Card weekend is going to be Saints-Bears on Sunday. Which seems appropriate, because you know Nickelodeon is definitely one of Mitch Trubisky's top 3 favorite channels pic.twitter.com/uZiuKJkiFM

— MyBookie Sportsbook (@mybookiebet) January 4, 2021