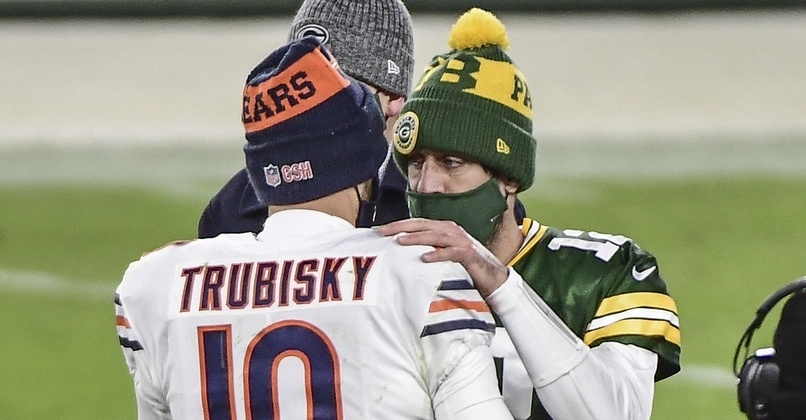 | | |
| --- | --- |
| Three Things to watch, Prediction: Bears-Packers | |
---
Alright, Bears fans, it is time to hop back on board as Chicago is streaking toward the playoffs. After suffering a six-game losing streak, the Bears have responded by posting three-straight wins to move back into the final postseason spot with an 8-7 mark.
Along with those wins comes an offense by far playing their best football and has been a top-five unit of late. That is a pleasant sight to see when you look at the struggles they endured most of the season and needing to rely on the defense so much.
This Sunday against Green Bay is not just about renewing the oldest football rivalry, but so much is going to be on the line. The packers are coming in with a 12-3 mark having already clinched the NFC North. However, they have not yet clinched home field, and you know Aaron Rodgers and company desperately need that seed. A win for them clinches that seed while a loss goes down to tiebreakers.
The Bears are in a similar position, just for different measures. Chicago is currently holding on to the seventh and final playoff spot. For them to clinch, all they need to do is win. A loss for them can still get them in, but with the Rams being down Jared Goff on Sunday, Arizona's chances of winning suddenly look much better.
#Bears want 100 percent of their players' focus on Packers, so they likely will not show Rams-Cardinals score on scoreboard Sunday at Soldier Field. Said HC Matt Nagy: "We've got to worry about us, and we've got to do everything we can to win this game."

— Larry Mayer (@LarryMayer) December 31, 2020
There will be a lot on the line Sunday, and emotions from both sides will be running high. That is precisely what you want when talking about this rivalry, which has been one-sided of late. You want two teams coming in with something to play for so they can put their best effort forward. You want every play to mean something instead of knowing you have something clinched. The only thing missing will be the fans.
Here are three things to watch for in week 17.
Revenge Game: Let's be honest, the Bears were flat out embarrassed last time against Green Bay, losing 41-25 at Lambeau. Realistically, the score shouldn't have even been that close as the Bears fell behind 41-10 at one point. That was the first game with Mitch Trubisky back under center and the first game for Bill Lazor calling the plays.
Since that point and the second half of that game, this offense has been on fire, and it seems like they have come into their own. Could a change in play callers be the difference why? Who knows, but the Bears are playing great. Defensively, the Bears played their worst game of the season against Green Bay, and you know they are licking their chops this week to get after Rodgers.
Chicago wants revenge on Green Bay. They want to be the team not only to clinch a postseason spot against their rivals but would love nothing more than knocking them out of the top seed in the process. I expect Chicago to be ready and be playing with a much more renewed sense of urgency.
Chicago Bears safety Eddie Jackson said the team is aware of what the Green Bay Packers have been saying about Sunday's game.

Eddie: "We take heat to the disrespect they've been throwing. No more talking, it's that simple. Win or go home. We ready."

(Via Bears YouTube)

— Daniel Greenberg (@ChiSportUpdates) December 31, 2020
Leave everything on the field: As mentioned above and at times the past few weeks, the only way the Bears realistically had a shot at the postseason was to win out. They have done that the last three weeks, but with the Arizona loss last week, they technically don't have to win Sunday to get in.
However, that is not on the Bears minds as they know they control their destiny and would much rather earn the playoff berth over backing in. Teams know they basically must play perfectly against Green Bay, and I think a lot of times that gets in their head. They don't want to make a mistake in fear of falling behind by two scores.
That isn't the way to approach this game. Chicago needs to continue to play their game, but they also need to take chances. If they have a fourth-down situation, go for it instead of punting. Go for the touchdown instead of a field goal. Do what you need to do to win this game.
In other words, leave it all out on the field as if this will be the last game you play. A win guarantees you one more week of football, whereas a loss guarantees you perhaps an hour of stress waiting to see how Arizona does.
I hope our current players really understand the depth of the Bears/Packers rivalry.

This isn't just "another game". Not even close. Our fan base cares more about this game than any other game.

Start treating it like that. pic.twitter.com/0pMCHLqoS4

— DaWindyCity Productions (@DawindycityP) December 30, 2020
Trubisky can earn another shot: Ever since reemerging as the Bears started QB, Trubisky has played the best football of his career. A lot of that can be credited to how he has handled things this season, but Lazor deserves a ton. He has simplified things for Trubisky and has catered this offense around his strengths.
Those strengths include rolling outside the pocket, designed runs, and continuously having him on the move where his legs can make plays. Heading into the season, the Bears elected not to pick up his option for next season, making him a free agent. Should he win on Sunday, Trubisky would be leading the bears to the playoffs for the second time in three seasons and would finish the season with a 7-3 record as a starter instead of Nick Foles 2-4 mark.
The Bears would have a big question to answer ahead of next year, and it would revolve around Trubisky. Even with a loss on Sunday, I think most fans can agree that Trubisky has earned another season in Chicago even if signed to just a one-year deal. If Lazor stays put calling the plays, having a full offseason to work on things could be a great thing for this team.
"It's the biggest game because it's the next game, and that's our focus right now."@RoquanSmith1, @AllenRobinson & "Good Guy" @Mtrubisky10 all stepped to the ??? today - @lscreeden has your @surface @BearsUpdate. pic.twitter.com/238mnOlcm5

— Chicago Bears (@ChicagoBears) December 31, 2020
Prediction: After the Packers blowout win against Tennessee, I expected them to rest most of their starters as I thought home field was clinched. That was until I found out that if three teams tie for the same record, head-to-head matchups go out the window. Green Bay now must win to secure home-field as a loss could ultimately send them down to the third seed.
The Bears, on the other hand, are in a similar spot as they need to win to make the postseason. Both teams are playing great football right now and are coming off blowout wins of nearly identical scores. What better way for the teams to end the season than playing a game with everything on the line?
Winning this game will not be an easy task for Chicago, but they know the magnitude of this game. Green Bay does, too, as the home field is something they need to reach the Superbowl.
I want to pick Chicago, but something about Aaron Rodgers this year scares me. He should be the MVP, and it isn't even close. This is the best he has looked in some time, and the defense isn't half bad. Rodgers is motivated and playing with a chip on his shoulder, which is a deadly combo for any team to deal with. Expect this game to be closer than the last time, but Rodgers is still Rodgers, and therefore I have the Bears losing 27-20 and needing a Cardinals loss to get in.