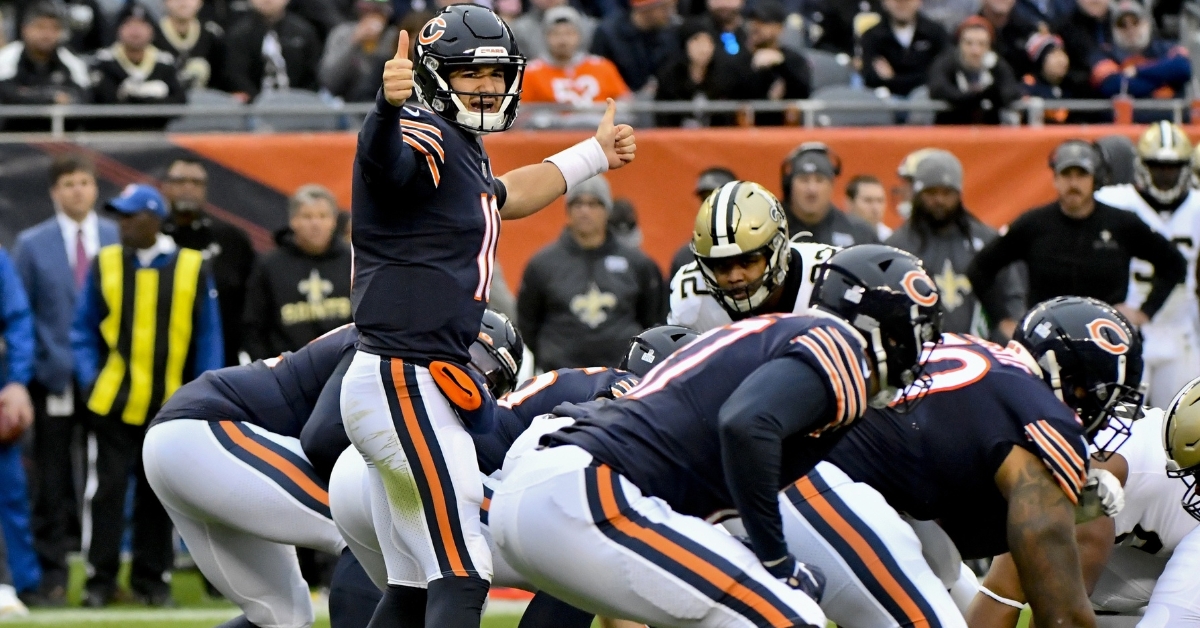 | | |
| --- | --- |
| Bears News: Trubisky on offense: "We're not playing the game fundamentally sound" | |
---
Despite a less than stellar performance in his first game back from a shoulder injury, Bears quarterback Mitch Trubisky remains confident that the Bears will break out of their slump soon. With a game against the reeling Los Angeles Chargers at home on Sunday, now would be the perfect time for both Trubisky and the Bears offense to pick up the slack and get going.
"I am excited for this week," Trubisky said to Larry Mayer of ChicagoBears.com. "Another opportunity to get back on track. Hasn't been going the way we wanted it to, but [that] happens sometimes. We've got a great opportunity this week, and I think the guys in the locker room, we've got a great attitude."
It hasn't just been Trubisky that has been off this season as the entire Bears offense has struggled in five of the teams six games with the Washington game as the lone exception. Not only has the passing game failed to produce large chunks of yardage, but the once prominent rushing attack continues to fail running effectively at any point in the game.
Take last Sunday against the Saints, for example. Through the first three quarters against the Saints, the Bears managed just 84 total yards of offense and failed to score a touchdown with the lone TD coming from a Cordarrelle Patterson kick off return for a score. No team has a chance to win a game no matter how strong of defense you have when you can only put 84 yards together through three quarters.
"Not everyone is happy about it because we shouldn't be," Trubisky said. "But we've got a good opportunity to fix it, and I think we have the right mindset to get back on track."
After the season the Bears put together in 2018, fans across the country would not only love to see Trubisky get on track but the entire offense also. Trubisky looked especially off against the Saints as it was his first game in nearly a month. Not only did he miss some easy throws but had shoddy footwork with some of those throws also. That is something that Head Coach Matt Nagy is looking to clean up in practice this week before their game on Sunday.
"You try to simulate the pocket as much as you can," Trubisky said. "Practice and obviously the game reps are the best, and being out for a couple weeks, I think definitely showed I wasn't as comfortable as I usually am in the pocket, and a couple of times, I did the wrong drop.
"Sometimes, there is happy feet. Sometimes [I was] moving, looking for that run when I didn't need to, and they did a good job of keeping me in the pocket and not letting me outside or find those running lanes. I was doing too much with my feet. I need to calm them down this week, really drill to get a lot of footwork on the drops, and just make sure I am going to the right place with the football."
This type of performance is nothing new for Trubisky as he had a similar result last season. After missing two games with an injury last year, Trubisky went on to post a career-low 33.3 passer rating against the Rams. He then responded the next two weeks with wins over both the Packers and 49ers with ratings of 120.4 and 113.5. With games against the Chargers and Eagles the next two weeks, repeating that trend once again would be huge as it could be the spark the offense needs to move forward.
"I think one thing we've learned is that every year's different, every game's different," Trubisky said. "It's never going to be the same. So you look at it as a situation; if you take the expectations off of what we're supposed to do and just go out and play free, I think that allows you to play to the best of your ability and what you're capable of."
"We're not doing that right now, and I think we're letting the extra frustration get to us. So that's why you see more mental mistakes and errors, and we're not playing the game fundamentally sound or playing it together. We've got to get to that point where it's all 11 guys doing their jobs on offense, playing free and playing like we know-how, and using our talents. And when we get to that point, I think you'll see a different offense."
Upgrade Your Account
Unlock premium boards and exclusive features (e.g. ad-free) by upgrading your account today.
Upgrade Now