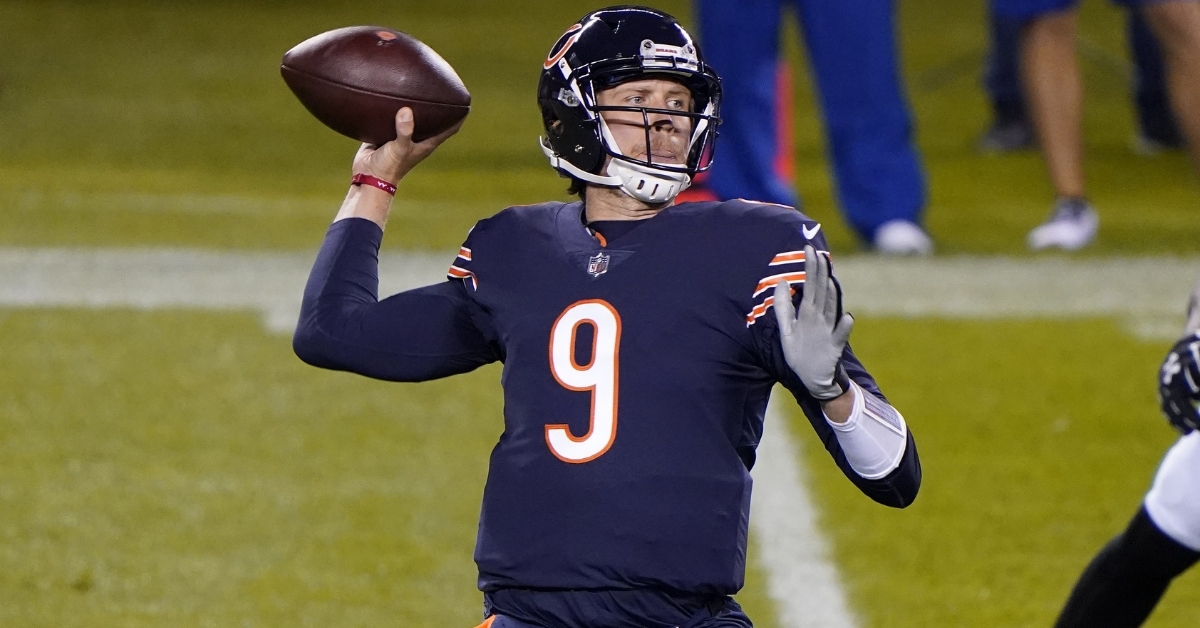 | | |
| --- | --- |
| Bears News: Will Nick Foles get any playoff snaps against Saints? | |
---
| | | |
| --- | --- | --- |
| Saturday, January 9, 2021, 9:13 AM | | |
There is no secret to the Bears quarterback issue this season, as that was a big storyline to follow. After starting the season 3-0 with Mitch Trubisky under center, Matt Nagy moved to Nick Foles after he led them to a come from behind win against Atlanta.
It was a questionable decision, but after the team started 2-1 to move to 5-1, fans began to back the move. That was until they endured a six-game losing streak to send them from 5-1 to 5-7 and looking up at the playoff picture. Foles also went from 2-1 to 2-5 as a starter and forced the Bears to make another switch at the quarterback position.
For the second time this season, Nagy named Trubisky the starter, and it appears to be the right move as he went 3-2 down the stretch, but both of those losses came against Green Bay. In essence, the Bears are 8-8 this season, made the playoffs as the seventh and final seed, and counted on Trubisky, a guy who went 6-3 as a starter this season, to get his first postseason win.
If we are looking at just the regular season starts, you to wonder what the Bears record would look like had Trubisky not been benched. Keep in mind; this was a guy who went 12-4 in his first full season as a starter and was 7-7 as a starter last year. The consistency is still lacking at times, but he does give the Bears the best chance to win and has shown that this season. Now all that is lacking is a big playoff win.
On the other hand, Foles was brought in to be a backup and has never had great success during the regular season. Take away his one incredible season under Chip Kelly in Philadelphia coupled with a three-game stretch to end the season in 2018, and Foles has proven he can't lead a team long term. He is excellent in relief and coming off the bench, but something is missing when he is counted on to be the guy.
However, Foles does know how to win in the postseason, and he has proven that time and again. Not only did he lead Philadelphia to their lone playoff win in 2019, but he led them to the Superbowl in 2018, replacing then MVP candidate Carson Wentz. Foles even found a way to knock off Tom Brady in a high scoring affair and put together perhaps the greatest seven-week run of his career.
Foles knew he was the man at that point, but much like what I mentioned above, he still was looked at as a reliever. The team was never his that year, and had Wentz not gotten hurt, the Eagles may not have won that Superbowl because Foles wouldn't have played. Why do I bring this up, you may ask?
Well, it's simple. Foles is not someone I would trust to lead a franchise, but I would trust him in the postseason. Playoff Foles is a great quarterback and someone who doesn't crack under pressure. I agree that Trubisky will always give the Bears their best chance to win but during the regular season. He has only one postseason start under his belt, so no one knows if he can lead the Bears in the postseason.
With Chicago needing to win to extend their season, Trubisky is about to play in the biggest game of his career as he is looking to earn a job next year. Going up against not only a great offense but one of the best defenses in the league certainly won't make matters easy, and we have seen Trubisky make some terrible decisions with the ball at times.
Unlike a regular-season game, Chicago can't afford to fall too far behind to the Saints if they want a chance to win. This is where Foles comes into play as he could be the X-Factor for Chicago. Should Trubisky struggle at all, I could see Nagy making the move and bringing Foles into the game to see if he still has the playoff magic.
If he doesn't, then you lose a game that many people expected you to lose, so there really wouldn't be many questions to dive into. However, if Foles does come in and pull off what we have seen him do so often, it could lead to more questions down the road as to whether he should remain the starter in the postseason. After watching him perform in the postseason, I find it very difficult to think he will not get into the game at some point.