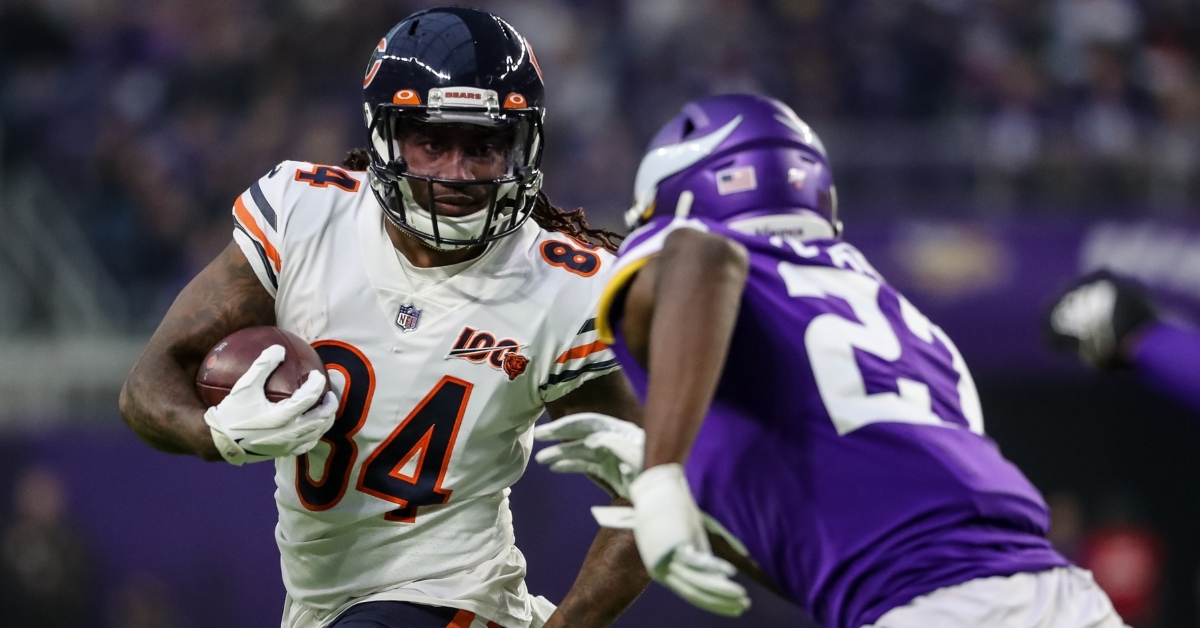 | | |
| --- | --- |
| 3 Things to watch and Prediction: Bears-Vikings | |
---
| | | |
| --- | --- | --- |
| Monday, November 16, 2020, 1:05 PM | | |
Just like that, things are getting a whole lot tighter in the NFC. With another Seattle loss to the Rams and the Arizona Cardinals winning on a last-second heave to DeAndre Hopkins, there is a log jam of teams with six wins as the NFC is becoming a dogfight. With a win tonight, the Bears will join the six-win party, but with a 6-4 record would still find themselves on the outside looking in.
Even with a loss tonight, the Bears would fall to 5-5 and still occupy the eighth seed in the NFC as they are locked in that position this week. This is a massive game for Chicago and the Vikings, who are starting to figure it out as a team. With Chicago slated to remain the eighth seed regardless of the outcome tonight, the Vikings have a chance to make a statement.
A win not only moves them to 4-5 with a stretch of very winnable games to follow, but it would catapult them from the current 11th seed they're in up to the 9th. That would not bode well for a Chicago team that is already falling further behind Green Bay and is set to take on the Packers coming off their buy week. There will be a lot riding on tonight's game from both teams.
Divisional duel. ??@GEICO | #MINvsCHI pic.twitter.com/NDXLvZOGKA

— Chicago Bears (@ChicagoBears) November 16, 2020
Here are some things to look for in week 10.
Will history repeat itself: It is well documented when it comes to Kirk Cousins and his prime time struggles. This will be another prime-time game, and Cousins hasn't had great results on the big stage. He did play well at Seattle earlier this season on Monday night, but the victory eluded him once again.
Another thing that is in the Bears favor is the Vikings historically struggle at Soldier Field. Not only that, but they also tend to play terribly, with their last win coming in 2017 and having won just two of their previous 10 games in Chicago. This is a game Bears fans should feel confident in for a variety of ways. History is on their side, and in three games against the Bears since joining the Vikings, Cousins has not played well. If all these trends continue, the Bears are in good hands tonight.
The Bears have won 4 straight against the Vikings. Kirk Cousins is 0-3 against the Bears since joining the Vikings, posting a 39 Total QBR in those games.

Cousins is 0-9 as a starting QB on Monday Night Football. He owns the longest losing streak in Monday Night Football history pic.twitter.com/p2f3KAgkfC

— ESPN Stats & Info (@ESPNStatsInfo) November 16, 2020
Bill Lazor era underway: Through nine weeks and dating back to last year, the Bears offense has struggled to the point where it is tough to watch. Looking for any positives to take away, it seems as if Matt Nagy is trying to jumpstart things by making a change no one expected. Late last week, Nagy announced he would be handing over the play-calling duties to his offensive coordinator Bill Lazor.
The former Bengal play caller may not be the best offensive mind there is, but anything is better than what Nagy has done so far. Maybe this is the change the Bears need to make to get this group on track. Along with that change comes another change as Lamar Miller will be activated from the practice squad.
Signed over a month ago, the former pro-bowler has been on the practice squad trying to get into football shape after not playing in nearly two seasons. Given the struggles of the Bears rushing attack and the uncertainty of David Montgomery and his concussion, Chicago needed running back help this week. Miller is not only getting the call but could be a considerable difference that could prove to be valuable for the rest of the way.
Matt Nagy handed over playcalling duties to Bill Lazor yesterday. When Lazor was OC of the Dolphins in 2014 and 2015, his leading rusher both years was...

Lamar Miller
(1374 total yds, 9 TDs in 2014; 1269, 10 in 2015)

I'm sure this is just a coincidence

— Nando Di Fino (@nandodifino) November 14, 2020
Make Cousins beat you: When you watch the Vikings on film, there is no secret about what makes them tick. That is No.33 in the backfield Dalvin Cook who is the second in the NFL in rushing behind Derrick Henry. Cook has put the team on his back in recent weeks and is putting together numbers not seen on the Vikings since 2012 when Adrian Peterson rushed for 2097 yards and single-handedly got the Vikings into the postseason.
I don't see Cook continuing to his run of 175-yard games against Chicago, but he does have the ability to have a big game both on the ground and through the air. The better he does, the better Cousins and the offense do. It has become apparent that less is more when talking about Cousins. The less he throws, the better he does, and the offense seems more fluid.
Chicago needs to stop Cook early and get a fast start on the Vikings. That will force Cousins to throw, which everyone knows he is prone to turnovers. If Chicago can get after him and shut down the running game early, you must like their chances, but if Cook gets going, it will be another long day at the office.
Reminder: Kirk Cousins is 0-9 on Monday Night Footballpic.twitter.com/FbcWN3jTkp

— Bovada (@BovadaOfficial) November 16, 2020
Prediction: Tonight will be a classic Black and Blue division football game. Not only is it a Division matchup in November, but the weather will be cold, making for perfect football weather. Not to mention what is on the line for both teams, and you get the sense it could be a playoff-type environment even with no fans in attendance.
The Bears have had the Vikings number at Soldier field, and Nagy has owned the Vikings as a head coach going 4-0 across the past two seasons. Nagy is hoping that streak continues as Chicago looks for some momentum heading into their bye. Expect a low scoring hard-hitting game in this one as both offenses have shown their fair share of struggles. As much as it pains me to say, I like the way the Vikings are playing right now, and they know there have a stretch of very winnable games in front of them. Minnesota gets the road win tonight 20-17 in OT.