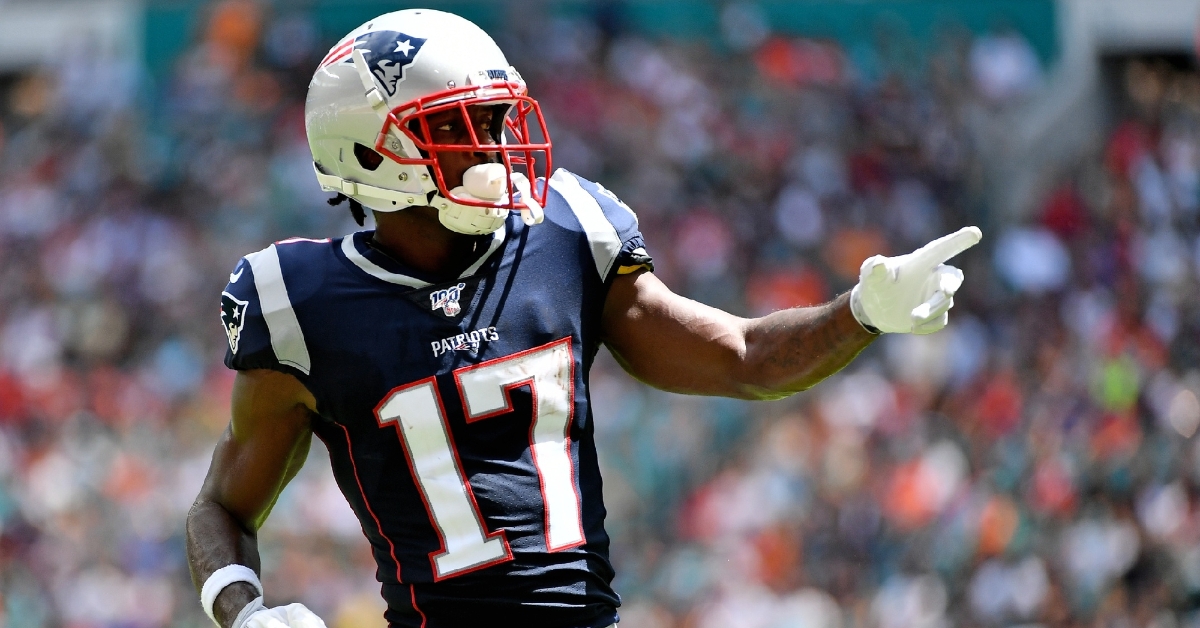 | | |
| --- | --- |
| Bears News: Antonio Brown reportedly headed to the Bucs | |
---
No one is going to argue the talent level that Antonio Brown brings to the table. You saw that on full display while playing for the Pittsburgh Steelers as he became Big Ben's favorite target and created matchup nightmares for the entire league. Then, like most athletes, now a day's money got in the way, and this once talented WR solely focused on money and greed.
His cancerous ways found him on the trade block in which he was dealt to the then Oakland Raiders. What looked like it could be a match made in heaven quickly turned sour as Brown wined his way out of another franchise. He later signed with the New England Patriots and played just one game before being released on September 29, 2019. The rest is history.
Brown is not only one of the most talented receivers, but one of the most gifted ones to ever step foot on a football field. Talent can only take you so far as he is also known as one of the worst teammates in recent memory. Despite all this and the countless locker room issues, Brown's suspension is about to be up following week 8, and there will be teams lining up to give him a chance once again.
According to Adam Schefter, Brown is eligible to be signed following his suspension end in week 8. Many teams appear to be in a position to make a run at him during that time, with hopes he is showing the willingness to play football once again.
Right now, the Seattle Seahawks are the front runners to sign him, but they are certainly not alone by any means. Thanks to his suspension, Brown hasn't played a down since September 29 of last year, but the Seahawks kept tabs on him going back to last season. He lasted 13 days with the team before being cut as Sexual assault, and rape allegations shortly followed his signing.
Russell Wilson says Antonio Brown deserves another chance to play in the NFL. pic.twitter.com/8r3PjwE35R

— SportsCenter (@SportsCenter) October 23, 2020
A few days later, Brown found himself in even more hot water as his accuser was sent several intimidating text messages from Brown himself, which forced his exit out of Foxboro. The NFL quickly stepped in after that and issued him a suspension, which kept most teams off his radar for much of the past 12 months. That is about to change as not only is his suspension up, but teams are starting to show interest once again in his talents.
Although Seattle may be the favorites to land Brown at this point, there are no shortages of teams who couldn't use a player like Brown. He may not have the size you look for in a No. 1 receiver, but Brown has become one of the best deep-ball threats in recent memory while also being used in a variety of other ways. At this point, how many teams are willing to give Brown a second, third, fourth, or fifth chance. We will soon find out.
According to reports, the Seahawks are looking at Antonio Brown...@ColinCowherd: Why would you roll the dice if you're Seattle? You're good at receiver and have great chemistry. I don't get this one: pic.twitter.com/UolRjQ9Idc

— Herd w/Colin Cowherd (@TheHerd) October 22, 2020
Had this been a regular-season and not a COVID impacted 2020, Brown probably would find himself sitting without a job heading into 2021. With an additional playoff team in the mix for both leagues, more teams are going to be willing to take a shot on him, especially when they know they can get him for a cheap prove it deal.
I am not sure if Chicago is one of the teams interested in him, but the Bears certainly may think about bringing him in. Not only is he a veteran who wants to win, but he gives the Bears an added dimension on offense that they are lacking. Add in the cheap signing it would entice, and that fits right into the Bears budget.
The problem with Brown as it always has been in his overall attitude. The Bears are a 5-1 football team who has yet to play a complete game. The locker room is close and extremely connected that bringing in a guy like Brown could be a cancerous situation. Most fans will be against signing him, which is understandable, but Chicago will be most likely, at the very least, talk to Brown in the coming weeks.
Antonio Brown and the Buccaneers are working towards an agreement, per source. Both sides want to get it done. There are steps to be taken on this visit, and Seattle still is in the mix, but the Buccaneers have emerged as the favorites. https://t.co/iEu6DGjYFB

— Adam Schefter (@AdamSchefter) October 23, 2020
Update: Antonio Brown and the Buccaneers have reached agreement on a one-year deal, per sources.

Language still has to be finalized, COVID protocols passed, but Brown is likely to make his Bucs' debut in Week 9 against the Saints.

— Adam Schefter (@AdamSchefter) October 23, 2020