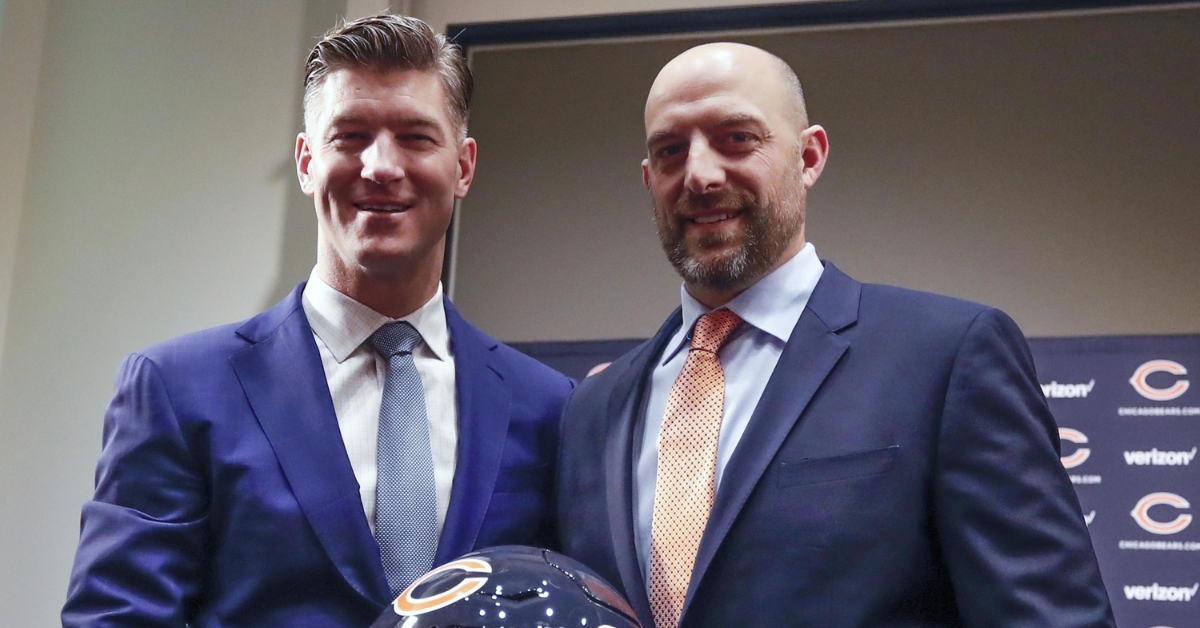 | | |
| --- | --- |
| Bears News: Are Ryan Pace and Matt Nagy safe for one more year? | |
---
| | | |
| --- | --- | --- |
| Tuesday, December 15, 2020, 1:43 PM | | |
Sometimes all it takes is one good win to make people forget about the struggles. Let me tell you, the Bears have certainly had their share of struggles this season as they won their first game in nearly two months on Sunday.
A once-promising season turned into a nightmare with every loss adding up. Now, after a win against the Texans, things are a little bit better as the Bears managed to preserve their postseason hopes for at least one more week. Despite the great win over Houston, both Matt Nagy and Ryan Pace have come under fire a lot this season, and most experts expected one, if not both, of them to be fired after this season.
While there may be a legitimate argument to have regarding letting both men go, it appears that they may be safe for at least one more season. There is a rumor going around that Pace has received a one-year contract extension to line him up with Nagy. There has been nothing made official on this quite yet, but if this is true, I find it very unlikely that either one gets fired this season.
Given what we have seen from this team over the last few seasons, it may be a gut punch for fans to hear this. However, there is some sense as to why this may be the case, and when you look a little further into it, you can see why. The biggest reason for this discussion is that the Bears have a new president following this season.
That alone makes me think that the current group running this team will be safe for one more season. The biggest reason for that is apparent, as the new president set to take over may want a year with the current GM and Head Coach to evaluate the team's actual direction before making any drastic changes. Essentially, both Pace and Nagy will be reinterviewing not only for the Bears but for other organizations as it could be a make or break season next year.
Earlier this month, current President Ted Phillips has pondered on retiring following this season but hasn't officially said he is. For the sake of this column, let's say he is retiring, or the Bears elect to move him to a different role look for the Bears to search for a big-time name to become the president of this organization. If that is the case, it makes a ton of sense for him to leave both Pace and Nagy in their respective roles for evaluation before making instrumental changes across this organization.
A lot of that evaluation could fall on how the Bears handle this offseason. From free agency to the draft, the Bears have needs on this team and haven't done much to address those needs. The quarterback position remains a huge question as the Bears need to figure out whether to bring back Mitch Trubisky next season, role with Nick Foles again, or look to find a franchise signal-caller via the draft or free agency.
If both Pace and Nagy find a franchise QB in some capacity this offseason, look for them to possibly be safe even longer as that will be the first test for the new president. Once they figure out the quarterback position, the Bears need to address the offensive line. I would even argue that it is more important than finding a quarterback at this point.
Free agency is always an excellent spot to look for lineman, but with limited cap space next year, drafting offensive line talent may be the Bears best option. Pace has been hit or miss when it comes to his picks and signings, but he needs to hit on everything if he wants to stick around long-term. What was looking to be the final month for both Nagy and Pace has quickly turned into the possibility of them returning. A lot of that decision revolves around the current president's situation and what happens going forward. Hopefully, the right decision is made, and this franchise can get back to consistency.