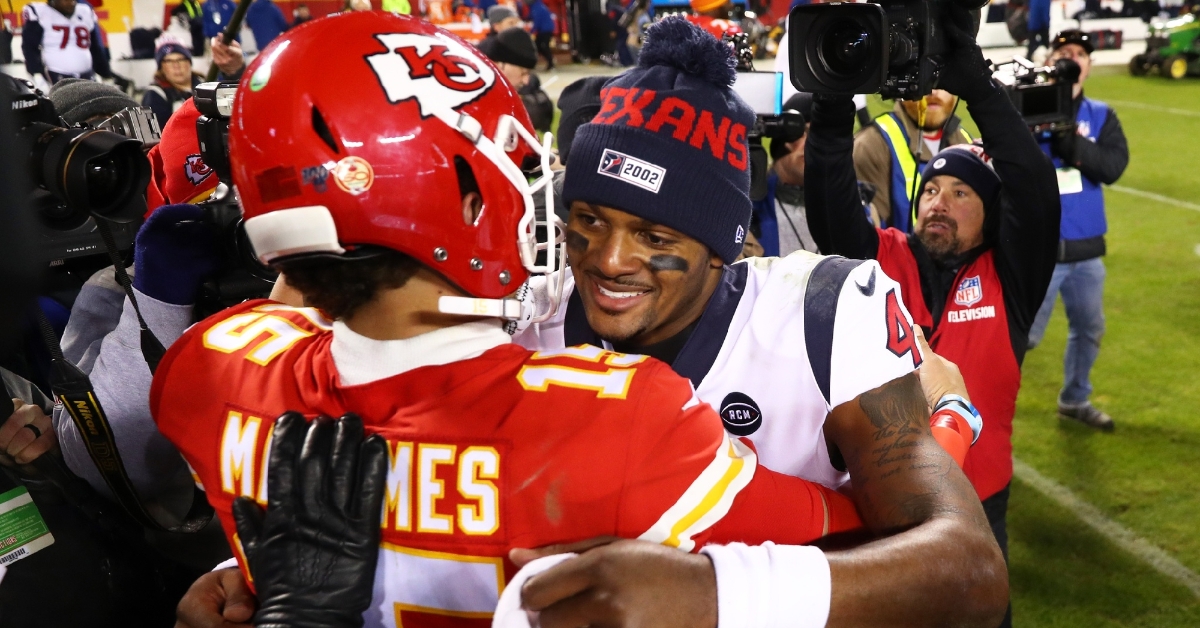 | | |
| --- | --- |
| Bears News and Notes: Mahomes, Walter Payton story, Greg Olsen, Throwback Bears videos | |
---
Chicago Bears fans are still wondering what if as they had the chance to draft star quarterbacks Deshaun Watson or Patrick Mahomes in the 2017 NFL Draft. Mahomes' agent Leigh Steinberg said that the Bears "scouted him very thoroughly" but still moved up to draft Mitch Trubisky.
"They were interested and they scouted him very thoroughly," Steinberg said. "But individual teams fall in love with individual players and that's what it takes to get drafted high. And I think you have to give Trubisky a much longer period because what happens is, the more times a quarterback sees the field, the better he gets."
There were nine players drafted before Mahomes, and 11 players were selected before Watson.
Mahomes will be playing in the Super Bowl tonight against the Kansas City Chiefs while the Bears will sadly be watching on TV.
Patrick Mahomes' agent told @AdamHoge that the Chicago Bears were interested in Mahomes and "scouted him very thoroughly."

Mahomes' agent: "But Individual teams fall in love with individual players and that's what it takes to get drafted high." https://t.co/LsZ9v5OekN

— Daniel Greenberg (@ChiSportUpdates) January 31, 2020
Former NFL receiver Rocket Ismail talks about the first time he met the unforgettable and iconic Walter Payton:
Rocket Ismail tells me a story in a bathroom in Miami about the 1st time he met @walterpayton in #Chicago when he was playing at #NotreDame. This is a classic!!! #SBLIV #SuperBowl @iamrocketismail much love fam!!! #Bears pic.twitter.com/YbOwfkJviu

— Jarrett Payton (@paytonsun) January 31, 2020
Some former Bears tight end news includes Greg Olsen as he and the Panthers are parting ways after nine productive seasons. Many on social media want a reunion with Olsen and the Bears.
"Today, I had the opportunity to sit down with (general manager) Marty Hurney and have a great conversation regarding my future with the organization. The team and I are both on the same page that it is best we go in different directions for now," Olsen said in a press release. "On the field, I will always cherish the nine seasons we shared together. The wins, the losses, standing at midfield holding the Halas Trophy as NFC champs. The reality of going to the Super Bowl was beyond words, as was the disappointment of falling short.
Olsen's agent Drew Rosenhaus said that his client "is still interested in playing, and I will be in communication with other teams after the Super Bowl."
After 9 seasons with the team, the #Panthers and TE Greg Olsen have officially parted ways... pic.twitter.com/oiNipkNGX1

— NFL Stats (@NFL_Stats) January 30, 2020
Standout 26-year old receiver Allen Robinson would love to spend his entire NFL career with the Bears. Let's see if the Bears can make it happen.
In two years with the Bears, he has 153 catches, 1,901 receiving yards and 11 touchdowns.
WR Allen Robinson talked to the Chicago Sun-Times about a potential extension with the Chicago Bears:

"Everybody knows I want to be in Chicago. I want to be in Chicago, if they'll have me. The biggest thing is, I can't make that happen solely myself." https://t.co/skXMFXAMjp

— Daniel Greenberg (@ChiSportUpdates) January 30, 2020
Playmaker Tarik Cohen thinks that the fans have been tough on signal-caller Mitch Trubisky in the past year:
Chicago Bears RB Tarik Cohen said on FOX Sports that he believes QB Mitch Trubisky takes a lot of unfair criticism.

Cohen on Trubisky: "I definitely have a lot of faith in him, and he's always ready to respond. He has been putting in the work day in and day out."

— Daniel Greenberg (@ChiSportUpdates) January 30, 2020
This is rather sad as the NFL has the Bears' top play of the season as a field goal.
The NFL have made a video with every team's best play of the season.
For the Chicago Bears, it was a field goal.https://t.co/9Mf5gho7pB

— Mo Stewart (@The_Mighty_Mojo) January 29, 2020
Former Bears offensive lineman Kyle Young went in-depth about his career and what lies in his future with Fox Sports.
"The Bears did right by me and that's why I'll never wear another color other than Navy and Orange. I'm a Bear for life."
From being in a football family, to deciding to retire, longtime @ChicagoBears OL @Ky1eLong talks about his career and what is next in his life: pic.twitter.com/ZL65sUlkkx

— FOX Sports: NFL (@NFLonFOX) January 30, 2020
Former CFL cornerback Tre Roberson has signed a two-year contract with the Chicago Bears. Reportedly, he has a base salary of $550,000 in 2020 and $610,000 in 2021. He will be in the mix for a starting spot for the Bears as the team might be parting ways with the pricey veteran Prince Amukamara.
Check out Roberson signing his Bears' contract this week:
Da Chicago Bears just signed ISU footbal alum Tre Roberson as a cornerback! After two successful seasons with the Calgary Stampeders, it's time to make a run at the FL. Welcome back to Illinois, Tre! pic.twitter.com/zy67VOOTkJ

— Illinois State University Homecoming (@ISU_Homecoming) January 30, 2020
Devin Hester is eligible to be voted in the Hall-of-Fame nowadays. Remember this sensational play against the Colts? What a dominant player on returns.
One of the most famous Miami Super Bowl moments ever.@ChicagoBears legendary return man @D_Hest23 takes the opening kickoff back for a TD. ????

(via @nflthrowback) pic.twitter.com/Sy3UIMPhEz

— FOX Sports: NFL (@NFLonFOX) January 30, 2020
Happy Birthday George Halas as his birthday was 125 years ago today. Check out the throwback photo and tribute video below:
"Nobody who ever gave his best regretted it." George "Papa Bear" Halas - 125 Years Ago Today, February 2, 1895, George Halas [Papa Bear], NFL coach and pioneering owner of the Chicago Bears was born in Chicago, IL (d. 1983) #GeorgeHalas #ChicagoBears #SuperBowl @ChicagoBears @NFL pic.twitter.com/VccV14WRp0

— Celebrity Birthday (@celebritycheer2) February 2, 2020
#OnThisDay ... in 1895, a man was born without whom there would have been no @NFL, no @ChicagoBears and less innovation than there is in the league today. George Stanley Halas, Papa Bear, Mr Everything...pic.twitter.com/wHnbuErUgG

— Gridiron (@Gridiron) February 2, 2020
Check out a few old school photos and a Youtube video of William Perry since it is the Super Bowl today:
?? Super Bowl Weekend, G.I. Joe Style!! ??

First up, Chicago Bears Defensive lineman turned G.I. Joe Physical Training Instructor, William 'The Refrigerator' Perry!! Available as a mail away offer via Hasbro Direct in 1987!

G.I. Joe Commercial: https://t.co/3tW7vod1iL pic.twitter.com/EiDX920eai

— The Full Force Podcast (@TheFullForce) February 1, 2020
Hall of Famer Brian Urlacher was on the show Ridiculous recently. Check it out.
Did you catch the Chicago Bears LEGEND @BUrlacher54 last night on Ridiculousness? It was way to end the week before SUNDAYYY!!!! ?? pic.twitter.com/5xWHmaeBrq

— Ridiculousness (@Ridiculousness) January 31, 2020
Kinda random but here is a very rare look at Bears Hall of Famer Bronko Nagurski's Certificate of Citizenship:
#DYK: Immigrants have helped shape U.S. football. Legends include @ChicagoBears Hall-of-Famer Bronko Nagurski (his Certificate of Citizenship is pictured here), who naturalized in 1938. Can you name an immigrant who raised the bar in #NFL football? #SuperBowlLIV #USCISHistory pic.twitter.com/inRzHsRoUv

— USCIS (@USCIS) January 31, 2020