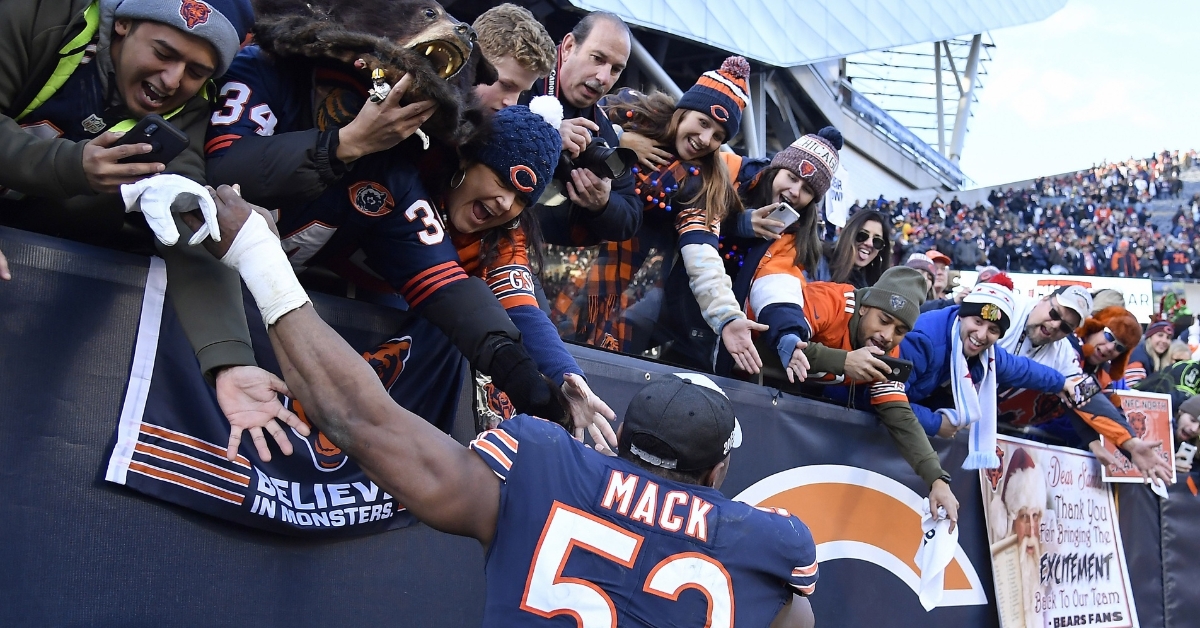 | | |
| --- | --- |
| Bears won't have fans at Soldier Field to start season | |
---
| | | |
| --- | --- | --- |
| Wednesday, August 19, 2020, 3:48 PM | | |
Since COVID 19 rocked the sporting world, we have the professional sports landscape change in ways we never thought possible. For starters, every professional sporting league was shut down for four months as the entire nation tried to cope with what was all happening.
Secondly, sports that began starting back up were forced to go with a bubble-type format to keep players healthy and safe. With baseball being the lone sport right now to go without a bubble, MLS joined in on that this week with NFL next in line to play games at one's venue. The biggest question regarding market venues has been talking about fans in the seats.
We already know there will be no fans for MLB this season despite hopes from some teams. MLS is opting to go with now fans right now, but they have openly said fans could be a possibility if players and personnel can remain safe. What about football? Will fans are allowed in the seats, or will specific teams be allowed to have them while others won't.
This is an ongoing topic that will continue to be discussed and monitored the entire NFL season, so let's start with what we know. As of now, specific markets have already decided not to have fans in the seats. New York, California, and I believe Texas are the only states that have committed to zero fans for games this season, but there could be more.
Kansas City broke headlines earlier this week when they announced that their stadium would be allowed at 22% capacity this year. That comes out to roughly 15000 fans, which gives them ample space to spread out and social distance. Will more teams follow in the Chiefs footsteps and set a parameter of 25% capacity or less. Well, the Bears and the City of Chicago gave us their update as to what we can expect at Soldier Field this season.
Here is the Bears statement: "The Chicago Bears, Soldier Field's management partner, ASM Global, the Chicago Park District and public health officials have worked together to assess whether a responsible plan that follows City, State, CDC, and NFL guidelines could be developed to safely accommodate a limited number of fans at Soldier Field this season. After discussing a draft plan with City health officials, the Bears and the City of Chicago agreed the health metrics show that it is not the right time to welcome fans back to Soldier Field. The health and safety of the City's residents and fans of the Bears will always take priority. The team and City will continue to monitor the environment and believe there can be a sound plan to bring fans back to Soldier Field once it is deemed safe and appropriate. Until then, Bears home games will not include in-person fans."
The City of Chicago followed this: "We applaud the Chicago Bears for taking the right measures to protect their fans, athletes, and staff during the COVID-19 pandemic. We have been working closely with the team, ASM Global, Soldier Field's management partner, the Chicago Department of Public Health, and the Chicago Park District to monitor the health metrics and provide guidance on when it is safe to allow fans back. While this is not the football season we would have hoped for, we will still be rooting for the Bears, and we look forward to the day we can cheer them on again from the stands."
Looking at these statements, you immediately see that the primary phrase that no fans are going to be allowed to attend games once the NFL season kicks off. As much as that stings, both the Bears and the City of Chicago never ruled out the possibility of fans returning to the stadium this season. They just want to make sure it is deemed safe before allowing any number of fans to attend.
This is a trend that I think most teams will do once the season kicks off. With no fans being allowed to attend games anywhere now, what would make the NFL any different at this point? The thing they have going for them is that when most sports conclude their seasons, the NFL will be in the middle of theirs. That means we should have a better sense of how this virus will react once we arrive in Cold and Flu Season.
Should things stay the same as they are now, you should expect no football fans this season. However, if things are trending in the right direction come October or November, more teams could loosen the knot a little and start letting a certain number of people in. While I have no idea how they will determine who gets in and who does, I expect a 25% cap limit as to how much attendance each place can bring in. Hopefully, Chicago is on that list before it is all said and done.