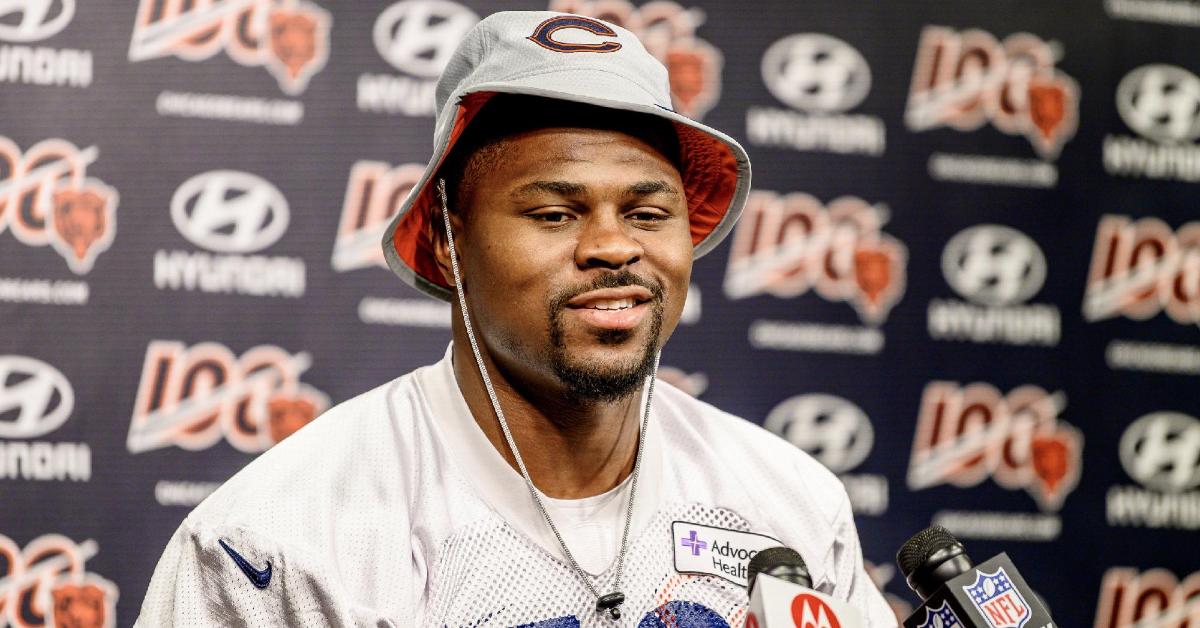 | | |
| --- | --- |
| Chicago Bears: 2019 Outside Linebacker Projections | |
---
| | | |
| --- | --- | --- |
| Monday, August 5, 2019, 10:22 AM | | |
Part two of the linebacker projections very easily could be the key to this team's success as we focus on the outside linebacker group. Not only was this already a strength on defense, trading for Khalil Mack only made them better as his domination showed up all season. Can this group take the next step and become even greater than last year?
OUTSIDE LB
KHALIL MACK: The man, the myth the legend is what Mack will be known as once his tenure in Chicago is complete. The former No. 5 pick of the Raiders was sent packing last preseason as the Bears took him off the Raiders hands and immediately inked him to a healthy extension in the process. That move proved to work for both sides as the Raiders received some excellent draft picks while the Bears got the impact player they lacked since the Brian Urlacher days on D.
In just 13 games, Mack collected 47 tackles to go with 12.5 sacks, the second-most of his career. He also added a 27-yard INT return for a touchdown showing the Bears all he can do. How he didn't get defensive player of the year is beyond me, but Aaron Donald was a beast last year and did deserve it. Had Mack played the full 16 games I feel he would have set a career-high in sacks and that may have been what tilted the vote more in his favor.
Projection Starter: 64 Tackles 14 Sacks 2 INT 3FF and 2 TD: Mack will not only get better this season but will once again be fighting for DPOY honors. His strength, speed, and athleticism make it nearly impossible for defenders to stop him as he gets to the quarterback in a variety of ways. Mix that with three other legit pass rushers, and it is hard to double team him unless you want to let someone else run free. Of course, Mack will be the one offenses key on but sometimes that still won't matter.
LEONARD FLOYD: On the other side of Mack is 2016 first-round pick, Floyd. Much like with the Smith pick in 2018, the Bears struck gold on Floyd as he has continued to get better in time. Although his sack numbers haven't been as good since picking up seven in his rookie season, Floyd still managed to record 47 tackles, four sacks and 1TD which he took to the house. Not bad for a down season if you ask me.
Part of the reason he had a down year was the dominance of Mack so early on with the emergence of Smith right from the start. People know what Floyd was about so they could more so scheme him vs. others. That proved to be the wrong decision as Mack was indeed a game-changer. With teams now keyed in on him, what does that mean for Floyd in 2019?
PROJECTION Starter: 56 tackles 6.5 sacks 1 INT. It means Floyd will have a much better season and possibly career year if he can stay healthy. With offenses having to put multiple men on Mack's side, Floyd will see more 1v1 blocking coverage which is something he should eat alive. The Bears are loaded on every level of the defense so scheme all you want because someone will always get to you.
MATHIEU BETTS: A rookie this season, Betts went undrafted in the NFL drafter after originally going No. 3 in the CFL draft. While I don't know what his decision was as to why he chose not to play in the CFL, the Bears must have seen something they liked on film to bring him in and sign him.
Projection: Practice squad. This is interesting about Betts' situation. Although the Bears signed him, Edmonton Eskimos do own his rights. However, Edmonton cannot claim him until his tenure with the Bears is up. That is why I don't see him being any more than a practice squad guy. Who wants to put someone out there who may get hurt when someone else owns his rights? Out of respect for both Betts and Edmonton, this seems like a natural choice.
KYLIE FITTS: A sixth-round pick in last years draft, Fitts was nothing more than a bench body that appeared on special teams a handful of times. 2019 is a new season, and unfortunately, I don't seem much changing for Fitts this season.
Projection: Practice Squad/Special Teams. Fitts could very easily make the roster this season but if he does special teams will be his position. The Bears may also opt to send him to the practice squad to get him more seasoning with hopes he breaks through in the end.
ISAIAH IRVING: Another undrafted find for the Bears in 2017 Irving has seen minimal action the past two seasons collecting 13 tackles with one sack. His numbers may not increase much, but I could see a spike in playing time as he has given the Bears another body that can play when called upon.
Projection: Special Teams/ reserve LB 22 tackles .5 sacks: I don't think Irving has a hard time making the roster this season as special teams always need players. Once on the roster, I think he can even gain more playing time if he produces in the role given. Look for him to see more snaps on defense as the season goes on as he carves his way to play behind Floyd and company.
AARON LYNCH: Lynch is another one of those under the radar finds that seemed to thrive under the bear's system. After signing a free-agent deal with Chicago last year, Lynch played in 13 games starting three of them and recording 16 tackles, three sacks, and 1 INT. That is all you can ask for from a reserve player who filled the void of Mack and others when needed.
Projection: Reserve LB 34 Tackles 4 Sacks: After posting good numbers in the chances he was given last year, Lynch and the Bears agreed to terms as he is back with Chicago. This should come as no surprise as he is the front runner to be Mack's backup should he go down. I look for his numbers to improve across the board as the Bears will trust even more this season after he showed what he could do.
JAMES VAUGHTERS: Another journeyman LB is Vaughters who is looking to give the NFL one more crack. After playing for three organizations his first two seasons, Vaughters never cracked the practice squad as he elected to go to Calgary and play for the CFL. Once with the Stampede, he began to show what he is worth recording 58 tackles and 11 sacks over the past two seasons. That was enough for the Bears to give him a shot as he looks to make an NFL roster finally.
Projection: Special Teams: You heard it here. First, Vaughters will make this team out of the preseason. Although his role will be limited, making an NFL roster is every player dream, and Vaughters hasn't given up yet. After finally showing an organization what he can do, I think it pays off for him in the end, this season.