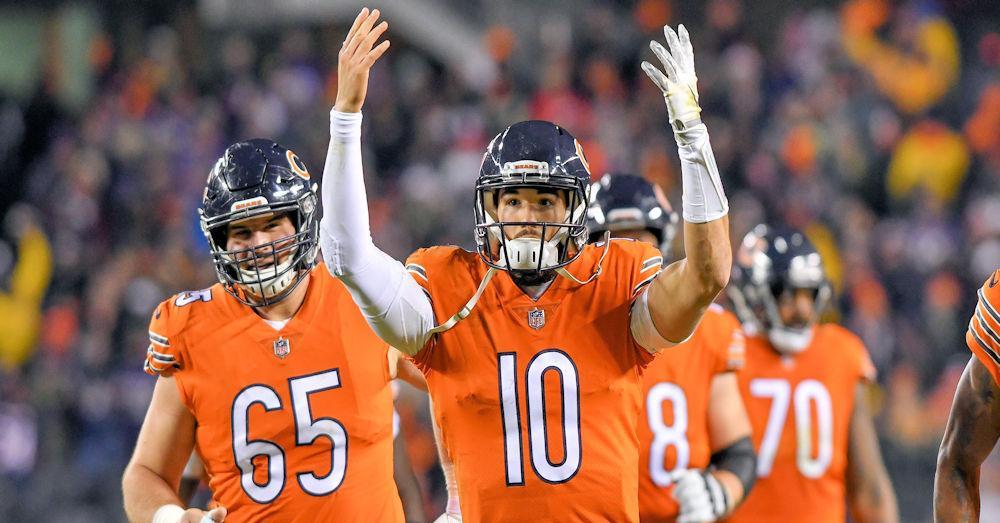 | | |
| --- | --- |
| Chicago Bears: 2019 QB Player Projections | |
---
The Chicago Bears are coming off their first division title and playoff appearance in over half decade. Still, with the way the season ended last year, a sour taste has been left in the mouths of both Bears fans and players alike.
With the draft finished, free agency nearing the end of the ropes, and voluntary workouts in full swing, it is that time of year when teams begin to get the itch to return to the field. I will be making position projections for the Bears followed by a team projection once the season is about to begin.
Quarterbacks: Mitchell Trubisky: No one benefitted from Matt Nagy as the new head coach more than Starter and 2017 first round pick Trubisky. After sitting his first four games of his rookie season in favor of Mike Glennon, Trubisky got the call-in week four and was given a chance to be the starter the remaining 12 games of the season. Much like most rookie's his numbers were less than ideal as he passed for 2193 yards and just 7 TD to go with 7INT.
After Nagy took over last season and installed a completely new offensive scheme, the Bears front office went to work and brought in a plethora of weapons to help Trubisky out on the field. Although still rocky at times, Trubisky certainly showed his potential and proved the Bears may have been wise to trade up and get him. In 14 starts last season, Trubisky posted an 11-3 record as a starter. His 3223 Yards passing was a vast improvement from the season prior, along with his 24 touchdowns and 12 interceptions. He also showed much better athleticism than people gave him credit for rushing for 421 yards and three scores.
Entering his third year in the league, second under Nagy, this should be the year Trubisky starts to come into his own barring he stays healthy. He may have lost some weapons on the offensive side of the ball, but the Bears front office has done an excellent job of drafting replacements and finding Free Agents that fit the Nagy Scheme. Not to mention, the Bears will once again have a top 5 defense, which keeps pressure off Trubisky, allowing him to play his game more relaxed.
Given the nature of his style of play, I don't see Trubisky stating every game in 2019. I also don't see him missing more than one start at most two as his offensive line continues to improve in front of him. Should all the new pieces gel as quickly as the Bears hope these are the numbers, I expect to see from him in 2019.
304 Completions/500 attempts. Good for 60%. 3456 yards passing, 24 TDS, 10INT. Also, look for him to continue to run the ball and rack up 479 yards and 5 TDs. Should he come close to these kinds of numbers, there is no reason the Bears shouldn't be thinking playoffs once again.
CHASE DANIEL: The seasoned veteran and life long backup appears to have found a home in Chicago as he will return for another season. Although Daniel may not be the highest of quality backups, having a veteran presence on the sideline that is familiar with a system is equally as important in case he is needed to step in. Over his nine-year career, Daniel has played in 62 games starting four of them.
Two of those starts came last year when he was filling in for an injured Trubisky as Daniel put up solid numbers and went 1-1 as a starter. In his two starts, Daniel threw for 467 yards with 3 TD and 2INT. He saw action in three other games bringing his season passing yards total to 515.
Those may not be the types of eye-popping numbers that stand out on a stat sheet, but he proved last year given the right system, that he can lead this team to wins which comes in handy in a very tough division. 2019 projection: I expect him to post similar numbers if Trubisky stays healthy, but he should still see action on the field.
Look for him to throw for 414 Yards, 1TD 0INT. With a better running game this season less pressure will be on the passing game.
TYLER BRAY: The former Tennessee Volunteer and undrafted QB back in 2013 will occupy the third-string spot on the roster this season rounding out the overall QB depth chart. In his college career, Bray ranked in the top five in four major passing categories. He was fifth in completions with 540, fourth in attempts 922, fourth in touchdowns 69 and fourth in yards 7444.
After going undrafted, he was claimed by the Kansas City Chiefs where he spent four years seasons behind Alex Smith and learning the Andy Reid offense, which during that time was run by Nagy. Smith was extremely dependable and durable, so Bray has only thrown one NFL pass which went for an incompletion.
Once the Chiefs drafted Patrick Mahomes as the QB of the future, Bray chose to follow Nagy to Chicago in hopes of making another NFL roster.
Now in his second season with Chicago, Bray is hoping for a chance to challenge Daniel for the backup role and prove his SEC numbers were no joke.