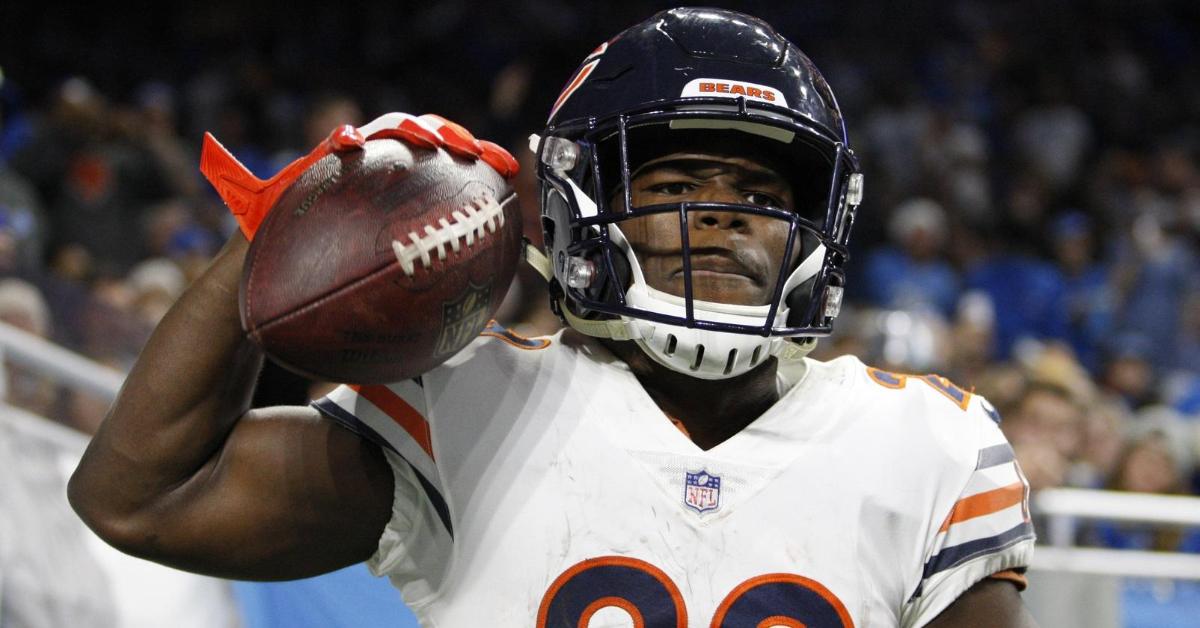 | | |
| --- | --- |
| Chicago Bears: 2019 RB Player Projections | |
---
A few weeks ago, we got into player projections by positions with the quarterback position going first. Now it is time we shift focus to a key element for the Bears this season as we focus in on the running backs for the 2019 season.
For the Bears to continue to take that next step as an offensive unit, they need to do so with a strong running game as Mitch Trubisky is still a young quarterback going through some growing pains. With that being said, the Bears rushing attack will look slightly different this season as Jordan Howard, the teams leading rusher the past four seasons will now be wearing Green and Grey as he has been shipped off to Philly. Despite that, an under the radar draft pick and returning change of pace back will undoubtedly be up to the task to carry the load this season.
Tarik Cohen: Cohen is still very raw and is still coming into his own after being drafted just three springs ago. Despite that, he has found himself as a precious option for the Bears in both the run and the passing game picking up near 1200 total yards from scrimmage last season (444 on the ground) (725 receiving). This season, however, not only will Cohen look to increase those numbers, but may be looked at as the lead back once the season starts with Howard now gone.
Cohen is a unique back that many teams don't have as he can offer production in both aspects of an offensive attack. He comes from the Ladanian Tomlinson, Marshall Faulk mold as backs that can do it all on the field. However, when Howard was here, Cohen may have been overshadowed just a bit as he wasn't the feature back.
This year, Cohen will have a chance to prove he deserves to be the feature back with hopes of his game rising to new levels in the process. Look for Chicago to still use him heavily in the passing game, but to also give him anywhere between 15-20 carries a game too.
Projection: 843 yards rushing 8 TD's 607 yards receiving 6 TDs. Looking at those numbers, some may think that they don't resemble top back status. A point can be made to that side of the argument, but when you have a player that can do all the things Cohen can do it makes it easy for the Bears to move him around to help Chicago in more than just the running game.
David Montgomery: This is the one player to watch not just for Chicago, but the NFL also. As a third-round draft pick from Iowa State, Montgomery had first-round talent written all over him after a 1216-yard season with the Cyclones where he racked up 13TDs. Montgomery finished his college career with 2926 yards and 26 TD's on the ground.
Despite those great numbers, he somehow fell to the third round where the Bears undoubtedly pounced on him for what looks to be the steal of the draft. Montgomery may not start this season, but he has all the tools to be a starter in this league. Although not the fastest guy in terms of breakaway speed, Montgomery knows how to fight for the extra yards as he thrives at running through the trenches.
I expect Chicago to ease him into action the first month of the season, but once he gets his feet wet, expect a full dose of him every week where he could see up to 40% of snaps. I look for him to put up solid numbers as a rookie, 567 yards 6TD to go with 213 yards receiving a 1TD helping to keep Cohen fresh who will see a significantly more substantial role in 2019.
Mike Davis: Free agent acquisition Mike Davis finds himself in an unfamiliar role with Chicago to open 2019. After spending the last four seasons in the NFC West including the past two with Seattle, Davis has always been an excellent No. 2 back that was used sparingly throughout the year. That all changed last year in Seattle when Davis ran for a career-high 514 yards and 4TDs while adding 214 yards receiving and 1 TD.
That kind of production landed him in Chicago with a free agent deal as he looks to build upon those numbers this season. For Davis to do that, he will undoubtedly need to impress during both training camp and the preseason as he finds himself currently third on the depth chart. I certainly could see him splitting time with Montgomery early on in the season, but Montgomery is the future in the Windy City, not Davis.
Being the creative play-caller, Matt Nagy is, Davis will get his chances to do something on the field, but don't expect those same kinds of numbers this season unless injuries occur to the men in front of him. I look for a season of 301 yards, 2TDs, and 89 yards receiving as the Bears will have to be creative in how they use Davis and the rest of the RB field.
Stay tuned for more position projections with Fullbacks to come later this week.