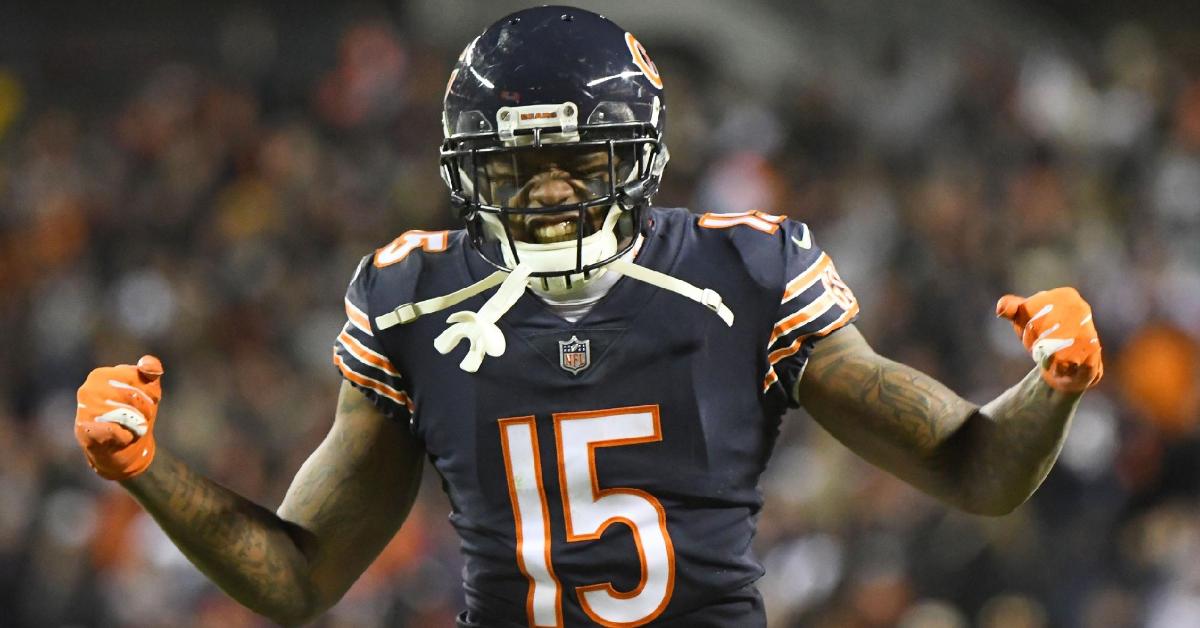 | | |
| --- | --- |
| Chicago Bears: 2019 Wide Receiver Player Projections | |
---
One of the biggest reasons as to why the Bears improved so much as a team on the offensive side of the ball a season ago was the play from second-year QB Mitch Trubisky. Coaching and development played a part in that role but so did an influx of new wide receiver options that emerged as strong targets throughout the season. With another year in this system under their belt, I expect those numbers to continue to go up as the offense will once again be a balanced attack. Here is how I see the wide receivers shaping out this season.
Allen Robinson: The unquestioned NO. 1 wideout will be in the second year of his four-year contract that he signed last offseason. In just 13 games a season ago, Robinson showed great potential as he collected 754 yards receiving to go with 4 TDs. That puts him right on his career track as he has averaged about 783 yards 5TD per year.
Those numbers may not be eye-popping terms of a No. 1 threat but keep in mind that Robinson spent his first four years in Jacksonville where quarterback play was marginal at best. His one breakout season came in 2015 when he caught a career-high 80 balls for 1400 yds and 14 TD. All of those were career highs en route to his lone pro bowl selection. That right there shows you the potential is there if he can have consistent quarterback play throughout the season.
Projection: 68 catches 954 yds 7 TD: I expect a better season from Robinson this year barring him play a full 16 game season. For a number one threat, most people would like those numbers to be much higher. Given the amount the Bears spread the ball around, don't look for any true No. 1 in terms of overall production as their entire WR unit has the potential to break out in any game.
Taylor Gabriel: After spending time with both the Browns and Falcons to open his career, Gabriel inked a three-year deal with the Bears last offseason and finally showed his true potential as a wideout. Expected to break camp as the teams No. 2 WR, Gabriel is looking to build on a season in which he caught a career-high 67 passes for 688 yards. His two touchdowns is undoubtedly a number he wants to increase, but Gabriel had a significant season none the less.
Armed with terrific speed, Gabriel has yet to come into his own as it took him five years to finally carve out a consistent role with a team. Now that he has established his role look for not only his numbers to increase but his confidence also as he has the potential to be the teams No. 1 target of the future. Gabriel will not hesitate to go deep and allow Trubisky to air it out, but he will also use his speed to his advantage turning short passes into substantial gains to move the chains keeping the offense on the field.
Projection: 68 catches 791 yards 5TD: With another year as the team's starting receiver, I expect all his numbers to increase as he may set a career high in every category. Trubisky is going to love having Gabriel for another season as his speed has the potential to make poor decisions look good sometimes. With Robinson on the other side, Chicago has a vastly underrated top two who will look to turn heads this season.
Riley Ridley: The real battle on the offensive side of the ball may come at the NO. 3 position where rookie and fourth-round pick Ridley will certainly be in the mix for that spot. The 6-2 200-pound Georgia product had a decent college career declaring for the draft following a junior season that saw him pick up 43 receptions for 559 yards and 9TD. Still very raw on the field, Ridley was a target the Bears couldn't pass up on the draft board, and they made sure they took him with their fourth-round selection.
Projection: 48 receptions 564 yards 6 TD: This has the potential to be a steal for the Bears as Ridley's game fits perfect in Chicago. He may not see the targets he wants early but make no mistake about it, that if healthy Ridley will be a huge part of this offense down the stretch. His mix of decent size and speed allows him to make all sorts of plays on the field which may help him turn into a star down the road.
Cordarrelle Patterson: Another player competing for that No. 3 spot will be free agent acquisition Patterson who will be on his fourth team in as many seasons. After initially being drafted by division rival Minnesota, Patterson has played in Oakland, New England and now Chicago as he is still trying to find the perfect fit for his talents.
What makes Patterson so unique is that he can play anywhere on the field. He is a dynamic returner who has the potential to take it to the house whenever he touches the ball. He has been used as a running back as his 6 2 228 LB frame makes him a load to bring down. Not to mention his 4.42-speed breakaway speed allows him to line up at WR to make plays that some can't make.
The biggest knock on him in the past has been his inability to run routes consistently. That makes it hard for him to see time on the field in crunch situations late in games. Another problem for him has been where to put him when he is producing? Do you leave him at WR, or do you move him to RB more often? This year may be the perfect fit for Patterson as his Head Coach has a knack for being creative meaning Patterson could move around a lot.
Projection: 31 catches 438 yards 4TD, 60 carries 312 yards 2 TD, 1 Return TD: Although I do expect him to play WR 70% of the time Patterson will still see significant time in the backfield to maximize his true potential on the field. Patterson is a weapon that not many teams have and with an offensive-minded head coach leading the way it may be time to unleash the beast truly.
Anthony Miller: The most logical WR to land the No. 3 spot could be last year's second-round pick Miller who indeed turned heads during the season. After torching the college ranks at Memphis, Miller broke out with 33 catches for 423 yards and 7TD as a rookie. Most of that production happened during the second half of the season when he was being used a lot more.
The key to ever young players growth is consistent playing time, which is what he had last season. That certainly helped his growth as a player, and I think the Bears coaching staff has enough confidence in him moving forward to give him an everyday role in 2019 going forward.
Projection: 51 catches 603 Yards 7TD: I expect Miller to take a big step forward this season and build off the success he had during the second half of last season. With their top two receiver spots locked up, Miller has the chance not only to earn the No. 3 spot but to take it and run with it. Should his numbers go up as I expect them to, the Bears suddenly have a top 10 receiving core in terms of overall balance and depth as teams will not be able to key in on one guy.
Tanner Gentry: Undrafted out of Wyoming in 2017, Gentry has seen minimal action in two seasons recording a total of 3 Catches for 35 yards. That hasn't stopped him from grinding every day in practice as he hopes to crack the Opening week roster this season.
Working with Buffalo Bills starting QB Josh Allen in college, Gentry did put up massive numbers including a 72 catch 1326-yard 14 TD season in 2016 in which he was the Cowboys main option. A bigger receiver in terms of overall size, Gentry is not going to wow you with athletic ability but will instead make the plays that matter to keep his team on the field.
Projection: Practice squad: Currently, Gentry has signed a futures deal with the Bears meaning he will get a decent look during the preseason and training camp. However, with the already solid roster at the receiver position, Gentry will have to have the time of his life during the preseason if he wants to unseat one of the five starters.
MARVIN HALL: Another previously undrafted WR to watch this preseason is Marvin Hall formerly from Atlanta. In his limited time in the NFL, Hall has shown great potential bringing in 12 catches for 209 yards and 2TD. That included a 40-yard TD reception in his NFL debut against the Dolphins in a 20-17 loss on Oct 14, 2017.
Projection: Practice Squad: Hall has all the tools the Bears are looking for in a WR outside of experience. It has not been easy for Hall to find playing time as the teams he has been a part of in the NFL have very established groups that don't have many openings for playing time. Chicago will be no different as most of their weapons from last year return, meaning Hall will have to earn his way to Chi-town.
Javon Wims: Last year's seventh-round pick from Georgia, Wims busted out in the teams first preseason game catching seven passes for 89 Yards. That was about all the excitement that came from his rookie season as he managed to collect four receptions for 32 yards during the season. They may not change this year as Wims may find it extremely tough to crack the roster as a full-time receiver.
Projection: Special Teams: It is always hard for teams to pass up on draft picks, especially when they are entering their second season. Wims is no different as he did see some reps at receiver last season although sparse. I think Wims makes this team outright, but he will be more of a special team's player that will be used in individual packages on offense.
Jordan Williams-Lambert: One receiver that not many fans may know about is my sleeper this season in former Ball State pass catcher Williams-Lambert. Initially drafted by the Saints in 2016, Williams-Lambert never saw the field as he was placed on the practice squad for two seasons. That got him thinking about his NFL career as he decided to leave the state and jump to the CFL to play for the Saskatchewan Rough Riders.
That move proved to be the best decision of his young career as he proved to not just the CFL but the NFL that he can play in this league hauling in 62 passes for 764 Yards and 7TD. I don't expect those numbers to translate to the NFL game, but after catching 200 passes at Ball State for 2723 yards and 24 TDS, the skill set is there for Williams-Lambert to make an impact in some way.
Projection: 20 catches 205 yards 1TD. Not only do I expect Williams-Lambert to make the roster, but I think he may emerge as the teams No. 5 receiver stealing time from someone else. Depending on the situation the team is in he could also be used as potential trade bait if his numbers are remotely in line with his CFL stats. As with the players listed above, cracking the opening game roster will not be easy because of the depth at that position. However, Williams-Lambert has as good of a shot as anyone given that he has the most in-game experience of the rest even if it was at the CFL level.
Emanuel Hall: This is the one name that Bears fans are rooting for this season. The Rookie out of the university of Missouri is not going to beat out the likes of Robinson, Gabriel, Patterson or Miller but will be working his tail off against the rest of the receiving group.
Hall's road to prove himself, though, won't be traveled just by putting good things on tape. One of his bigger red flags in the draft process was his history of injuries — recurring groin and hamstring issues limited him to 18 games his junior and senior seasons, though they didn't prevent him from having eye-popping athletic testing scores at the NFL Combine (headlined by a 4.39-second 40-yard dash).
Going undrafted surprised many people especially considering he was ranked in the top 100 for overall players. Whether his injury history had something to do with that, Hall now faces a steep uphill climb if he wants to crack the Bears roster.
Projection: Futures Contract: I don't see him making the roster this season but for Chicago his talents may be too good to let go. Hall will not only be on the practice squad this year but should sign a futures deal allowing him to compete in upcoming seasons. If he can avoid the injury bug, this is a steal for Chicago.