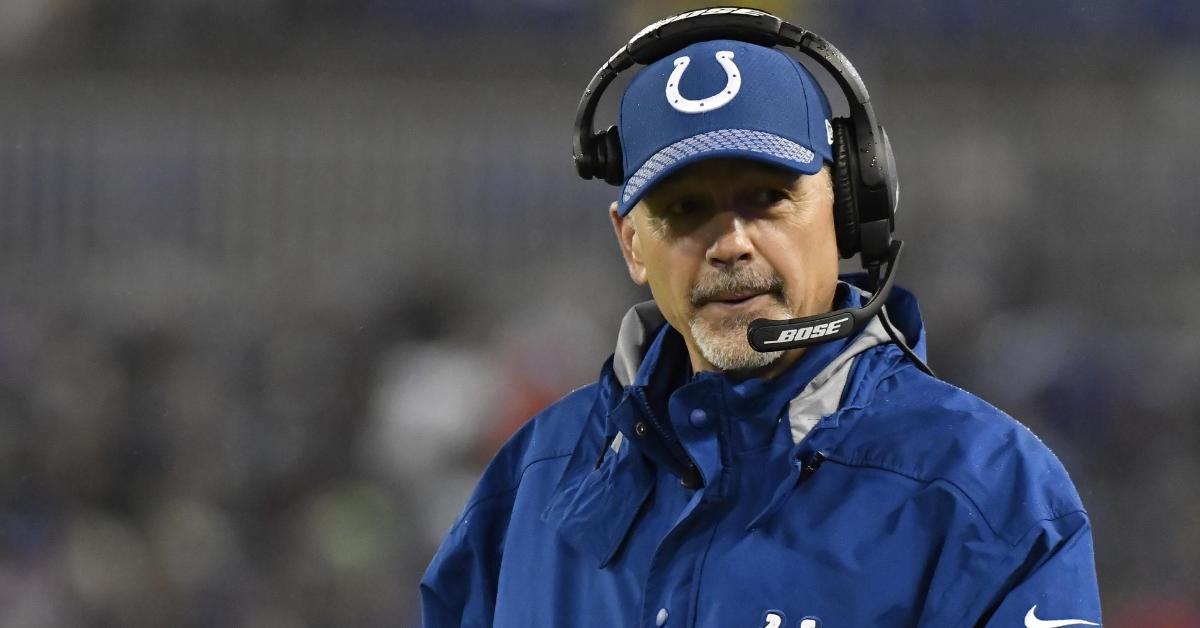 | | |
| --- | --- |
| Chicago Bears: An emotional ride, Pagano braces for return to Indy | |
---
Six years ago, the Indianapolis Colts hired one of the better defensive coordinators in the game, Chuck Pagano, to be their head coach. After a successful first year at the helm, Pagano was dealt the biggest curveball any coach could receive as he was diagnosed with Cancer. That forced him to take a leave of absence away from the team and hand the reins over to the offensive coordinator and interim head coach Bruce Ariens.
After going through months of Chemo, Pagano was proud to announce he was in the remission stages of cancer and returned to lead the Colts once again. With a proven quarterback in Andrew Luck and a young and talented roster, many thought the Colts were going to be an upstart team that could win in this league for a long time. Once the injury bug bit Luck the wheels fell off and Pagano was fired following the 2017 season.
Now in his first year as Chicago defensive coordinator, Pagano is getting set for the Bears third preseason game as he returns to Indianapolis for the first time since his head coaching days. This may be just a preseason game to fans and players, but for Pagano, this will not only be another game as he anticipates his return to Lucas Oil stadium to be an emotional one.
While leading the Colts for six seasons, Pagano was known to form a strong personal connection with not only his players and staff but with the entire fan base of Indianapolis also. During his tenure, Pagano posted a 56-46 record while leading the Colts to three straight playoff appearances from 2012-2014. That included AFC South titles in 13 and 14 with an appearance in the AFC championship game in 2014. Pagano knows that it will be an emotional night once he steps on that field Saturday night.
"I'd be lying if I said there wasn't going to be any [emotions]," Pagano said, "I'm sure once we get down there, step out on the field and go through all the pre-game stuff, see a lot of old faces, shake a lot of hands, high fives and all that. I had six great years there and have a lot of fond memories, so it'll be pretty cool."
Even though Pagano may be excited and yet nervous to see and reconnect with some of those old faces that he led for six seasons, he knows ultimately that this trip to Indy is a business trip with the third preseason game generally the dress rehearsal for the regular season. This will be the first time that some starters play into the second half and most likely the last time these starters on the field, so Pagano mustn't let these emotions get the best of him as he looks to make an impression both on and off the field this week.
Part of the reason this will be such an emotional return has to be the fans and the community as they not only took Pagano in but supported him through Leukemia which was not an easy thing to do. Fans could have been cruel especially when Ariens had the success he had during his absence, but that was not the case as nearly every Colts fan cheered in jubilation when Pagano returned to the sidelines to help lead the Colts to three straight postseason appearances.
The bond that Pagano has with Indianapolis is much deeper as his battle with Leukemia led to the Chuckstrong movement which was created to not only help him but to help Indiana University with Cancer research themselves since that was where Pagano chose to get treated. Since 2013, Pagano has held an annual tailgate event, which has raised 7.3 million dollars. That has been enough for Indiana University to hire 12 doctors who specialize in researching Leukemia, Ovarian Cancer, Lung Cancer, Breast Cancer, and Cancer Genetics.
This year's event was held in May, and some surprised guests in the process greeted Pagano. Not only did he see the familiar Indianapolis crowd, but Matt Nagy, George H. McCaskey, Ryan Pace and a handful of Bears assistant coaches partnered with the Colts for this year's event. That shows you right there the connection that Pagano had, and his current team understands just the type of sacrifices he has made for that organization.
Yes, Pagano has now moved on to a different team with a different role, but he will always remain a fixture in Indianapolis forever. Saturday may be a business trip, but for Pagano, it is more than just football when he takes the field for the first time against his former team. It will be game filled with emotions as his coaching journey has handed him some unprecedented challenges that not many could ever recover from. With the help of great coaches and great communities, Pagano has been able to recover and will always be thankful whenever he returns to Lucas Oil Stadium.