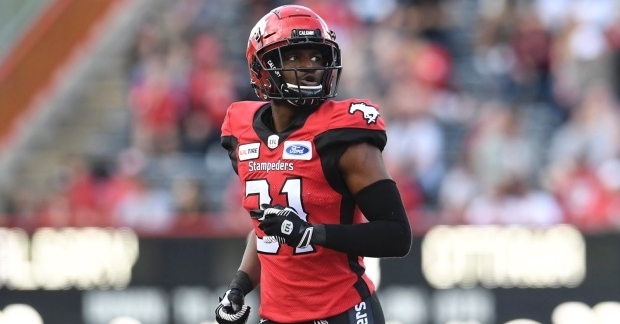 | | |
| --- | --- |
| Chicago Bears sign highly coveted cornerback | |
---
We are not even into the full swing of the NFL offseason yet, and the Bears are already making headlines. No, it is not bringing in a potential QB to battle Mitch Trubisky. No, it isn't signing some elite offensive lineman to help beef up that side of the ball, but instead, they elected to go defense and went north of the border to do so.
With the Bears' first official addition of the offseason, GM Ryan Pace and company scoured the CFL, where they found Calgary Stampeders CB Tre Robinson and are bringing him aboard. Thought to be the top CFL corner this offseason, Robinson elected to go with the Bears after receiving offers from nine different teams. While the terms of this contract are undisclosed currently, many believe that the Bears are willing to give Robinson the largest CFL to NFL contract since Cameron Wake.
The Wake deal from 12 years ago was a four-year deal for only five million dollars. That shows that Robinson is not getting a huge contract, but that shouldn't shy away from how big of a signing this could be for Chicago. Wake proved himself at the NFL and eventually made 40 million in additional salary after that deal. Considering the demand for Robinson was at an all-time high, maybe he can continue that track and earn a healthy payday after his original deal with the Bears.
At 27 years old, Robinson is certainly a Midwest boy at heart splitting his college experience at both the University of Indiana and Indiana State, where he played quarterback at that time. He was never drafted following his senior year, but Robinson did manage to land on the Vikings practice squad in 2016-17 before he made the conversion to CB before the 2018 season.
It was in that year when Robinson decided to try his luck north of the border for Calgary in the CFL. Robinson certainly proved making the switch to CB may have been the best choice of his career as he logged ten interceptions, two for touchdowns, and a total of 95 tackles in his two seasons in the league.
Although the Bears have Kyle Fuller locking down one of the outside corner positions and have Buster Skrine signed to a team-friendly deal, the Robinson signing leads me to believe that the Bears are planning to move on from Prince Amukamara this offseason. Despite his consistent production with the Bears, Amukamara counts for a 10 million dollar hit against the cap in 2020, with only 1 million of that guaranteed. That still seems reasonable to me, but at the same time, you can never have too much CB depth in a division that has Kirk Cousins, Matt Stafford and Aaron Rodgers flinging passes.
When more details on this contract come out, we will have it for you, but for now, we can expect a new CB in the Windy City looking to make his mark for the Bears. Robinson is grateful for this opportunity and is anxious to get to work with his new team.
"I am so blessed to be with the Chicago Bears," Robinson said via his Twitter account. "I want to say thank you for this opportunity in allowing me to help this organization get to their goal of winning a Superbowl. Thank you to my agent for fighting hard for me this whole process. Bear Down."
Given the career journey, Robinson has gone through thus far, and he knows these opportunities don't grow on trees, so he won't take it lightly. Winning the Superbowl is on every player's mind, but Robinson is no stranger to winning in the CFL as Calgary has done plenty of that in recent seasons.
Not only did Calgary Head Coach Dave Dickenson put together a great organization in Calgary, but the Stampeders went on to win the 2018 Grey Cup for their eighth championship in the history of their franchise, which Robinson was a part of. They followed that 2018 championship with a 12-6 mark this past season, which earned them the No. 2 seed in the Western Conference in the playoffs. Calgary would bow out in the first round to eventual Western Conference champion Winnipeg Blue Bombers, but Robinson certainly knows what it is like to be with a winning organization.
Obviously, at this stage in the game, we have no idea what Robinson will be able to do in the NFL game. If he can put up numbers anywhere close to what he did in Calgary, then not only did the Bears get a steal in Free agency but may have a future No. 2 man on the outside with Fuller. Regardless of what happens this season, Robinson will have plenty of chances to showcase his talents this season to prove to everyone he can play in the NFL.