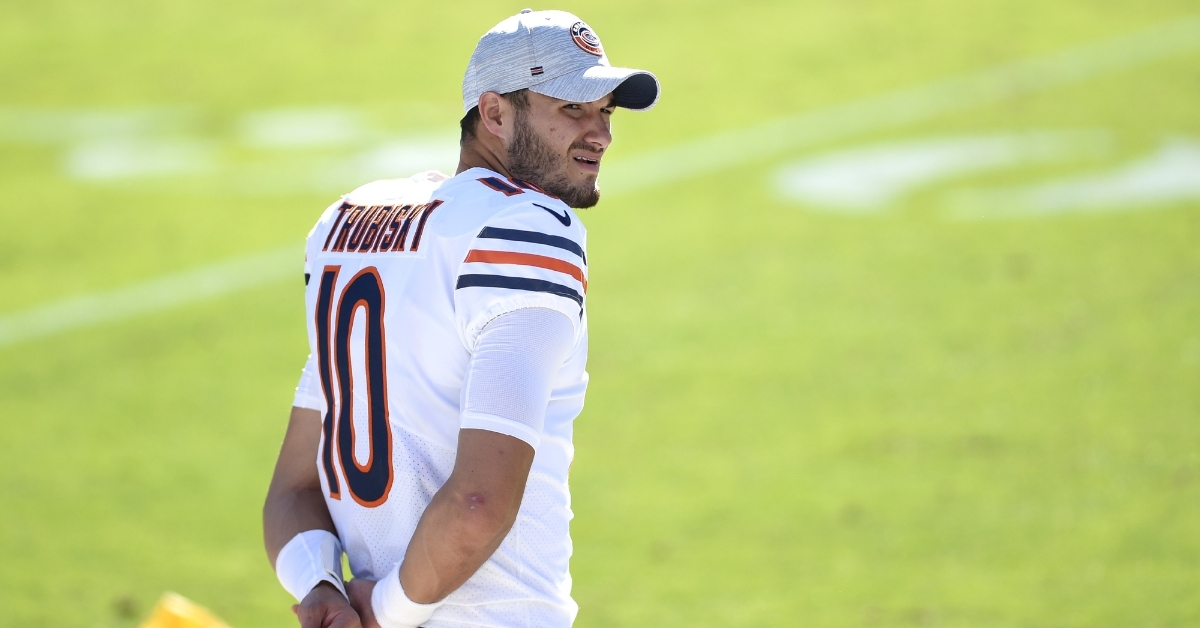 | | |
| --- | --- |
| Commentary: Bears should consider trading Mitch Trubisky | |
---
| | | |
| --- | --- | --- |
| Friday, October 30, 2020, 4:54 PM | | |
We are in the closing days of the trade deadline, and there have already been some under the radar moves. This is the type of season where more moves could be made given there is an extra postseason spot up for grabs. For the Bears, they are in a great position right now, sitting at 5-2, but there are many improvements to do.
That improvement starts by filling the holes on this roster and trying to get what you can to do so. While trading draft picks is something Ryan Pace loves to do, I don't feel that it is currently the best option.
If the Bears want to improve their team or at the very least plug some holes, would Mitch Trubisky be a valuable enough asset to trade ahead of the deadline?
Say what you want about the quarterback play of Nick Foles compared to Trubisky, but one thing is clear. Barring an injury, Trubisky will not be getting his starting job back this season. Even though the Bears are 5-2 this season, Foles has two touchdowns compared to four interceptions this season in three starts. Although consistency wasn't there, Trubisky had better numbers than that, so it puzzled what the Bears, specifically Matt Nagy, saw in Foles over Trubisky.
The Bears would love to see their former first-round pick bounce back and become the leader they expected him to be, but he isn't getting the starting job back, so what is the plan? When you talk to experts around the league, many feel the Bears should be buyers at the deadline, but there is a catch. They should also be open to selling Trubisky to a team desperate for QB help.
Ideally, most NFL teams would love to have a reliable backup behind their starting QB. It worked for Foles in the past with Philadelphia and Kase Keenum in Minnesota a few years ago. Trubisky is a reliable backup, but there is no way you could turn to him again unless there is an injury after losing the starting job.
The Bears most likely will not bring him back next season, and I find it difficult that he will sign with someone to help the Bears in terms of compensation, so trading him may be the best option. When you look at the NFC and the NFL, for that matter, most teams in the postseason race or at least in contention have a reliable quarterback that could ultimately get them in. However, some teams out there are on the outside looking in but could use Trubisky.
The NFC East immediately comes to mind where both the Washington Football Team and Dallas Cowboys sit at 2-5. With Philadelphia leading the division at 2-4-1, both Washington and Dallas are still alive in that division. Dallas lost Dak Prescott to a gruesome ankle injury two weeks ago, and now it looks like Andy Dalton may miss some time with a concussion. If any team needs QB help, it would be them, and Trubisky would be an option.
Dallas also has a lot to offer the Bears, especially when you look at positions of need. The Bears would want more than just one player for a former first-round pick, but Tony Pollard (RB), Zack Martin (G), and Neville Gallimore could all be options for the Bears; they fit a position of need.
On the other hand, Washington moved on from their former first-round pick Duane Haskins and are going with Kyle Allen until further notice. They also have Alex Smith on their bench, who made his first appearance in nearly two years a couple of weeks ago. If I'm the Bears, I entice the idea of trading Smith for Trubisky and see if they bite. Trubisky is a better option than Haskins and would be great filling in for Allen if need be. Smith, on the other hand, has dealt with terrible injury luck the past few seasons but would be the perfect backup to Foles. He is familiar with Nagy and how he liked to do things in Kansas City, so calling on him wouldn't be an issue.
It is hard to admit to making a mistake, especially when it comes to draft picks. Pace didn't make a massive mistake in taking Trubisky; he made a big mistake in trading up to get him. Trubisky had a terrific pro day and moved into first-round discussions. I still don't know how you pass on Patrick Mahomes and Deshaun Watson to take him, but what is done is done.
The biggest mistake I think Pace has made bringing in a guy like Foles, who Nagy immediately favored. Trubisky's play was arguably better than Foles this season, and yet he lost the starting job and won't be getting it back. The best thing to do for both sides is to find a new home for his former No. 2 pick. Teams are looking for quarterback help even if it means backup help, and there are far worse options than having Trubisky come in.