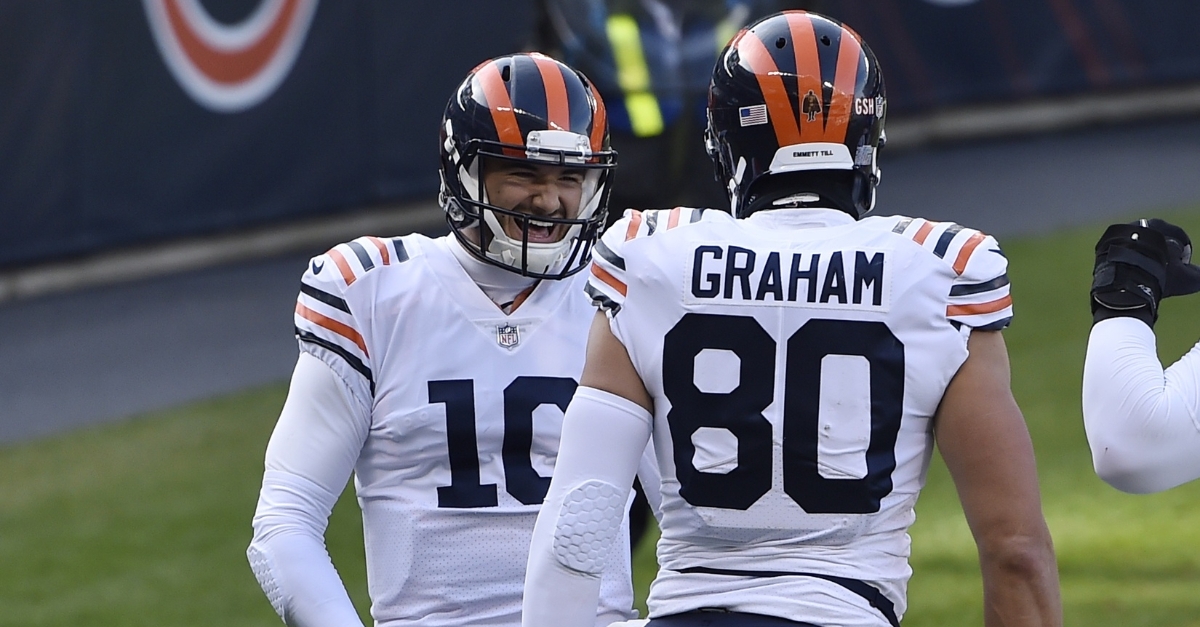 | | |
| --- | --- |
| Commentary: Re-sign Mitch Trubisky, don't let Nagy near play sheet | |
---
As the season winds down year after year, questions always arise about who teams will draft, who they will keep, who they will acquire, and who may leave their teams.
The Bears find themselves in the midst of a bit of a crossroads, and it does not help because it is about one of the most important positions in all of sports at quarterback.
Before this season, the Bears traded the Jaguars for a fourth-round pick and acquired Nick Foles — Super Bowl MVP who signed a four year 88 million dollar contract with the Jaguars before the 2019 season.
The Bears inherited the final three years of his deal for $50 million. However, Foles can also void the deal after either of the first two seasons he spends in Chicago. Foles is due a tick under $17 million for each of the next three seasons.
Before the season, the Bears decided not to pick up Mitchell Trubisky's fifth-year option — making him a free agent after this season, his fourth as a Bear.
However, Mitch Trubiksy won the starting job and led the Bears off to a 2-0 record. He was benched middle of game three, and Nick Foles took over, came back to win that game — and then won two of his next three games against the Buccaneers and Patriots.
All of a sudden, the Bears sat at 5-1, and Foles looked like the quarterback that finally fit their system — and that Trubisky's days in Chicago were numbered.
The was until Foles, and the Bears lost four straight games — where good defense exposed issues in Foles' game and the play calling — and the Bears fell out of playoff contention and back to .500. Foles was injured, and Trubiksy was given the starting spot back.
In Trubisky's four starts since getting his job back, the Bears are 2-2 — should be 3-1 without a defensive collapse against Detroit.
Trubisky and the offense have put up 30 points in three straight games for the first time in the Matt Nagy era — and Trubisky has thrown for 978 yards and eight touchdowns since his return.
The offense has finally begun to click with Trubiksy under center and Bill Lazor calling plays. The Bears have played themselves back into playoff contention, and Chicago seems to be back on number 10's side.
BUT — the Bears are in a massive roster predicament.
The only quarterback that has a contract for next season is Nick Foles — a soon to be 32 year old, injury-prone backup quarterback who is due about $34 more million dollars.
The quarterback that is winning them games right now is set to be a free agent — and playing himself into earning more and more money after each win.
AND with the Bears continuing to win, they are going the opposite way in the draft order — meaning an impact first-round quarterback falling to them is appearing less and less likely.
I think the solution is signing Mitch Trubisky to a short term deal, trying to dump Foles and replenish Trubisky with weapons and an offensive line — finally giving him a fair chance to succeed in Chicago because we all see what he can do.
Oh yeah, and don't let Matt Nagy near the play sheet.