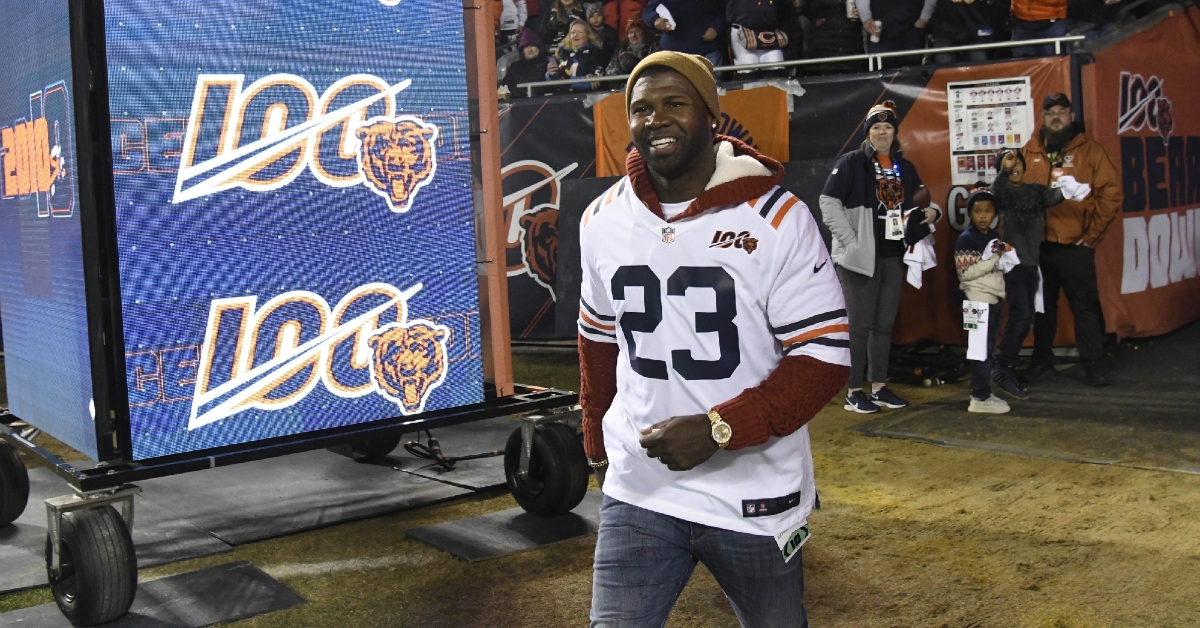 | | |
| --- | --- |
| Bears News: Does Devin Hester belong in the Hall of Fame? | |
---
| | | |
| --- | --- | --- |
| Tuesday, January 28, 2020, 11:21 AM | | |
With all the constant changes being made to kickoffs in the NFL, the art of a dynamic special teams return threat is all but a distant memory at this point as fewer kicks are being run back yearly. However, before player safety was instituted in the kickoff game, the Bears had the best to do it in Devin Hester as he set nearly every record imaginable in the return game.
That brings the question, does Hester belong in the hall of fame because of the records he set? Looking at the Hall of Fame in general, and it seems very unlikely that someone who only specializes on the special team's side of things would ever get the call. Sure, you have players like Deion Sanders, Randy Moss, and others who played special teams at times, but they also thrived in a regular role on the field, which earned their hall of fame status.
Hester is an enigma knowing he was never able to carve out a consistent role on the field during his tenure with the Bears. The one thing he was able to do was change the game in the blink of an eye as every time he fielded a kick or punt, he had the chance to put six points on the board. Knowing what he meant to the return game for over a decade, this year's pro bowl selections for special teams almost feel like he should be a lock when it comes time to bring up his hall of fame status.
Current Bears kick returner Cordarrelle Patterson was one of those two players as he feels what Hester has accomplished is hall worthy.
"Without a doubt," Patterson said to Bears senior writer Larry Mayer. "That is a no brainer. All you must do is turn on the tape and watch what Hester did. There is nothing else to be said."
Hester played eight of his 11 seasons with the Bears, so having a current Bears player show the respect and gratitude that some may not give him is a pleasant sign. Not only was Hester fast, but he was the most prolific return specialist in league history, something that Patterson and others try to match. For his career, Hester holds the NFL record with 19 kick return touchdowns, 14 punt return touchdowns, and 20 other return touchdowns, which includes missed field goals, interceptions, fumbles, receiving, punts, and kickoffs.
Taken by the Bears in the second round of the 2006 NFL draft, the Miami (FL) University product was voted to three pro bowls, won 13 special teams player of the week awards, and was named to the NFL all-decade team for the 2000s. He will be eligible to be enshrined in Canton forever in 2022.
Not only would Hester become the first-ever return specialist elected to the Hall, but just the fourth special teamer, in general, joining kickers Morten and Gary Anderson, along with punter Ray Guy. Hester made an immediate impact with the Bears during his rookie season in 2006, where he set a single-season record with five kick return touchdowns, only to eclipse that mark the very next year with six.
Hester remains the All-time Bears leader in punt return yards (3241), kickoff return yards (5504), total kick return yards (8745), punt returns (264) and kickoff returns (222). Perhaps his two most memorable moments would have been returning a punt 84 yards for a touchdown in his first game as a pro against the Packers, and of course, his 92 yard kick off return touchdown in the Bears Superbowl loss to the Colts.