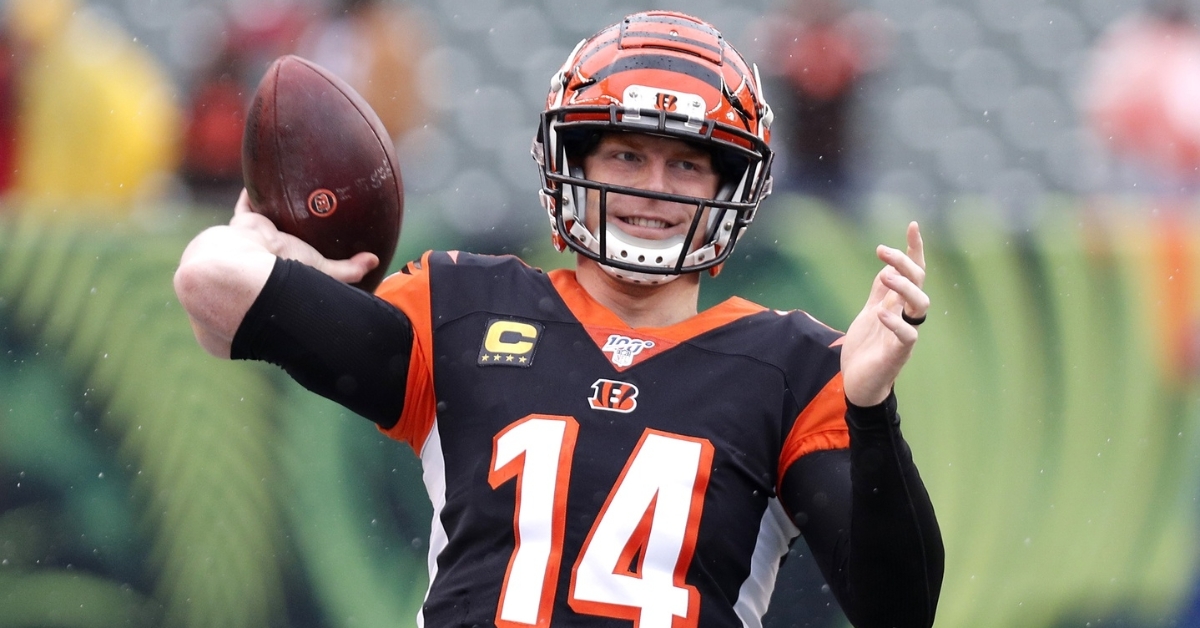 | | |
| --- | --- |
| Does the Bears new offensive mind want Andy Dalton? | |
---
As the offensive coaching staff continued their overhaul this offseason, one name that wasn't talked about was the addition of new offensive coordinator Bill Lazor. Now, don't expect Lazor to come in and take play-calling duties away from Matt Nagy, but he is a brilliant offensive mind who may have been brought in to get Mitch Trubisky's mind in the right place more than anything.
However, the more I think about it, I start to wonder if the Bears bringing him in had other reasons for that decision as a lot of people still are not sold on who they currently have under center. I fully expect the Bears to kick the tires on drafting a QB this season or, at the very least, test the FA waters and see who is interested and at what price.
Should the second of the two options be the one of choice for the Bears, then was Lazor brought in with hopes of Andy Dalton to follow? Despite taking a year off from the game a season ago, Lazor last worked in the NFL during the 2018 season under Marvin Lewis as the Cincinnati Bengals offensive coordinator. Dalton put up some great numbers working with Lazor, but after a horrendous 2018, Lewis and his entire staff were fired as the Bengals looked to turn over a new leaf.
Now with the Bears, Lazor will look to get the most out of Trubisky for now unless something tells us otherwise. Was Lazor the Bears' top choice? Probably not, but Chicago did get an offensive mind that has plenty to offer on the coaching side of things.
While Lazor has made a lot of coaching and player connections since starting his career as an offensive assistant for the Falcons in 2003, some of those connections have caught my attention. One is his most recent stop with the Bengals as he and Dalton developed a great relationship together both on and off the field.
Not known as a blow you away type of guy, Dalton and Trubisky are very similar in terms of what they bring to the table. The most significant difference is Dalton has been to the playoffs five times and has put up pro-bowl numbers in three seasons. One of those three seasons came in 2016 with Lazor running the offense. It was in that year when Dalton completed a career-best 64.7 percent of his passes for 4206 yards and a solid 91.3 passer rating.
Compare that to his overall numbers in three seasons with Lazor, and you saw a guy complete 62.3 percent of his passes for an average of 3364 yards 21 touchdowns 12 interceptions and an 89.4 passer rating. Those numbers are not great but rank right along with his career marks of 3510 yards, 23 touchdowns, and an 87.5 rating. Those numbers are worth noting because they are like the numbers that Trubisky puts up, but there is one thing that makes these numbers stand out even more.
If the Bears are truly serious about adding some competition to the QB position, then Dalton may be the last guy that Trubisky wants to see in camp. The reason for that has nothing to do with the numbers as both players put up nearly identical stats. Instead, it must do more with the relationship Lazor has with Dalton, as that would be something Trubisky would need time in developing.
This isn't just some scenario that I pulled out of space this morning, as there were rumors about the Bears going after Dalton during the season last year. However, those rumors were put to rest during the trade deadline when Cincinnati elected to bench Dalton in favor or Ryan Finley before Dalton returned as the starter a few weeks later.
Since the whole benching sequence, Chicago has been viewed as a potential landing spot for Dalton and may now be so more than ever with the hiring of Lazor. For that to happen, there are a lot of hurdles that need to be cleared even before we explore the idea of the Dalton/Lazor reunion happening.
The biggest hurdle of them all remains the fact that Dalton is still under contract with the Bengals until further notice, and the Bears just recently hired Lazor, but the connections between the two are too big to ignore. Let's let this play out and see what the Bears are thinking.
Regardless of what happens, I think competition could be useful for Trubisky if it is an open and fair competition. Should he and Lazor develop the same relationship that Dalton and Lazor developed, Trubisky will turn into the guy the Bears can count on moving forward.